UFC Pama won their home derby against SC Kittsee this year, 1:0, on what started as a sunny afternoon. Very quickly the sun slid behind the clouds as did SC Kittsee's chances. The flat lighting was ideal for black and white photography so the opening set is in black and white this year.
SC Kittsee came out of the gate very flat. What was wrong with our game:
timing: first game of the season, passes were not arriving where and when expected. Or the forwards did not arrive where the passes did. Take your pick.
injuries: three of our best players were not available though this derby is the first game of the season.
fitness: timing and injuries is forgivable. Unfortunately most of our squad were unable to keep up with UFC Pama throughout the game. UFC Pama has a fairly young team and SC Kittsee may be the oldest in II Liga Nord. They outran us.
Endurance is the last of the athletic qualities to fade away, lasting into the forties. But it does require training. A few SC Kittsee players look like they enjoyed too merry a Christmas season. Coach Manfred Wachter must find a way to persuade these gentlemen to run more and train more.
That said, the sharp and fit UFC Pama squad did not acquit themselves perfectly either. Despite dominating SC Kittsee who showed no prowess in attack at all in the first half, they only took a 1:0 lead into half time. A focused and determined home squad should have been up at least 2:1 or 3:1 in the face of such a toothless attack. This left the gate open for a late comeback from SC Kittsee, which nearly happened in the last fifteen minutes.
Deliberately dirty tactics also discoloured the UFC Pama play. Leader of the cheat-to-win brigade was Peter Gallus but it was the overall approach of UFC Pama. Faced with stricter refereeing, UFC Pama might have been down two men or faced a penalty shot. UFC Pama did not need to stoop to these tactics to win this game. Outrunning and outplaying SC Kittsee would have been more than enough this afternoon. Playing clean and playing for the win would almost certainly have led to a better result and less risk than the grabby tactical UFC Pama gameplan.
UFC Pama got out to an early lead.
At the 8 minute mark, Erik Micovcak put his shot past Manuel Schiszler in the only game of the match. Expectations were high this spring in Kittsee, with most of a very talented squad returning and some good new players coming into the fold. You can see the shock on the crowd's face (the camera faces the visitor stands) as the early ball flies into the net.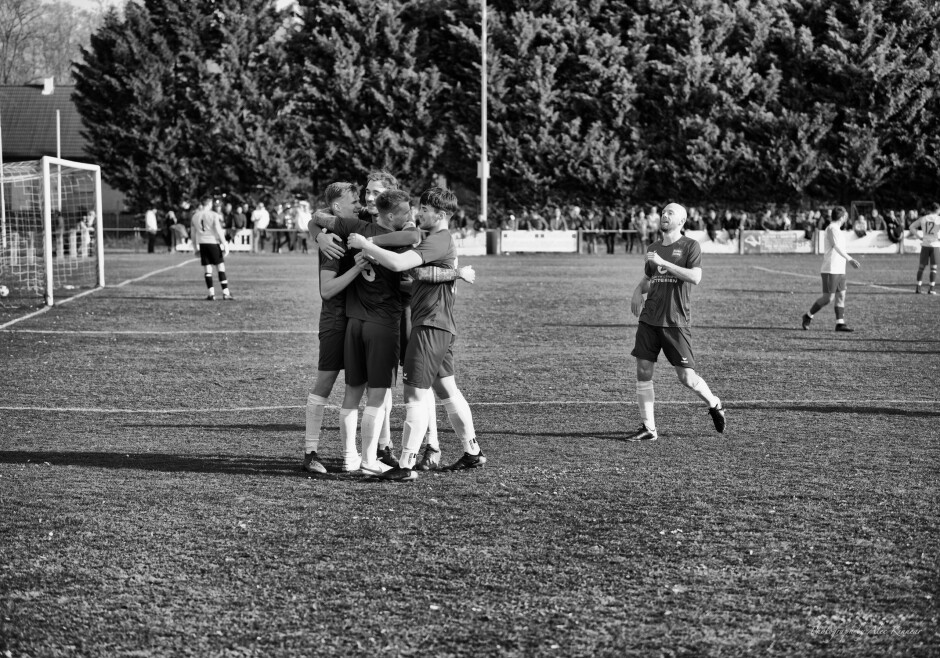 Goal scorer Erik Micovcak formerly played in the top Czech league and has the full sleeve arm tattoos to prove it. Micovcak gave the Kittsee defence and middle field trouble all over afternoon.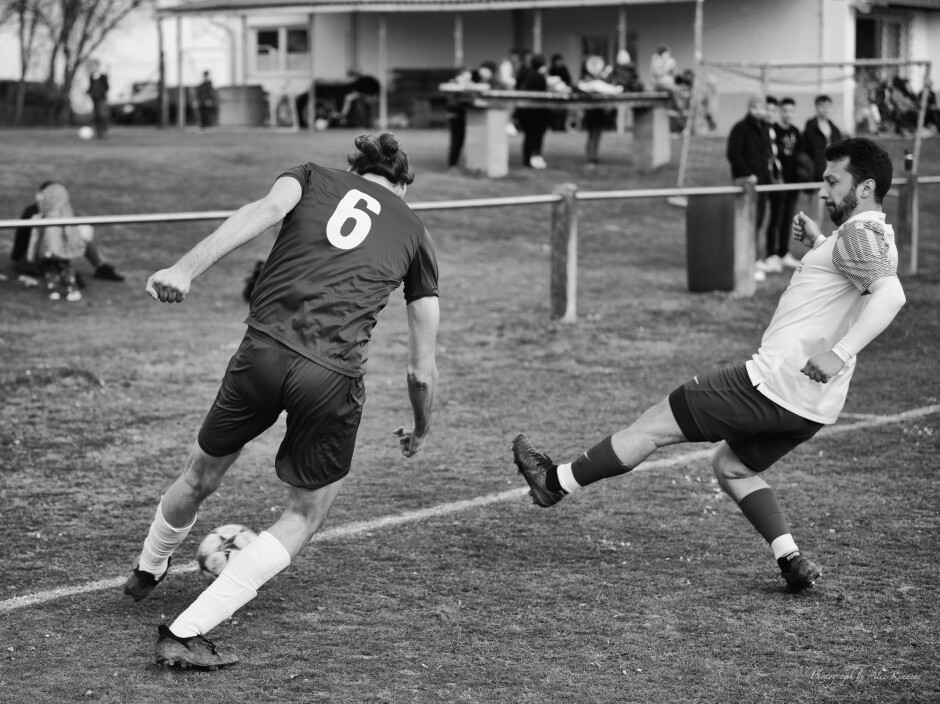 Andreas Fabsich is one of two giants on the UFC Pama squad with Raffael Förster. Both men tower over the rest of the players.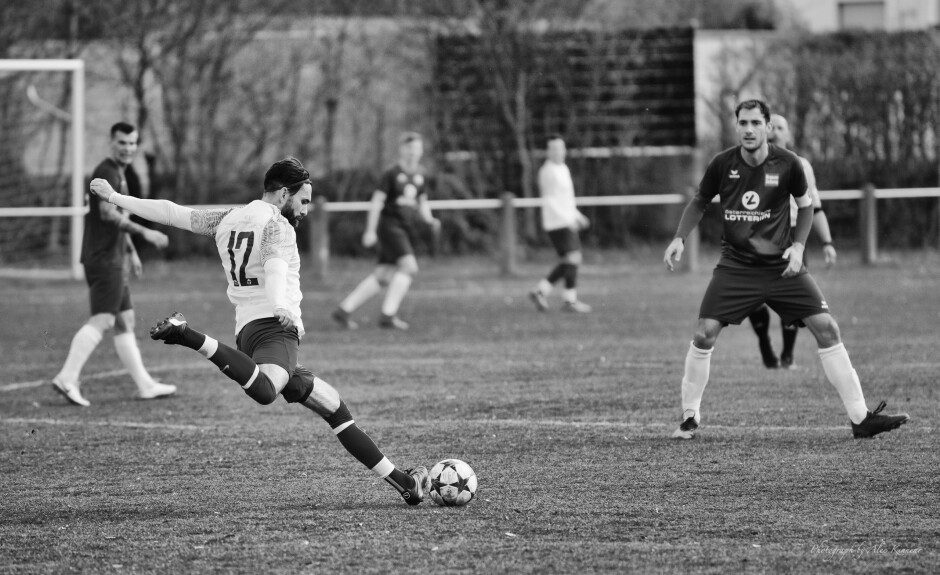 Alas no results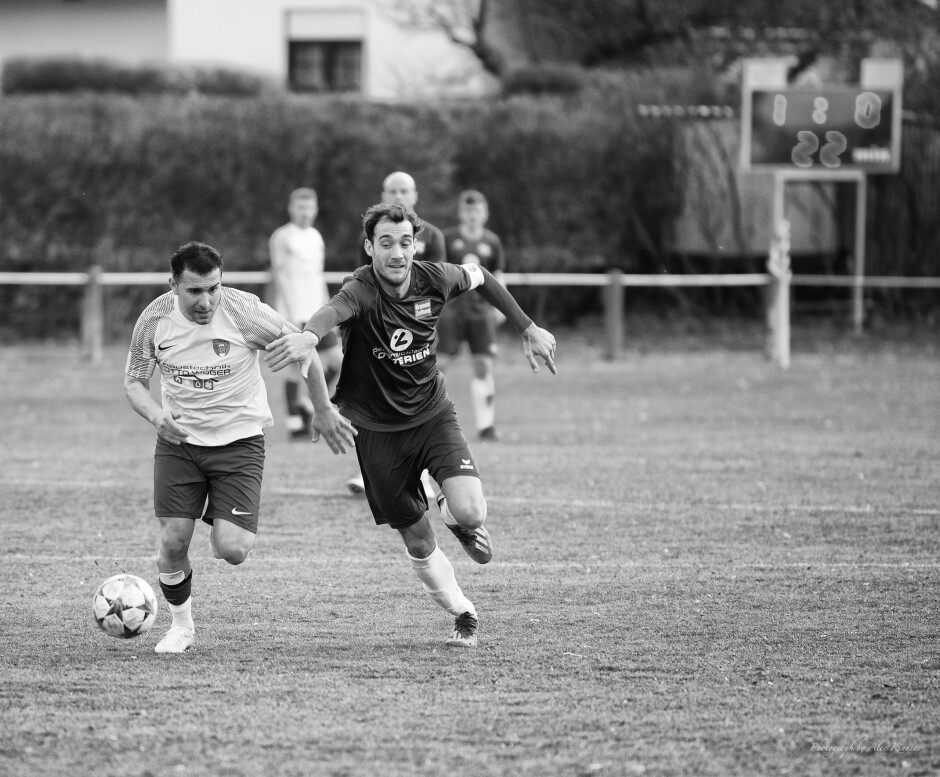 UFC Pama seem to have set themselves the task to stop SC Kittsee at any price. Holding, elbows to the head, leg kicks – there was no shortage of deliberate fouls, some subtle and some not.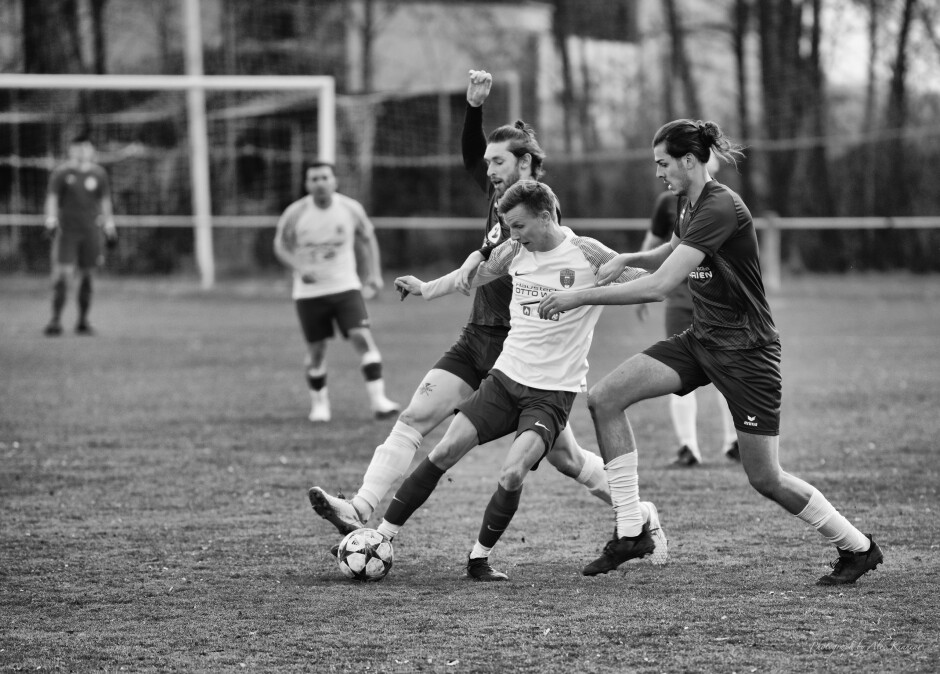 Christoph Drobola played his heart out but had a tough afternoon. As a small slender player, UFC Pama's wrestling, pokes and body checks today slowed him down. Here's crushed between the twin giants Raffael Förster and Andreas Fabsich.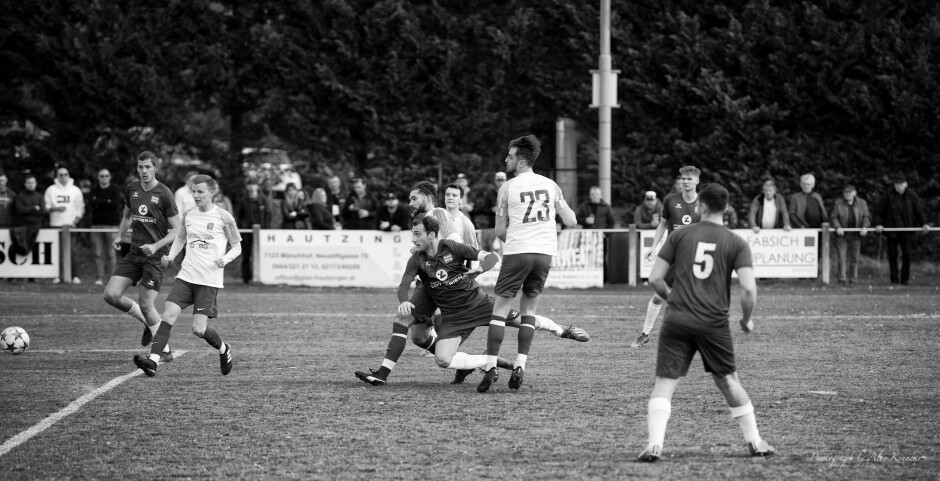 UFC Pama's Christoph Werdenich had a good afternoon, making plays, breaking free in front of the net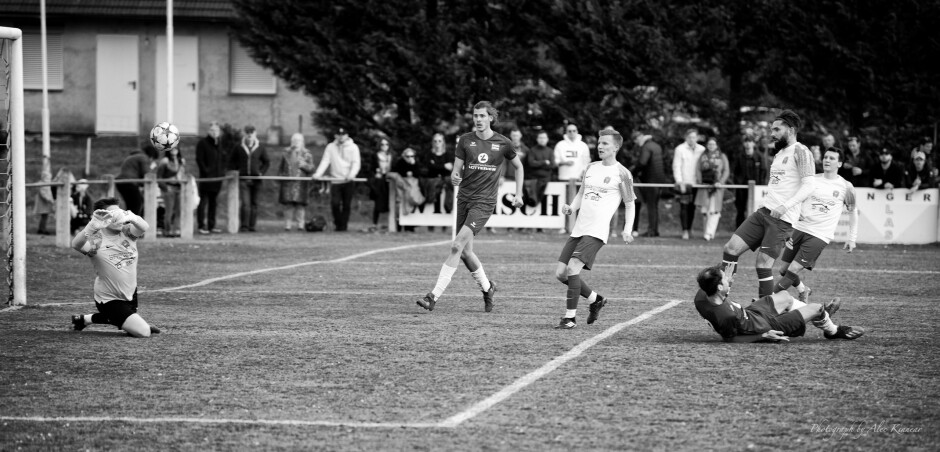 Christoph Werdenich's dangerous shot came close after the first goal. Werdenich rolls on the ground hoping for a penalty as Andreas Fabsich and Chistoper Drobola run towards the net.
A second UFC Pama goal would have almost ended the match, based on SC Kittsee's ineffective attack today. Manuel Schiszler steps up and makes a big save, keeping the game close. Schiszler had to make several big saves.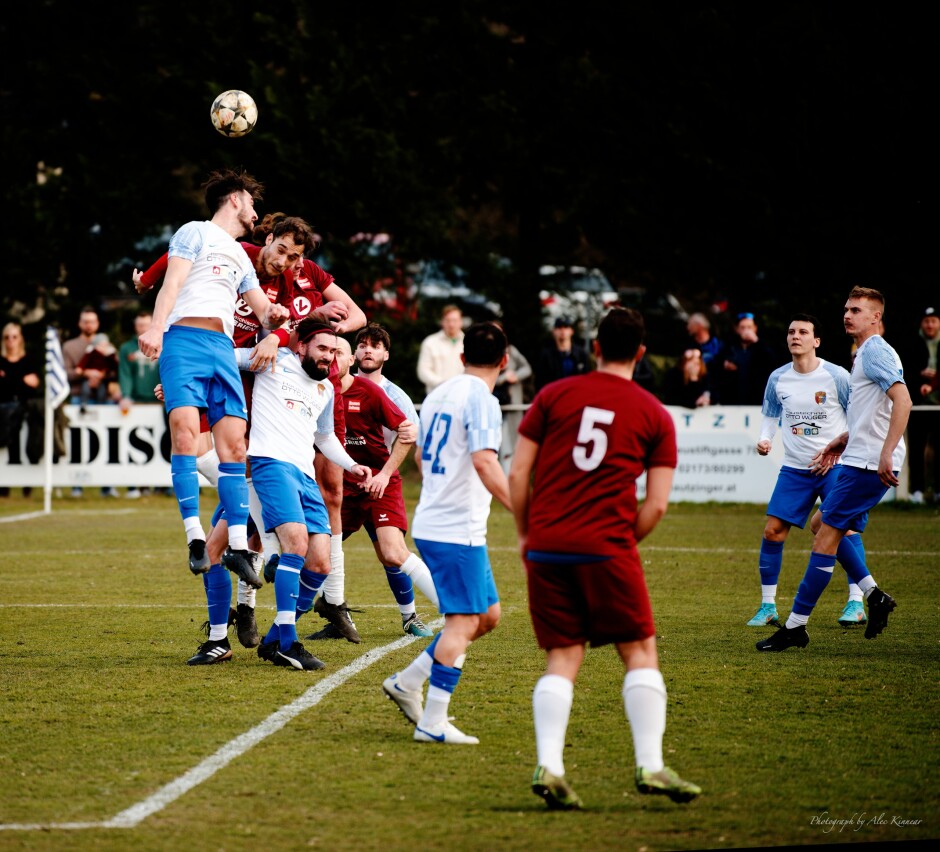 Jaroslav Machovec was a beast on this day, leaping and smashing headers in front of the both the Kittsee and Pama nets. Sadly his timing with Jozef Sombat was badly off so all of the hard work came to naught.
This picture is in colour for reference: colour of uniforms, grass, light.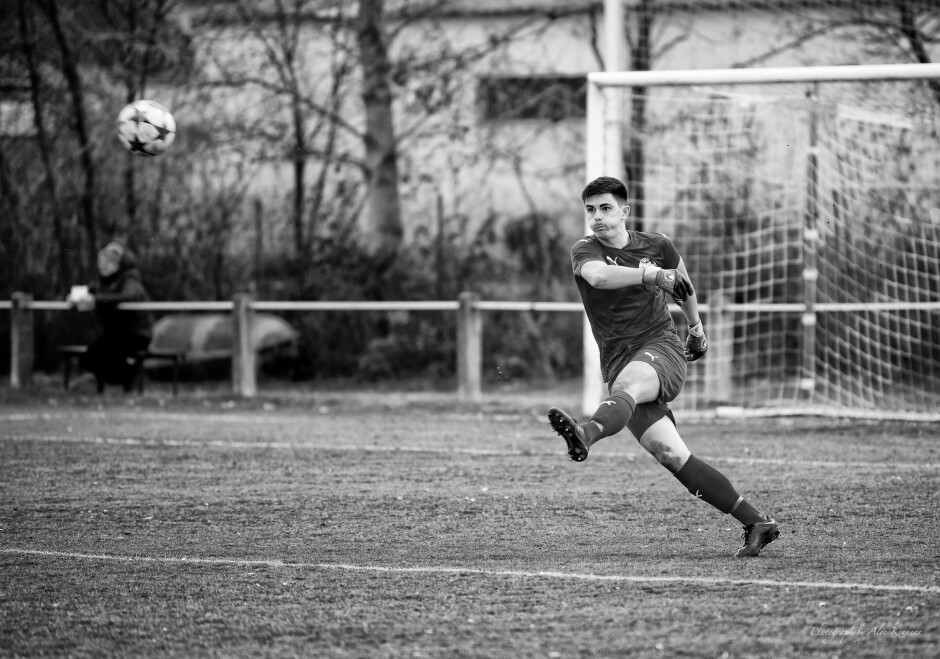 Martin Hajtmanek had quite a quiet afternoon, especially in the first half. Late in the game when he was tested, he was up to the occasion.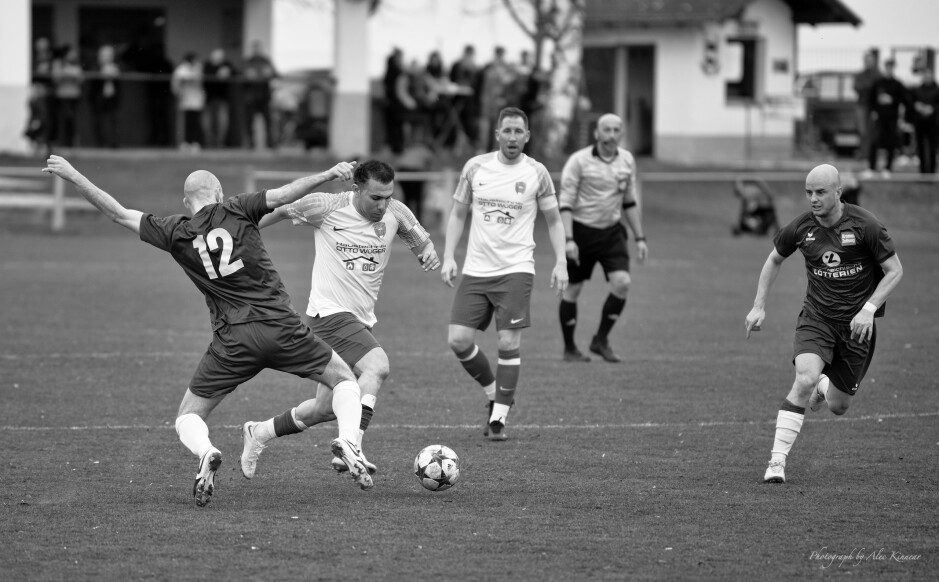 Peter Gallus tried to kick the legs out from under Mustafa Atik here. In honour of Gallus playing like a pirate all afternoon, let's call him red beard. Atik took a nasty tumble on what was a promising dribble. A free kick was too light a reward for the tripping. Yellow card would have been more suitable. Gallus did finally get his yellow card at 31 minutes.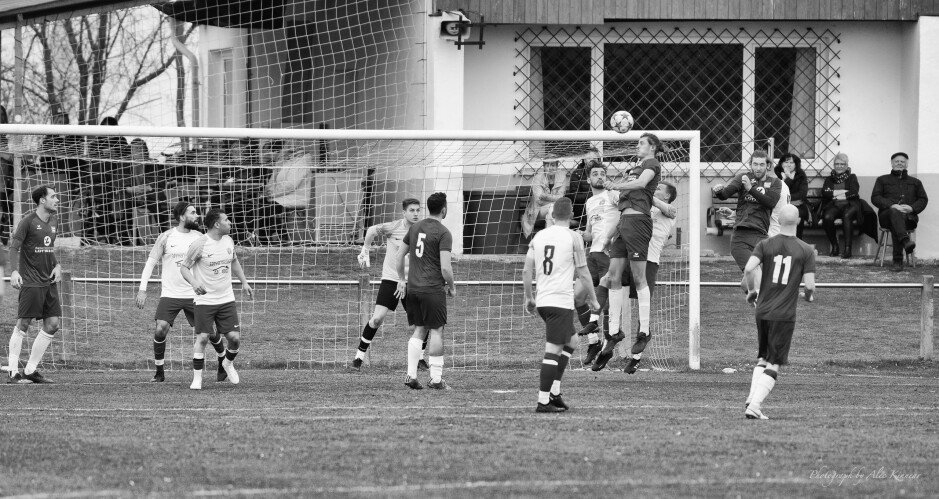 Fortunately Jaroslav Machovec was there to deflect Andreas Fabsich's header, before keeper Manuel Schiszler grabbed the ball.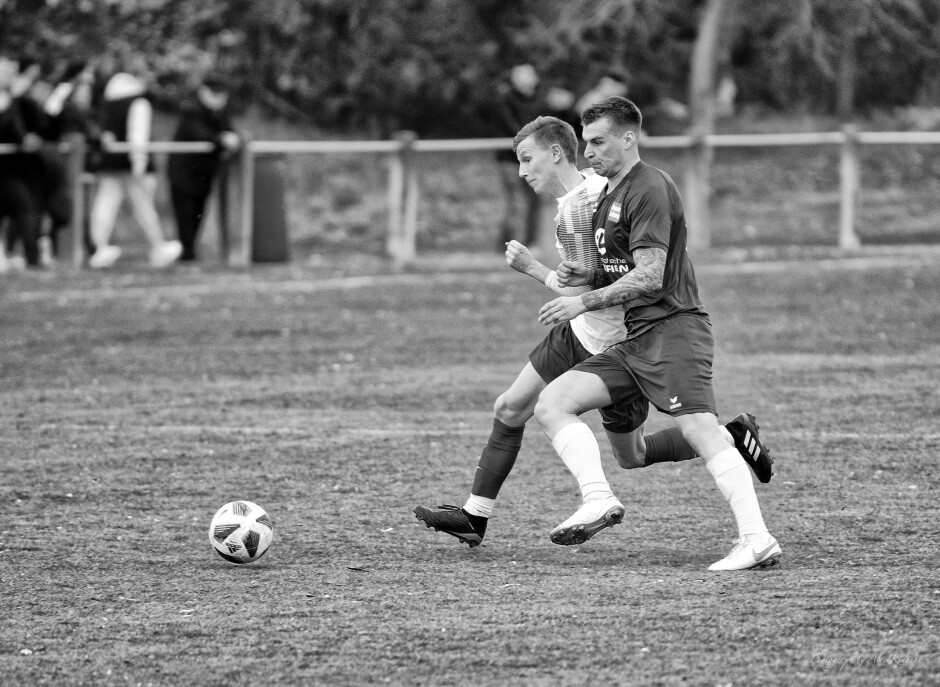 Christoph Drobola struggles to maintain his line on the ball against the very experienced and stronger Erik Micovcak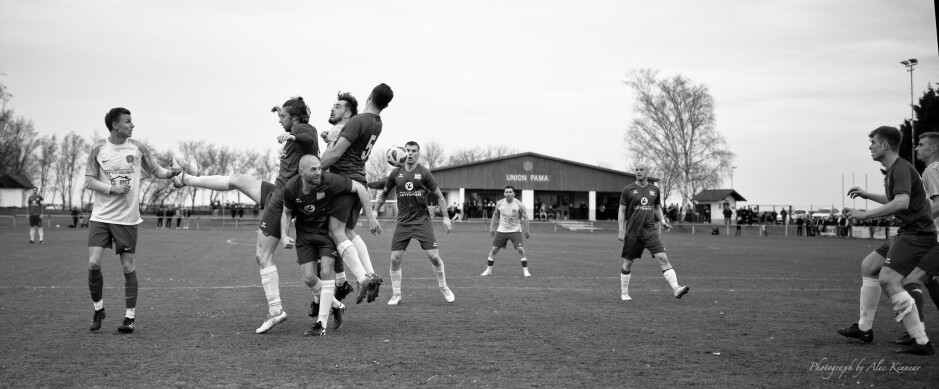 A scramble in front of the UFC Pama net looks promising, but UFC Pama successfully moves enough men in front of goal to defuse the attack.

Kittsee did not have many chances and when we did, the timing on our fine passing was well off. Manuel Oswald is cut off by Raffael Förster. Referee Arif Erdem looks on.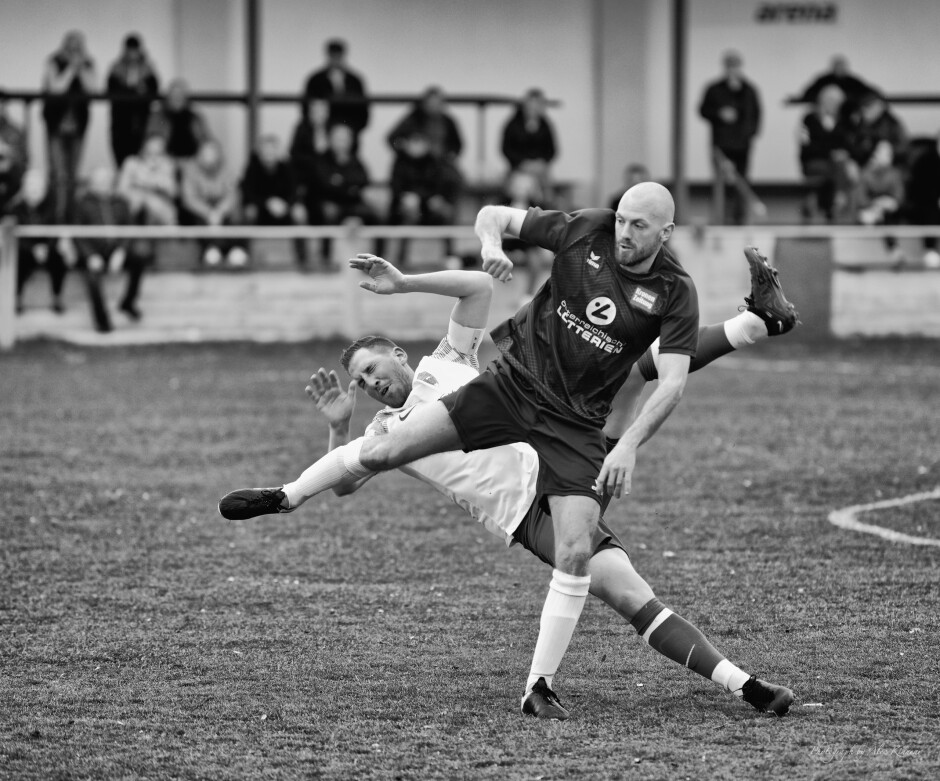 Peter Gallus's sharp elbow almost ended Tomas Bastian's afternoon. Bastian was laid on the field for five minutes.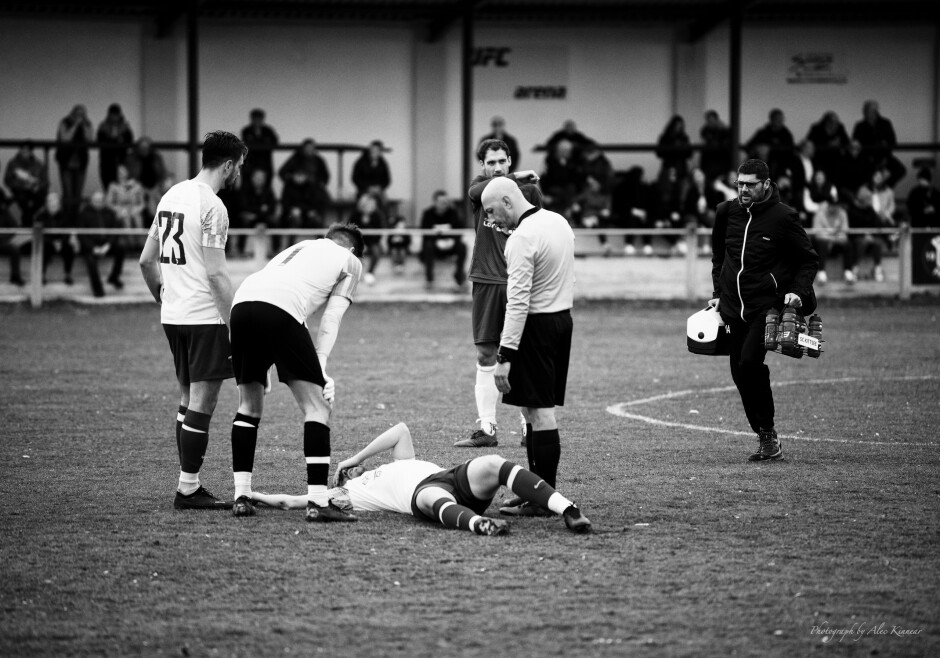 Kittsee trainer Radovan Liska runs to resuscitate Tomas Bastian after Peter Gallus's elbow to the head. Referee Arif Erdem looks on. Gallus certainly should have received a second yellow card and a red card after this unprovoked attack.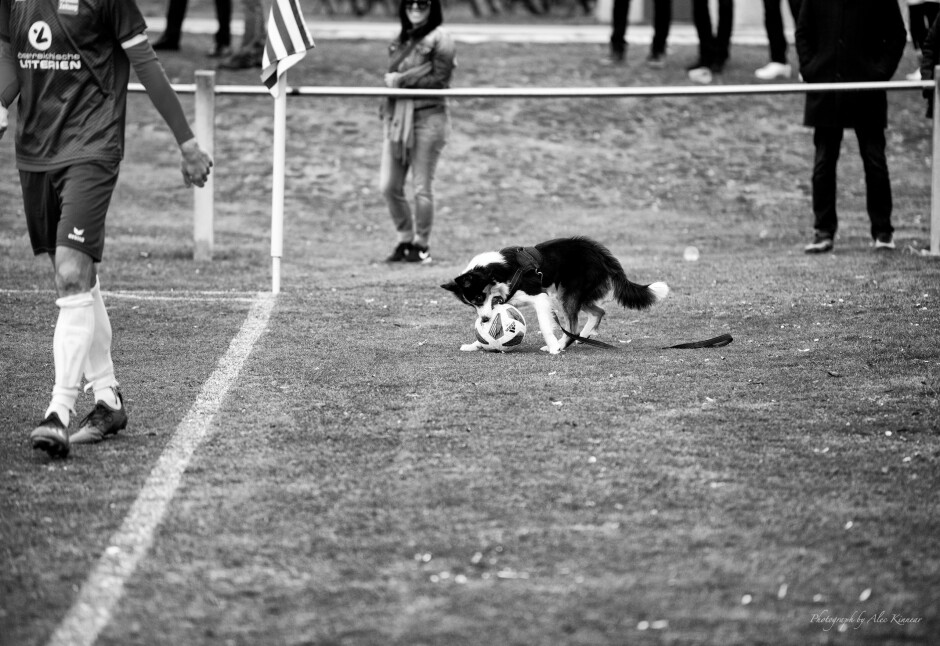 From the tragic to the sublime. One of the UFC Pama spectators dog likes to play soccer too.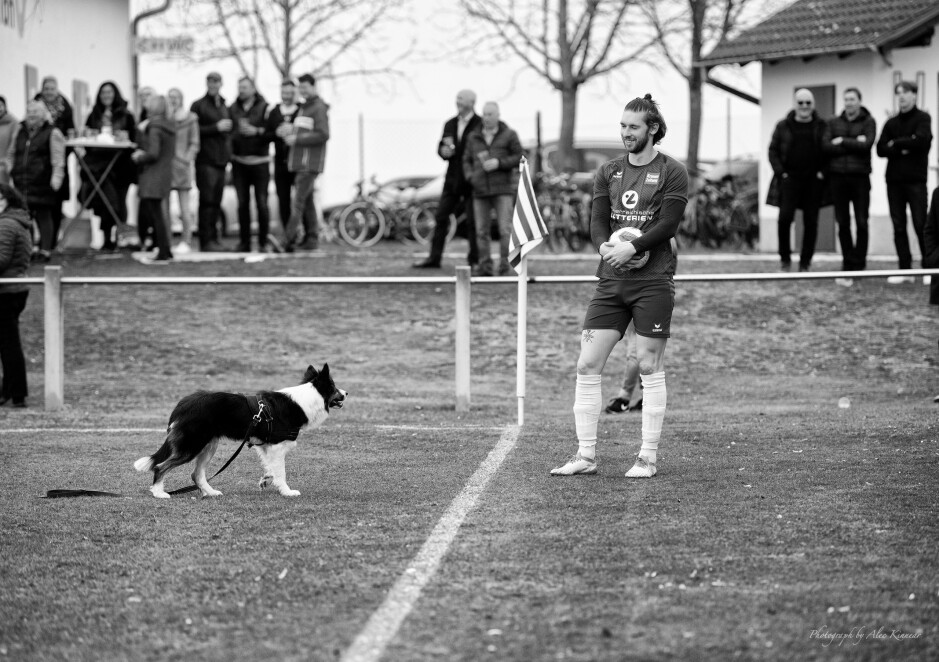 Even after the players recuperate the ball, the dog does not give up. People are having fun running after a round rolly ball and the dog doesn't see why he should have to spend the afternoon bored on the sidelines.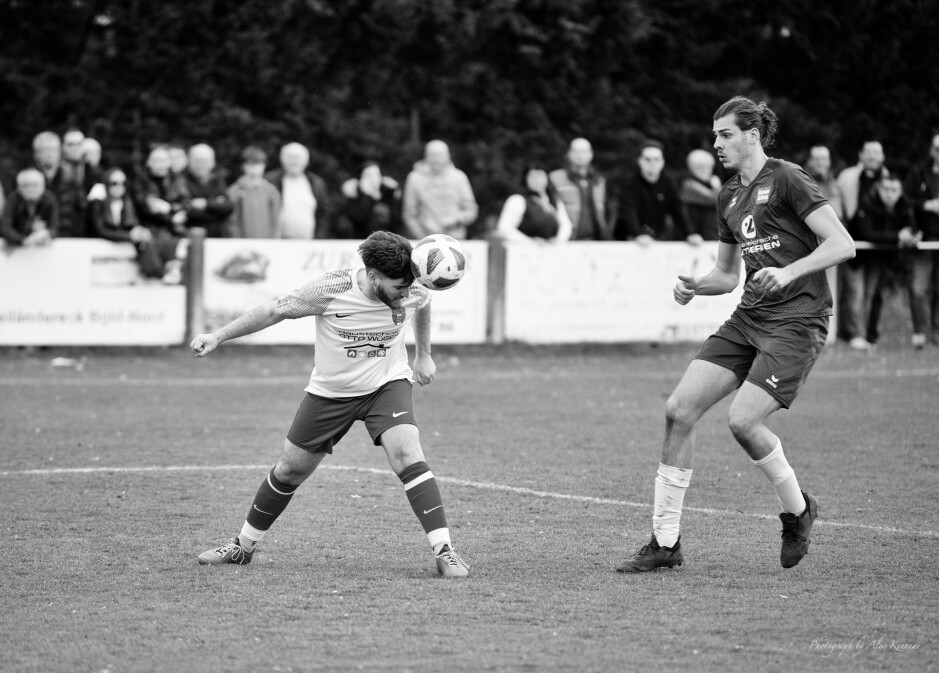 Kittsee newcomer Manuel Oswald heads the ball away from UFC Pama giant Andreas Fabsich.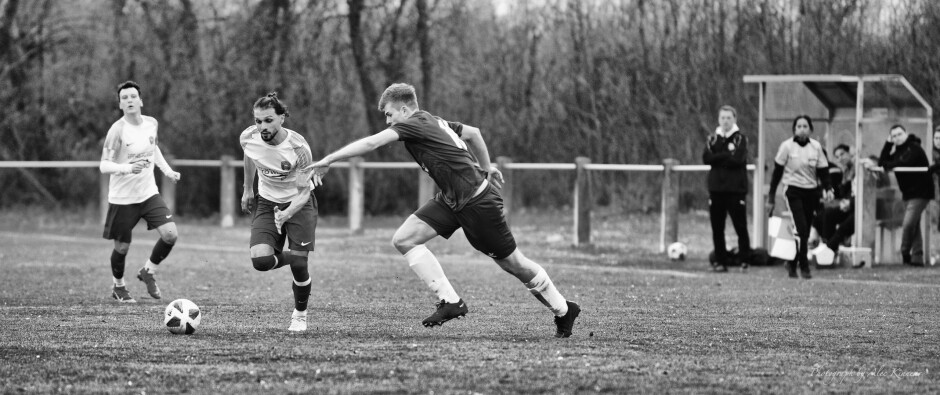 Kittsee's Said Soltani and UFC Pama's Markus Fabsich compete for a loose ball. Fabsich is a fierce competitor and has the jump on Soltani.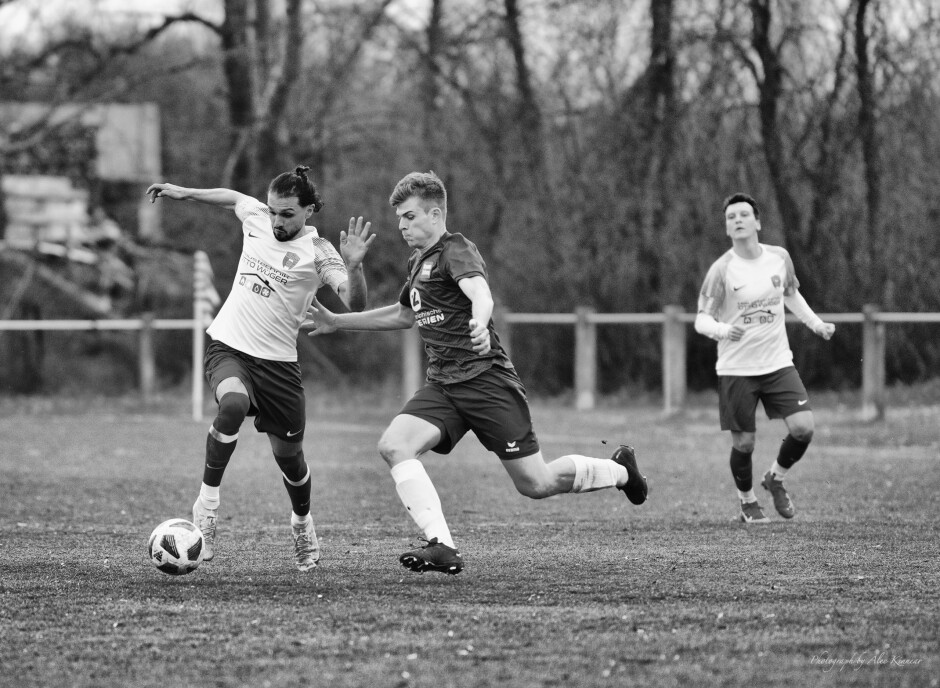 Said Soltani gets there just before Markus Fabsich. The robust Fabsich prepares to knock Soltani off the ball.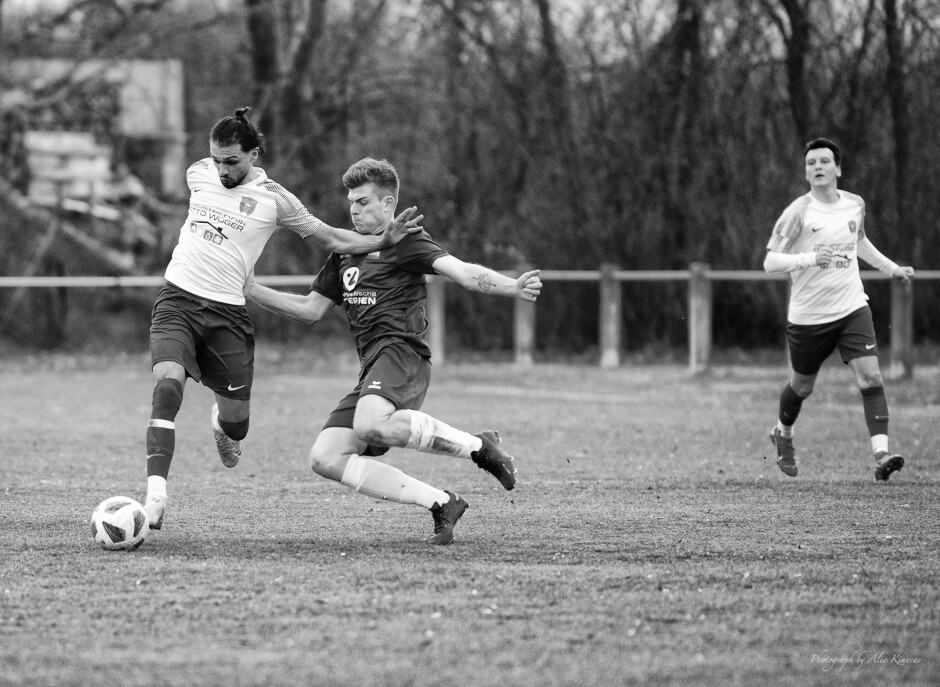 Instead Said Soltani times a perfect and legal arm to the shoulder Markus Fabsich, sending the larger Fabsich sprawling to the ground.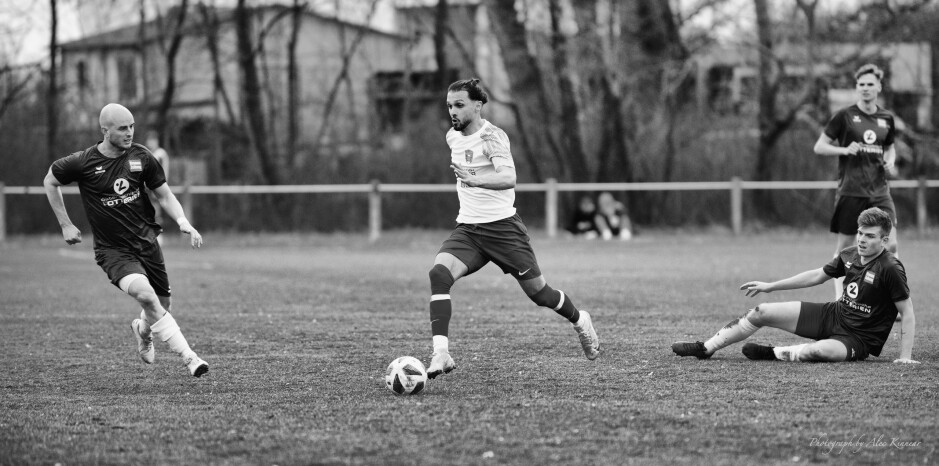 Said Soltani is now chased by Samuel Homola. Fierce Markus Fabsich can't believe that Soltani has sent him to the turf.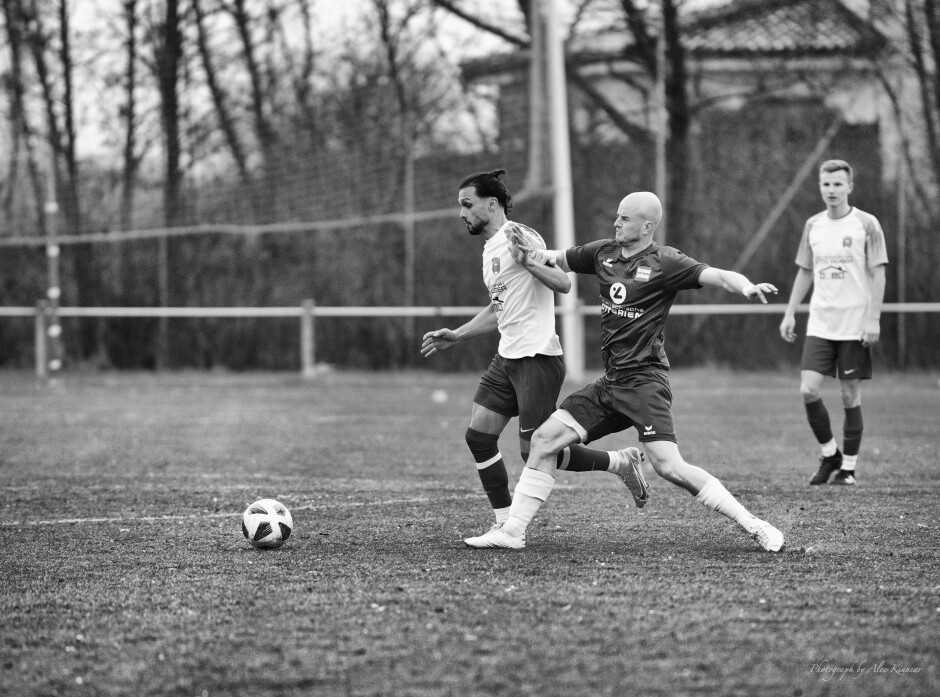 Samuel Homola can't catch Soltani from the front, and instead has to pull hard at his arm from behind. Homola's holding strategy works and Soltani finally loses control of the ball. No whistle or free kick from referee Arif Erdem alas.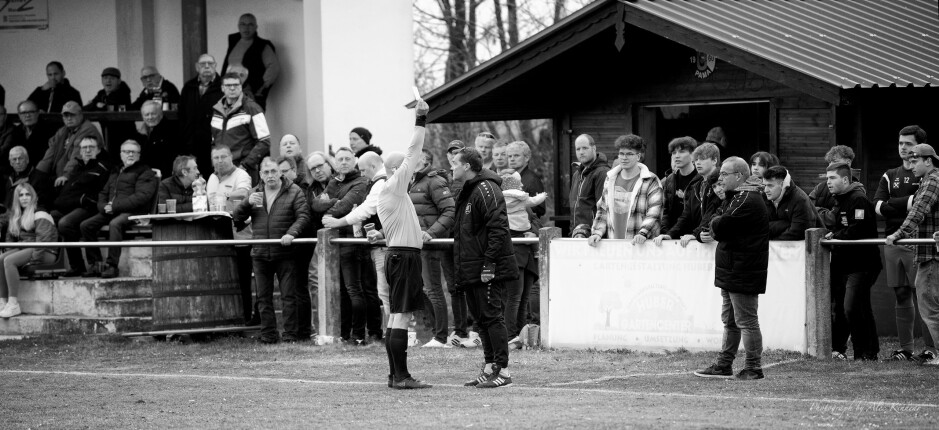 Animated Kittsee Assistant Coach Oto Honz shouts in frustration at the non-stop holding from UFC Pama and even more by referee Arif Erdem's failure to see this holding and dirty play.
Erdem shows Honz first a yellow card and then a red. The red came when Honz shouted "Danke" when Erdem showed him the yellow card. In a relatively dull second half, the hot action on the sideline brought some fireworks to the day. Exciting derby life!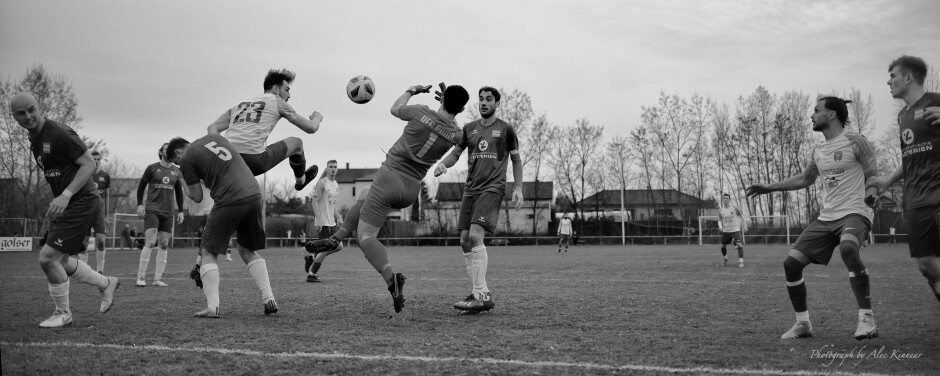 Jaroslav Machovec played like a man possessed, here taking control in front of the UFC Pama net. Martin Hajtmanek manages to block Machovec's hard header, preventing a late tie.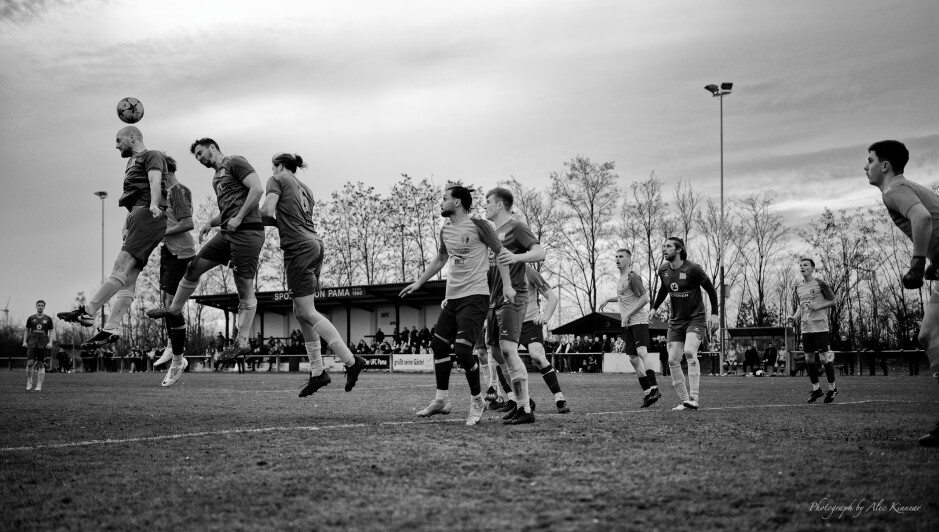 This time Peter Gallus makes a clean play on the ball, outjumping substitute Michal Belko in front of the UFC net very late in the game as Said Soltani looks for a chance with Markus Fabsich holding his arm and UFC Pama keeper Martin Hajtmanek watches the ball carefully.
SC Kittsee did manage to press late.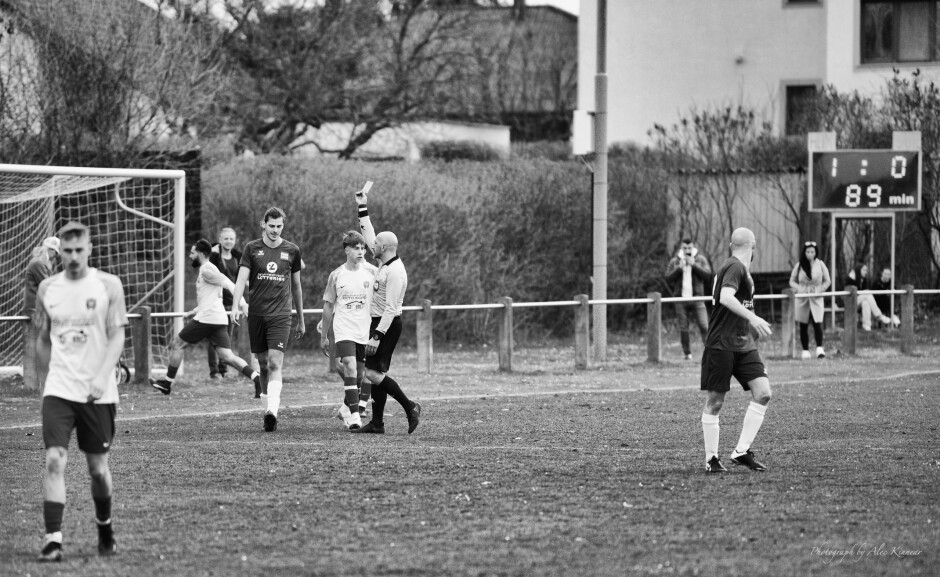 At 89 minutes Andreas Fabsich kicks the ball into the bushes which Michal Belko was trying to retrieve for a header. Bearded Juraj Fuska is running after the ball in the bushes in the background.
Fabsich earns a well-deserved yellow card from referee Arif Erdem for unsportsmanlike conduct. Surely Erdem just added thirty seconds to penalty time. What's the point of this kind of dirty play?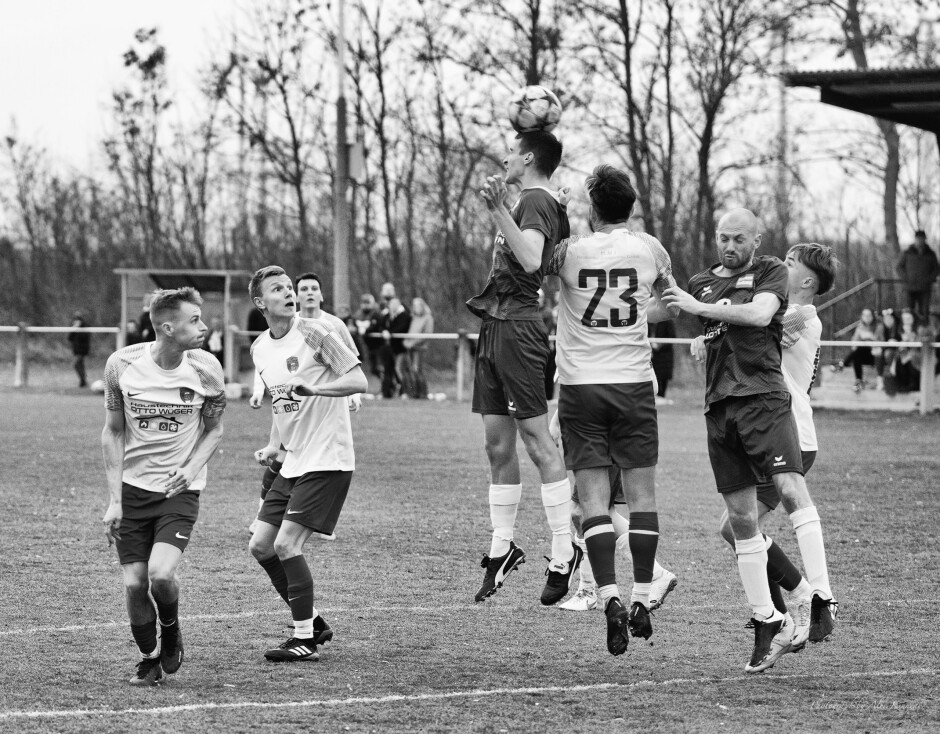 Bence Bogar beats Jaroslav Machovec to the ball, thanks to the strong grip of Peter Gallus on Machovec's elbow. Gallus makes just enough of a jump to prevent referee Arif Erdem from seeing what he's up to.
Referees should watch Peter Gallus closely this season if he is bending the rules so hard in the first game. That said, I'm not all that troubled by Gallus's behaviour. Apart from the elbow to Tomas Bastian's face, there was no intention to injure, just to hinder. What makes me unhappy are players who play in this regional league to injure their neighbours. There's no glory in hurting other players in any league, and even less when they are your neighbours and friends. Happily this was not one of those games.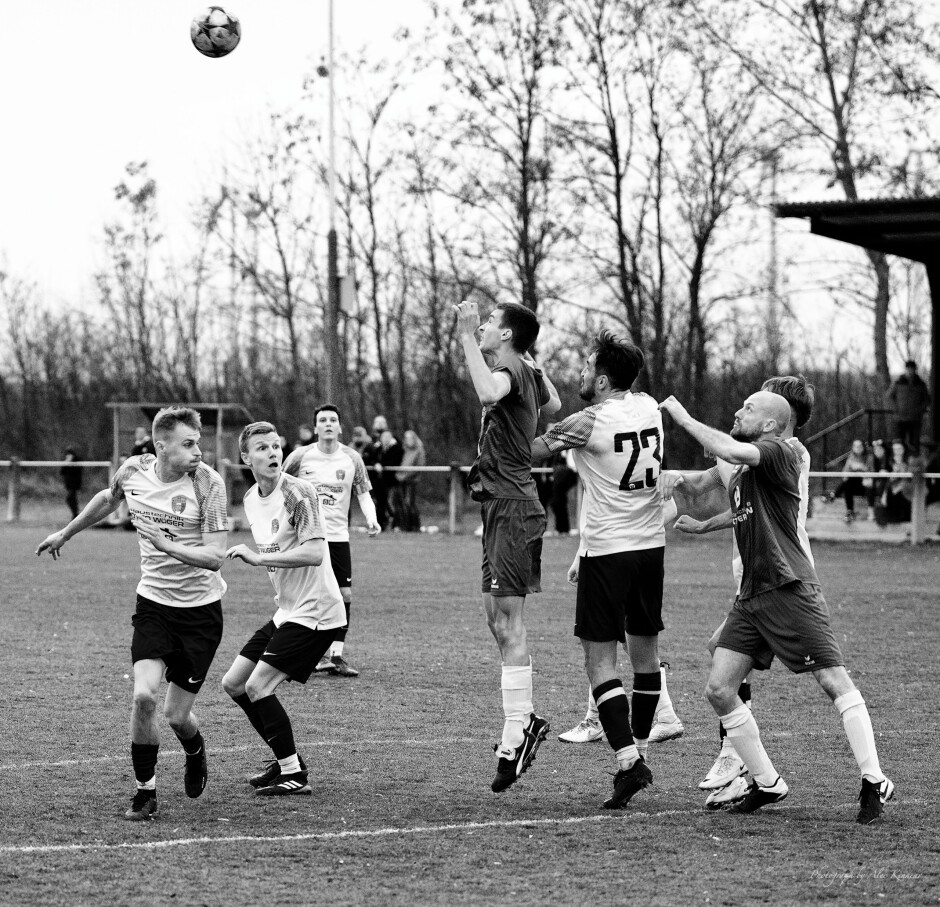 Peter Gallus is back up to his tricks again. Here we can see Gallus reach for Jaroslav Machovec's shoulder while the ball is in the air to make sure Machovec cannot compete for the header.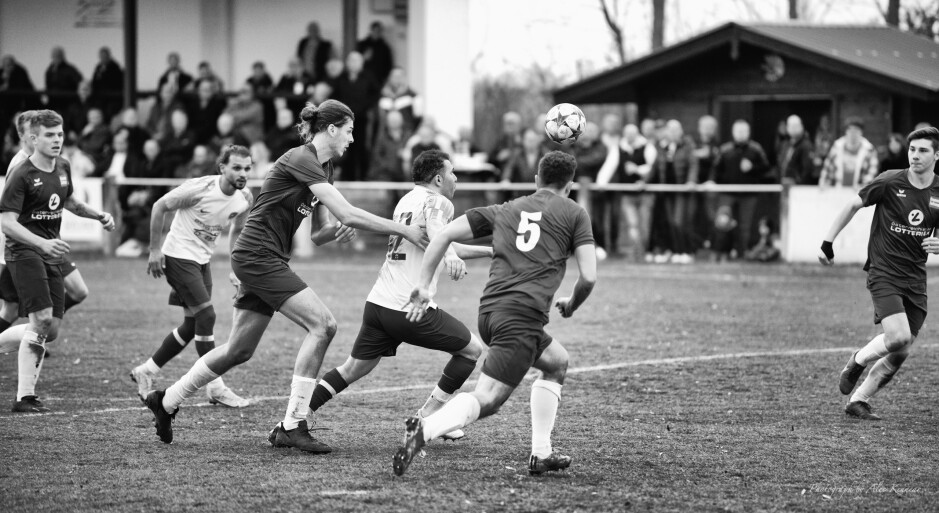 Andreas Fabsich and Markus Szegner chase Mustafa Atik. Atik played hard and had some chances on headers.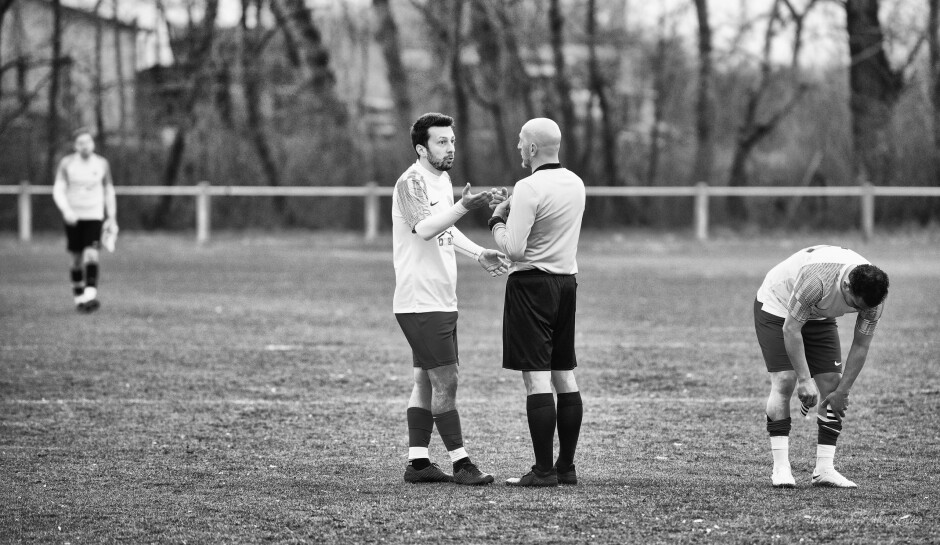 Kittsee players, trainers and fans all have a lot of questions for referee Arif Erdem. Clearly UFC Pama were sitting on their single goal, prepared to hold, trip and elbow to slow down the game. Erdem missed many of the fouls. While Erdem did hand out four yellow cards to UFC Pama, he avoided giving a second yellow to any single UFC player. In particular, Erdem failed to award a second yellow and red card to Peter Gallus. Normally Erdem has a keen eye and doesn't let a game get out of hand. It's also the first competive game for Erdem in three months.
SC Kittsee had all the chances in the world to win this game in the second half, as UFC Pama did not take advantage of Kittsee's disarray on defence in the first half to score another goal or two. Then UFC Pama sat back in the second half instead of pushing forward hard.
Neither team deserves great credit for Sunday's performance.