ImPulsTanz 2012: Benoît Lachambre – Snakeskins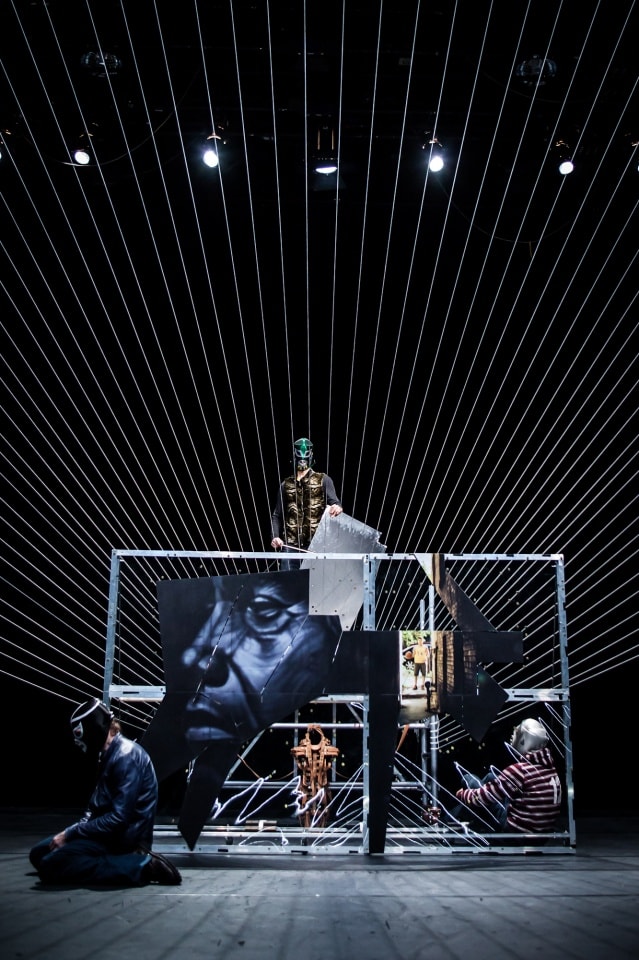 For years I've been hearing about Benoît Lachambre and how splendid and illuminating his work is. From the same crowd who love Jerôme Bel and detest Anna Teresa de Keersmaker and passionately loathe ballet.
Hence Lachambre's work has always appeared conceptual and fairly painful to me. In the best case, instructive or prophylactic, like a trip to the dentist. The tangy taste I had of his work with Clara Furey at the Franz West Tribute did inspire me to attend a full show. What impressed me there was his intensity. Lila, under Lachambre's mentorship for the summer, told me that his main speech to DanceWeb was all about intensity on stage. A very good point to make.

Benoit Lachambre Snakeskins: LaChambre is bottom left, Albanese is bottom left
Rowe is on top of the rig pounding a thunder sheet
photo Christine Rose Divito
In "Snakeskins", Lachambre begins by hanging upside down in a harness under a vast set of cables which dip four metres out to the audience. On the left of the netting is a guitarist with some computers and sound decks. As Lachambre waves his arms and the cables move, he appears to be flying like a giant bird. As he flies the music soars.
Throughout the piece Hahn Rowe's sound is incredible. The closest equivalent which comes to mind (without Frip's vocals) would be King Crimson. Or the Canadian band Black Emperor. Rowe for extended passages even plays his guitar with a bow like a classical violinist.
Leave a Comment