Going into this game, SC Kittsee was in eleventh place in Liga Nord II, one point away from relegation. UFC Pama had 31 points, just four points off league lader Monchöf. Kittsee had the chance to pull themselves out of the basement and UFC Pama had the chance to make a run at the crown (which is, as I've covered in past seasons) is fool's gold. With the crown comes promotion into Landesliga Burgenland where the small towns of Burgenland Liga Nord II don't have much hope of winning and much longer travel to away games to far away destinations like Güssing (185km, over two hours drive) and Pinkafeld. The close games are all more than an hour's drive away, instead of ten minutes down the road to Pama or Gattendorf.
Still UFC Pama was gunning for that third spot and didn't want to lose a derby game, particularly to what had been a lackluster 2021-2022 Kittsee club. The game was unexpectedly close. Here's how it went down.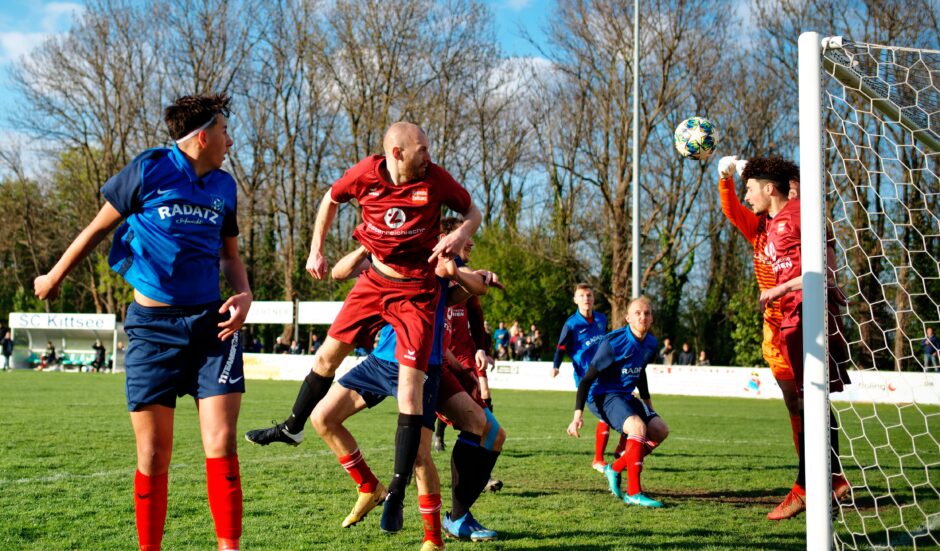 Tobias Wisak sends a dangerous header past Peter Gallus and Simon Werdenich at UFC Pama keeper Julius Pentek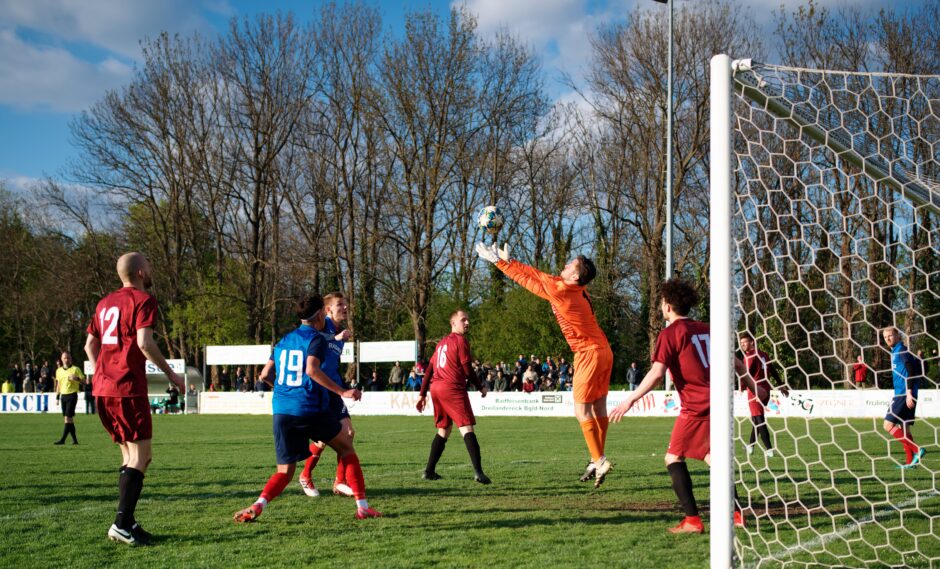 Christopher Drobela sends another header at UFC Pama keeper Julius Pentek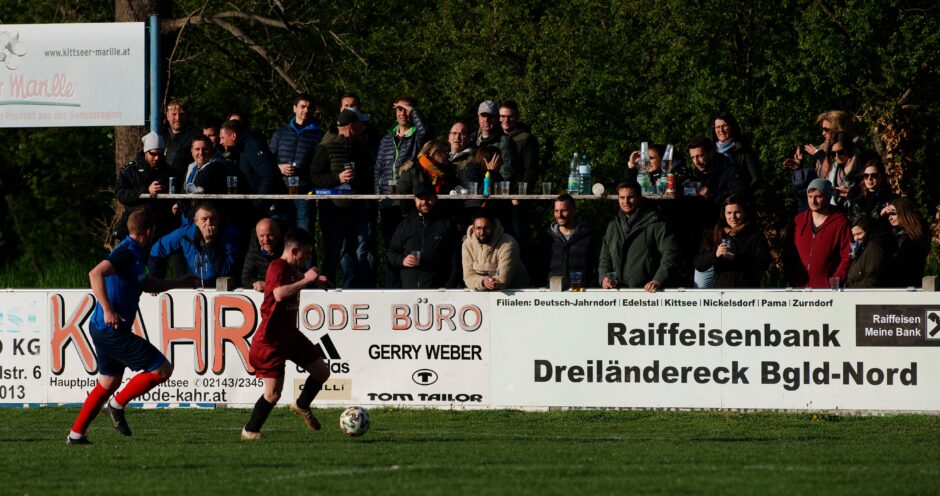 Kittsee home bench fans enjoy watching UFC Pama's Thomas Werdenich try to keep the ball away from Kittsee captain Thomas Bastian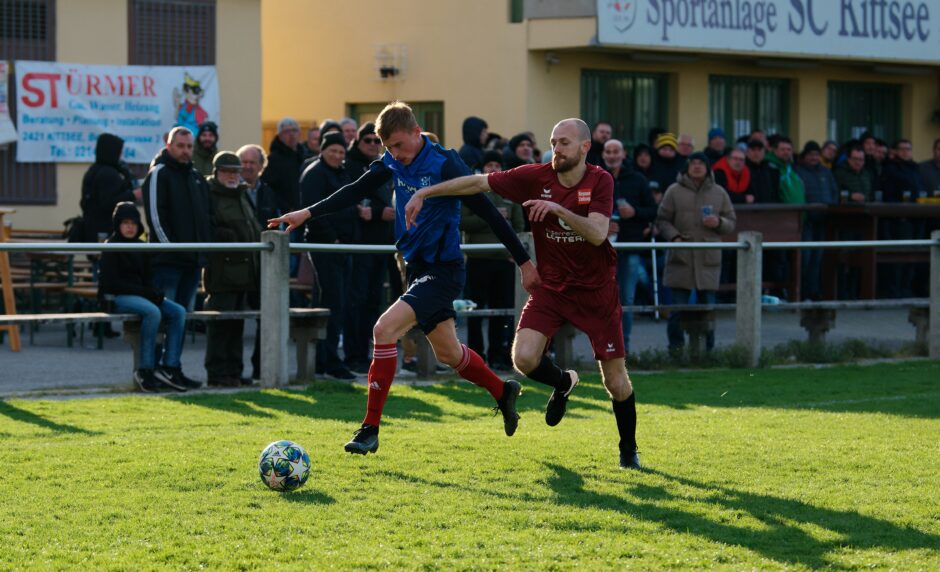 This numbered sequence show how difficult it is to stop Jozef Sombat without tripping him. Peter Gallus is in pursuit.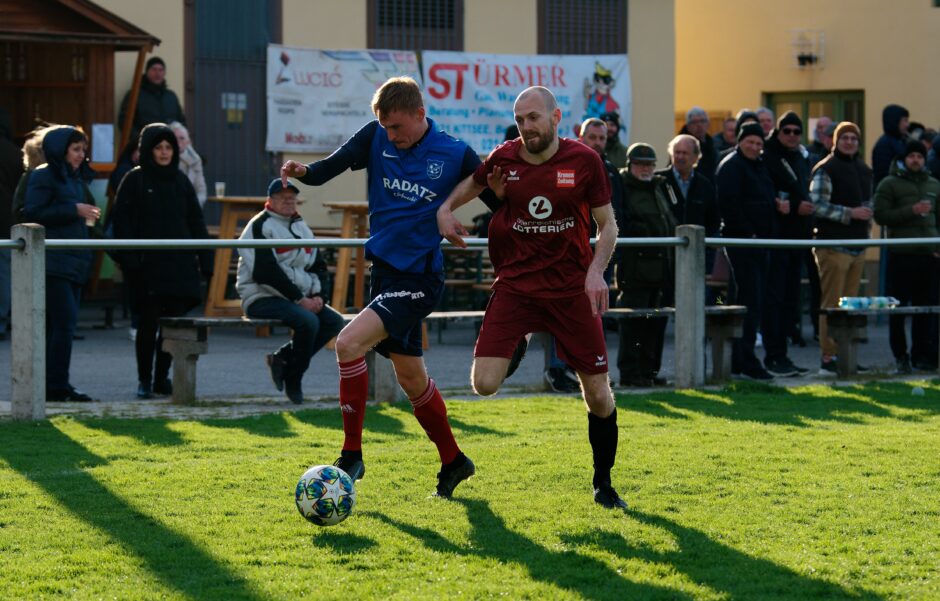 This numbered sequence show how difficult it is to stop Jozef Sombat without tripping him. Peter Gallus is in pursuit.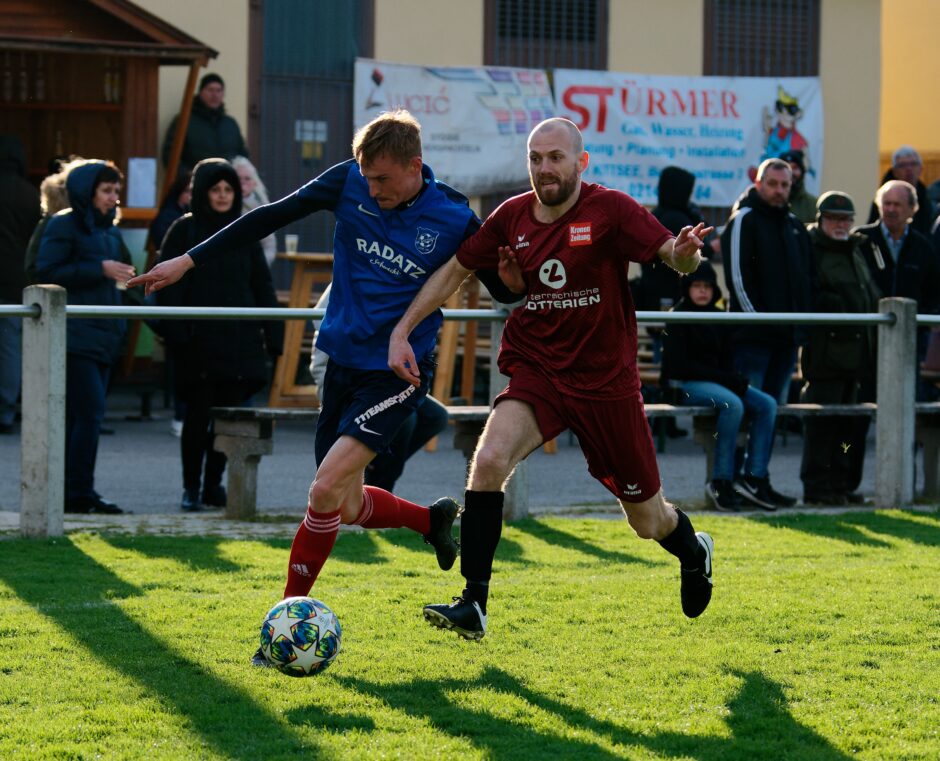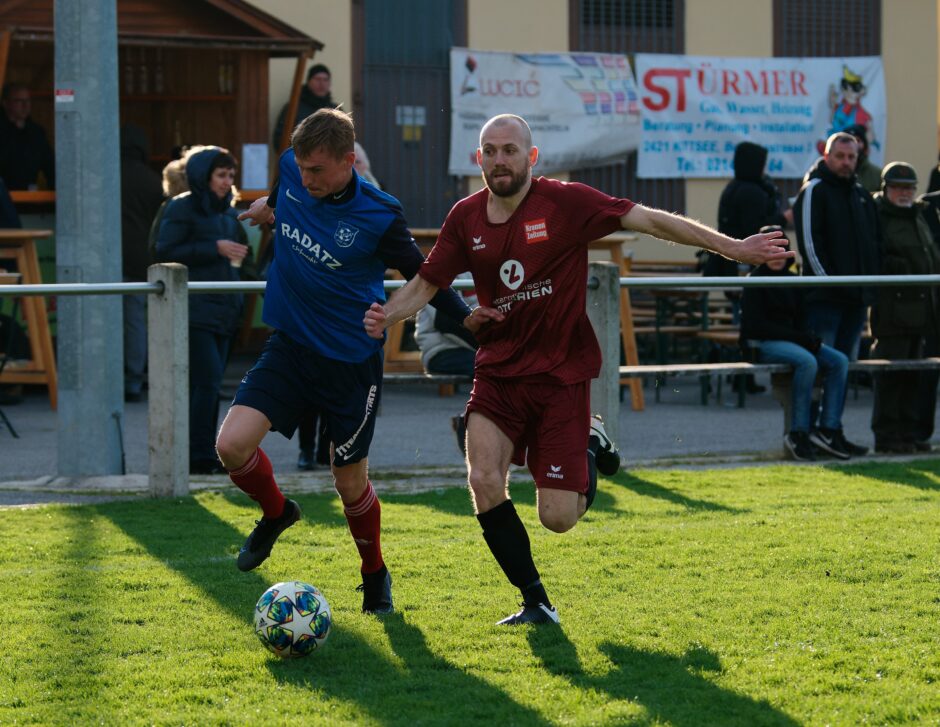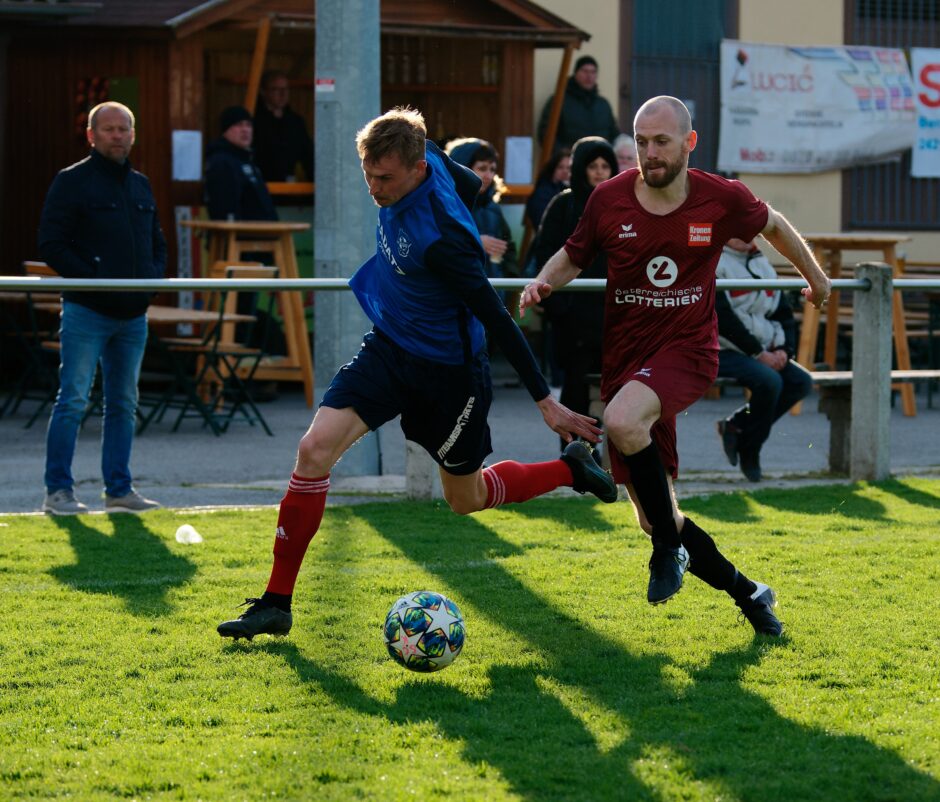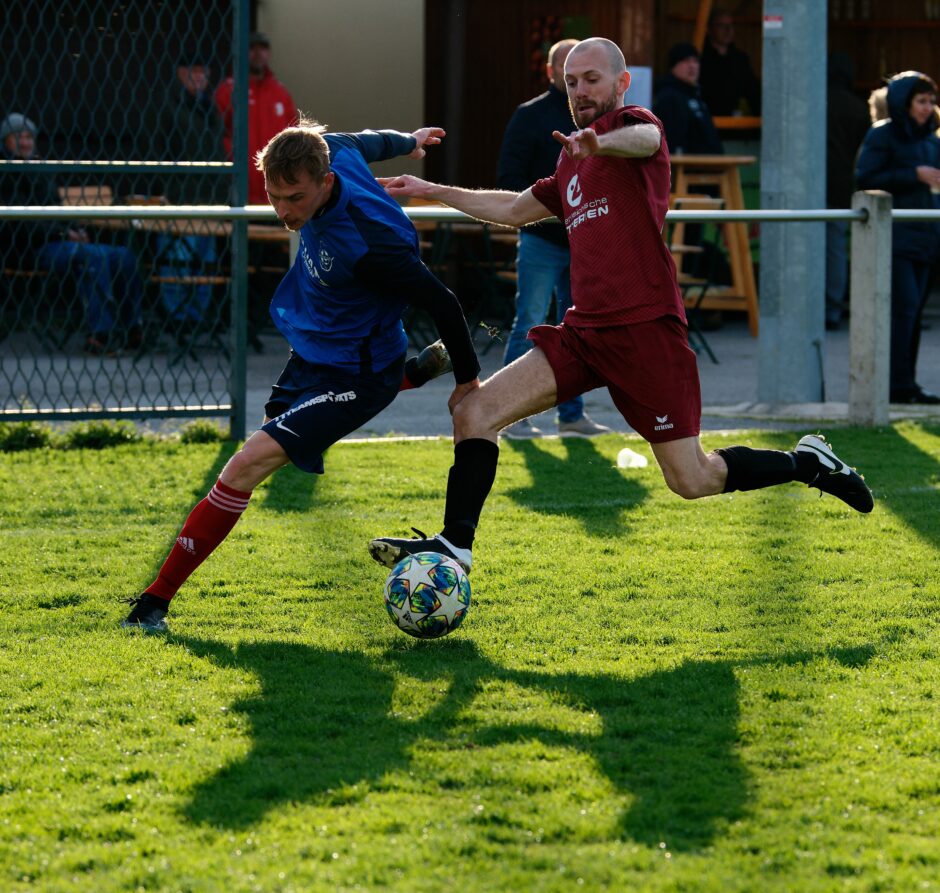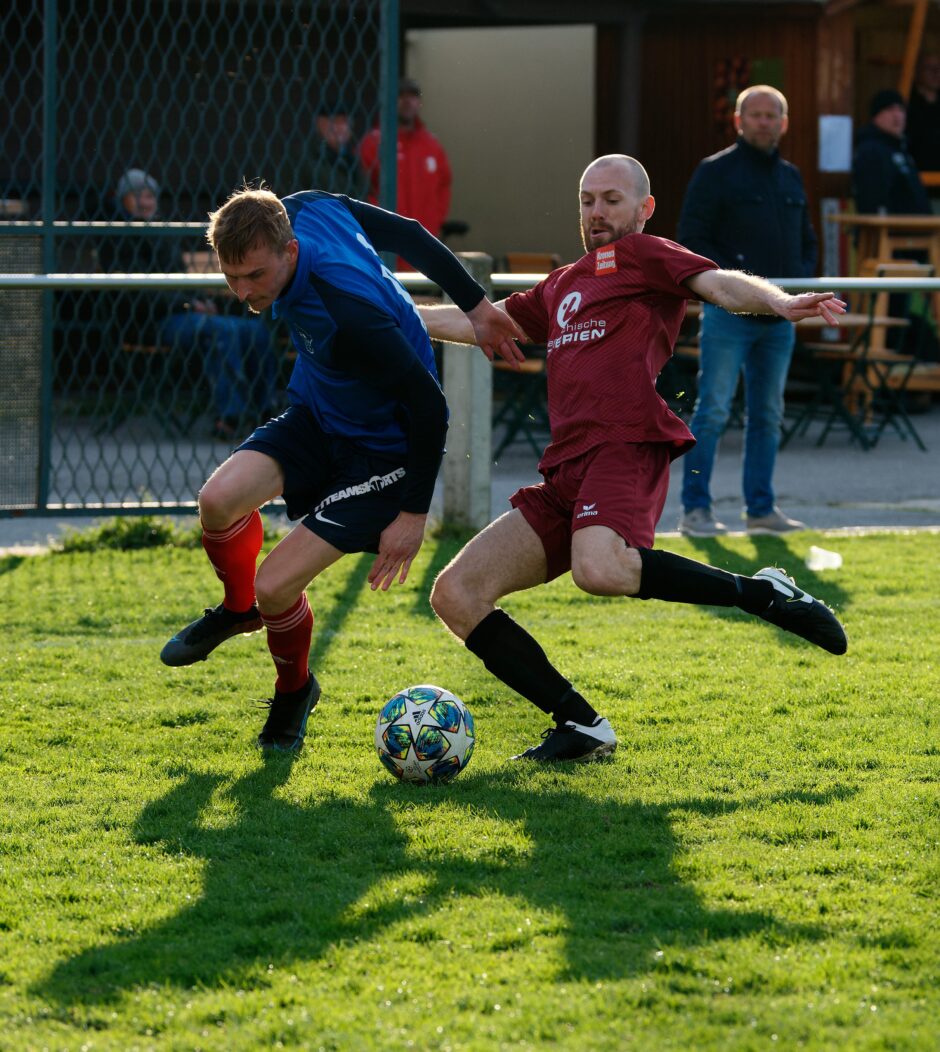 Now comes the deliberate trip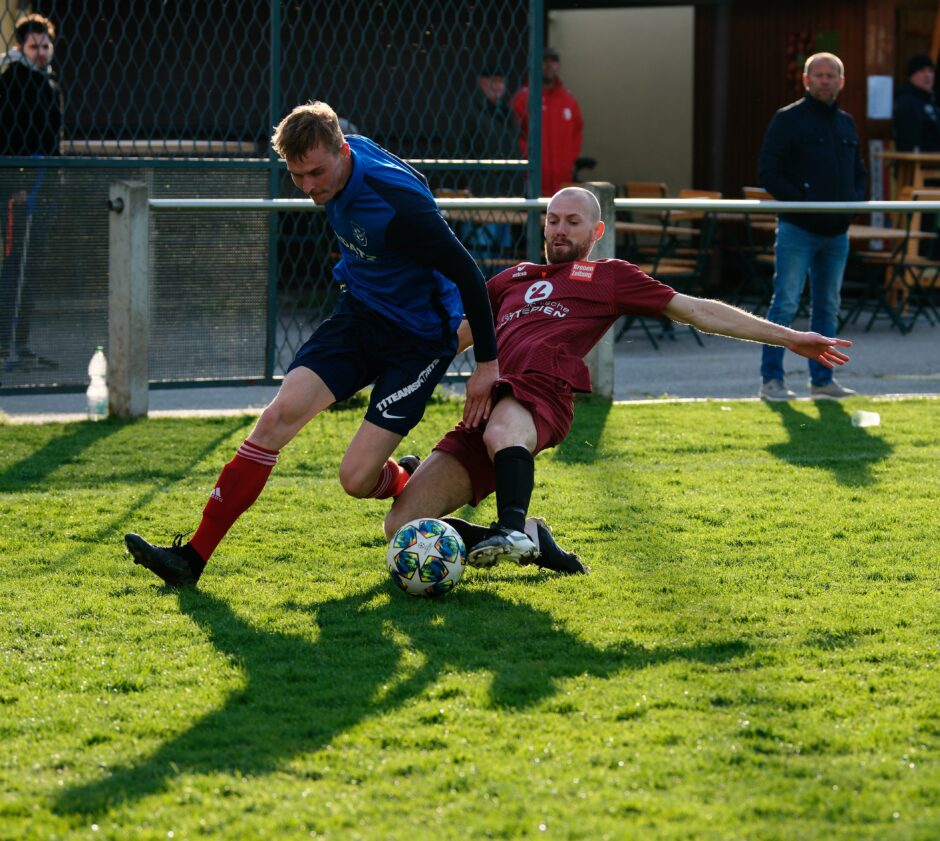 Gallus at least makes a pretence of going for the ball but his right leg is clearly tripping Sombat.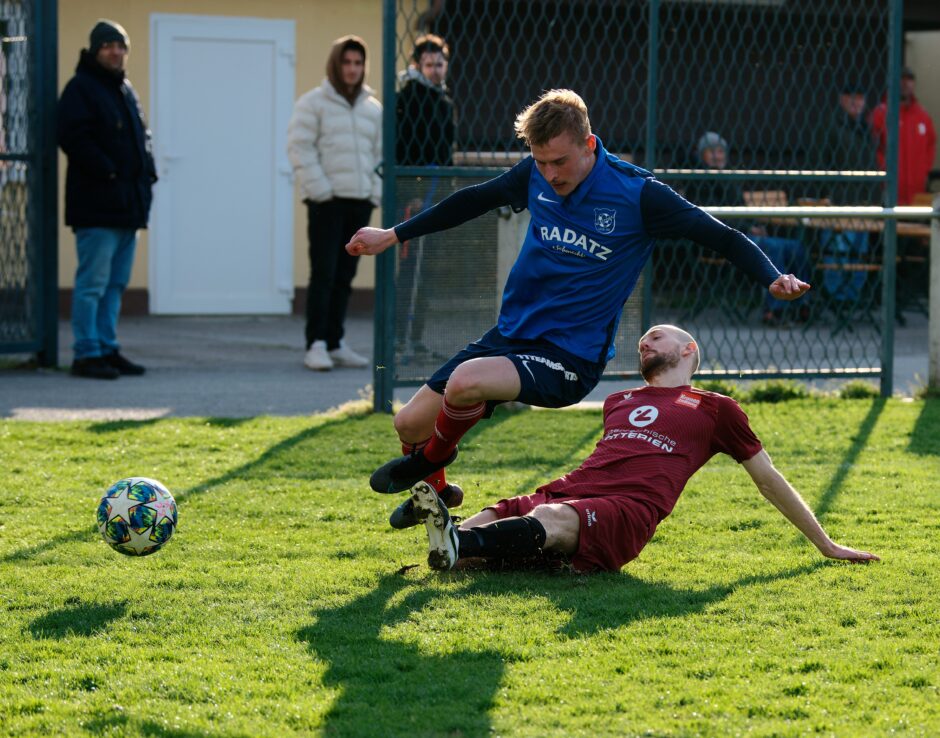 There's no way Sombat can avoid taking a tumble here.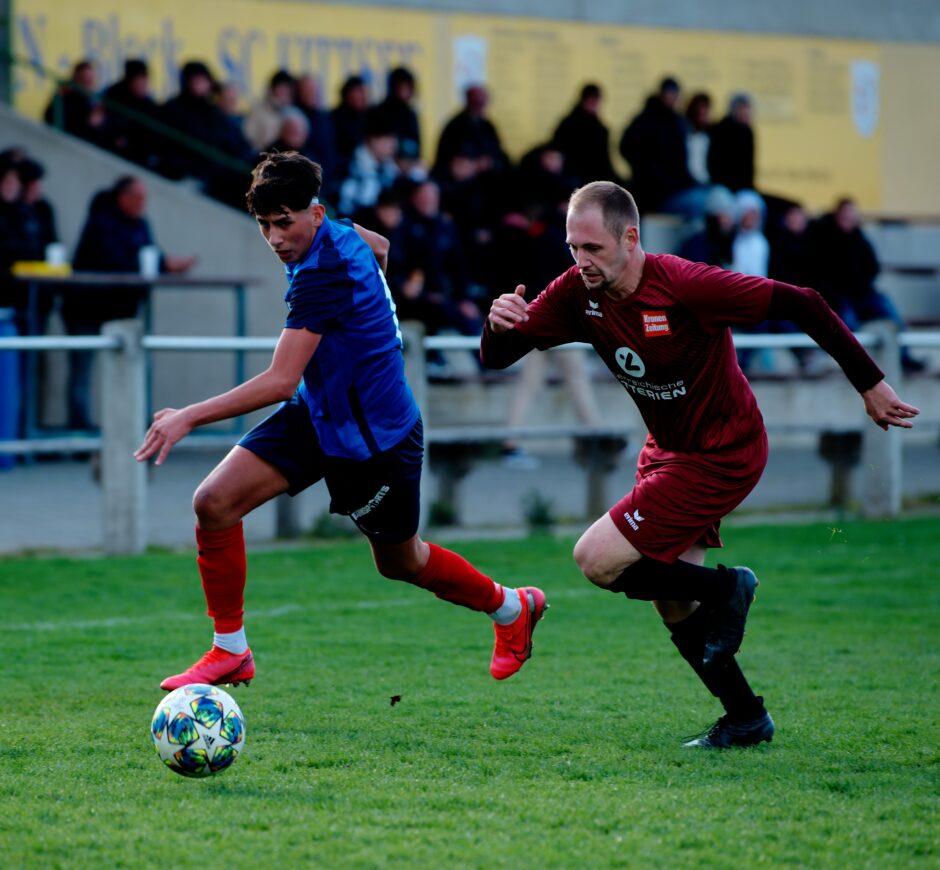 Tobias Wisak continues to show some flare on the wing, even if he hasn't fully put his game together at fifteen years.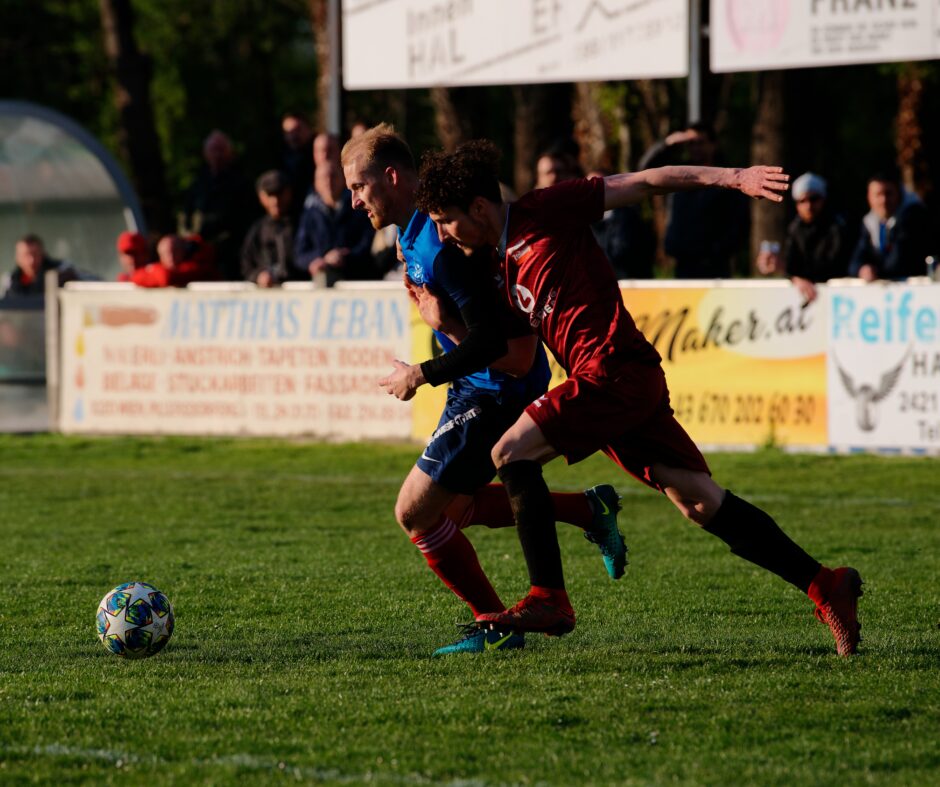 Michal Andrasik had some good moments with the ball, including this one.
Markus Szegner is able to keep Juraj Fuska from scoring on a dangerous cross in front of UFC Pama keeper Julius Pentek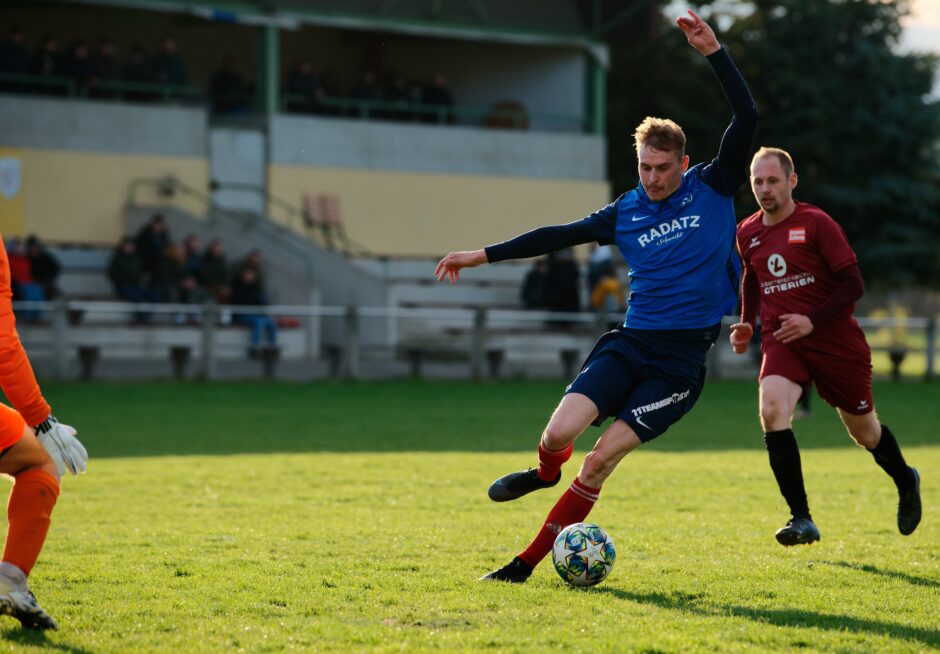 This photo is the start of an astonishing sequence which caused a complete breakdown in UFC Pama and almost won SC Kittsee the game. Jozef Sombat dribbles the ball in front of UFC keeper Julius Pentek with Andreas Roth in pursuit.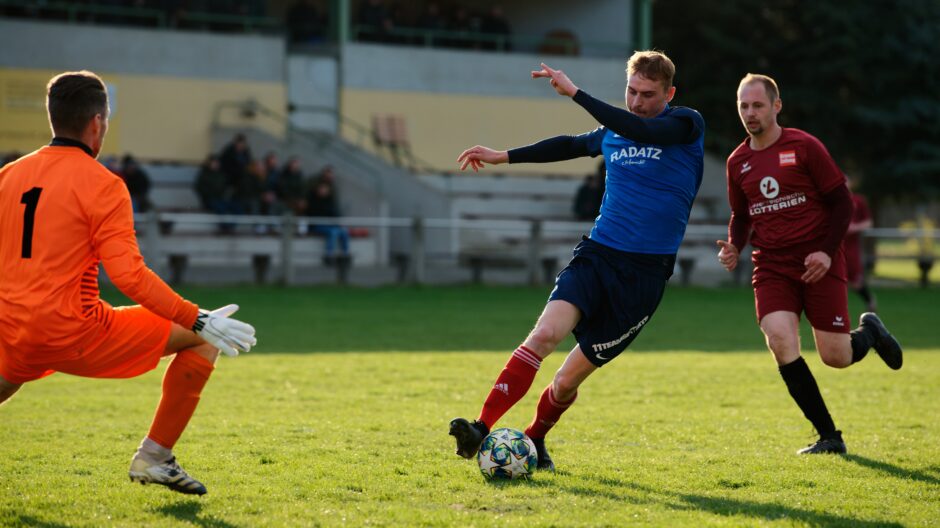 As Sombat comes closer, it looks like Pentek may still have control of the the angle.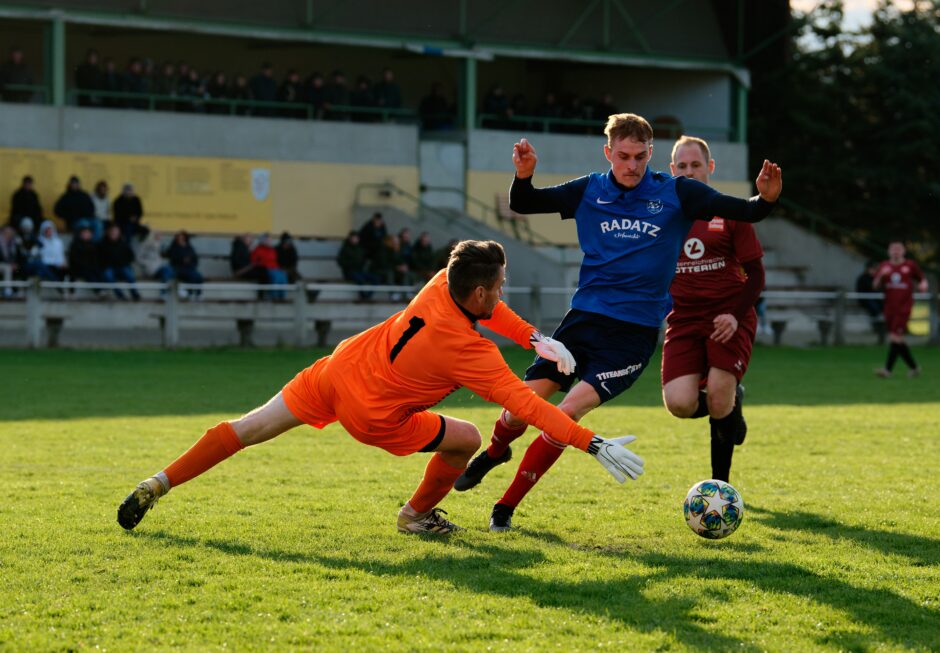 Jozef Sombat managed to pull Pentek out of position. The ball is already past the keeper. Now Pentek must block and effectively trip Sombat to keep him from walking the ball in.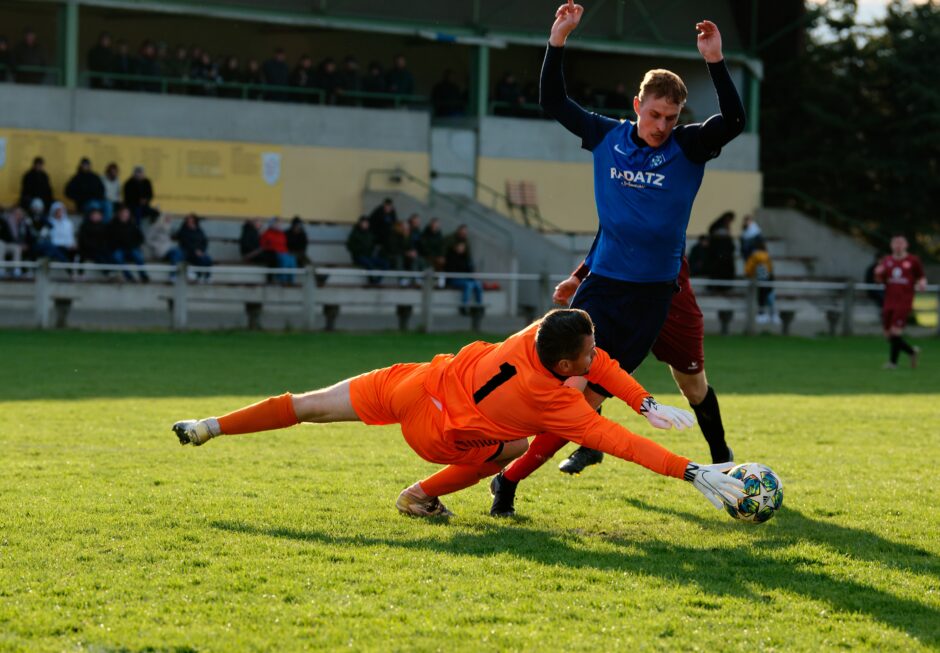 Sombat starts to fall as Pentek lunges in front of him.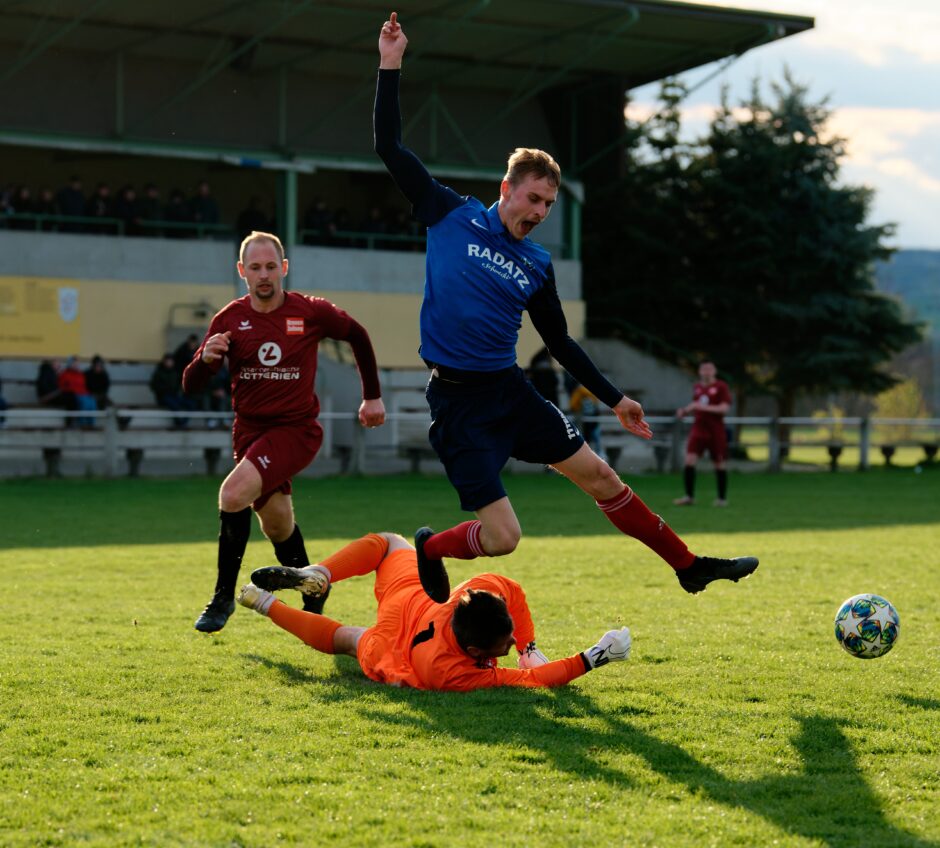 It looks here like Sombat could land on his own two feet and still score. Pentek may have been able to get his hand on the ball putting it past Sombat's reach, even will tripping him.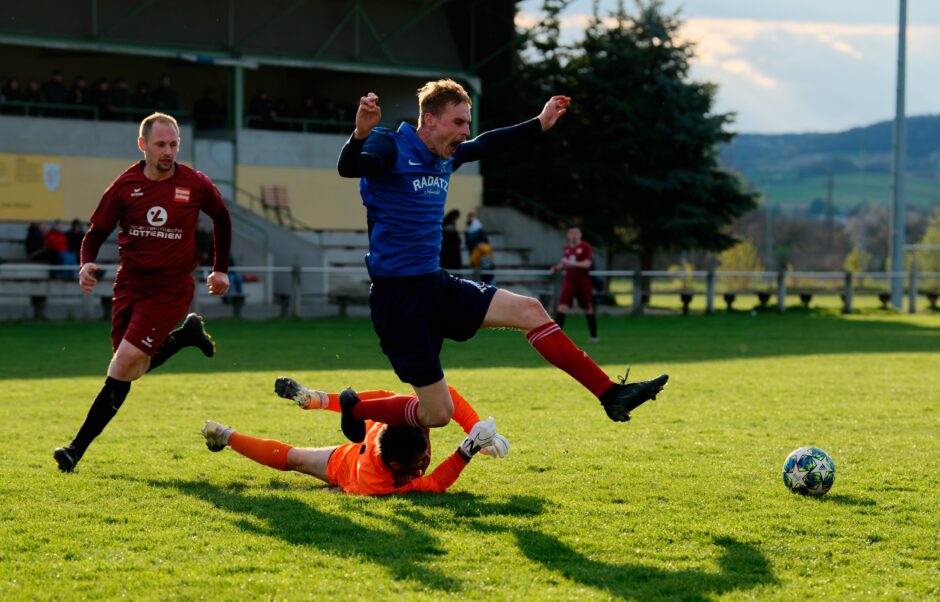 Sombat has decided that if he must go down, he will make noise doing so and so encourage the referee to make a call in his favour.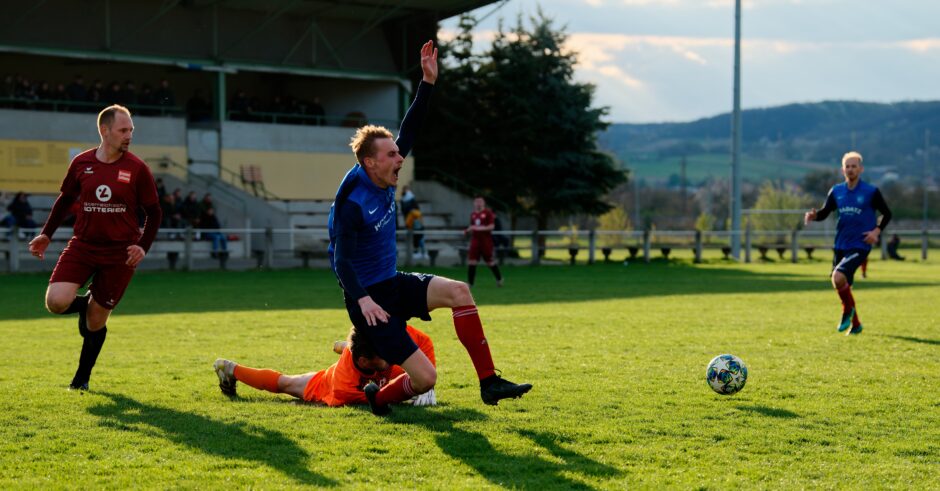 Sombat falls to the ground with his arm up as the ball drifts slowly in front of the Pama net with keeper Julius Pentek on the ground.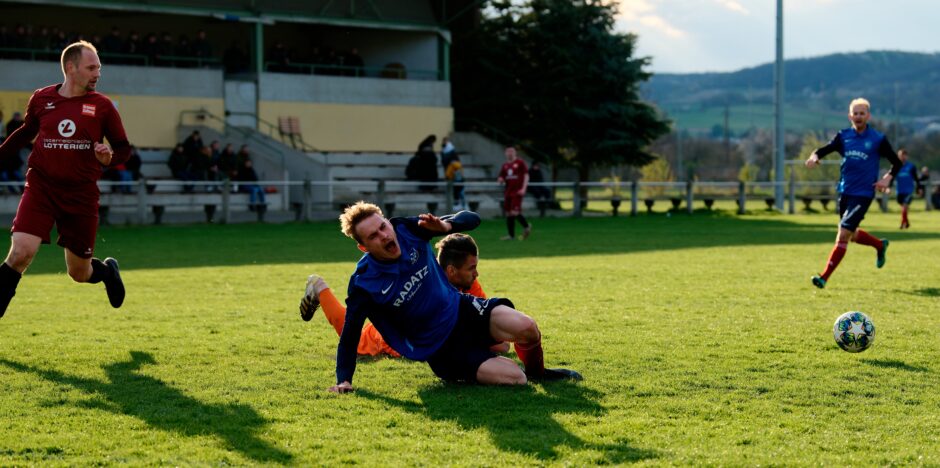 Is Sombat injured? By appearances, he is.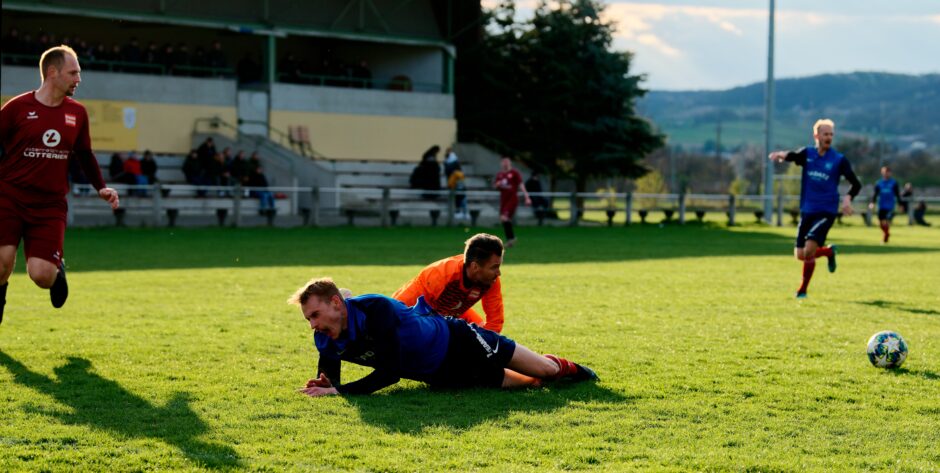 Sombat is down as Pentak slowly goes after the ball, but already expecting some kind of penalty kick.
UFC Pama keeper Julius Pentek realises what kind of trouble he is in now, blocking a forward, bringing him to the ground and perhaps injuring Sombat in the penalty area.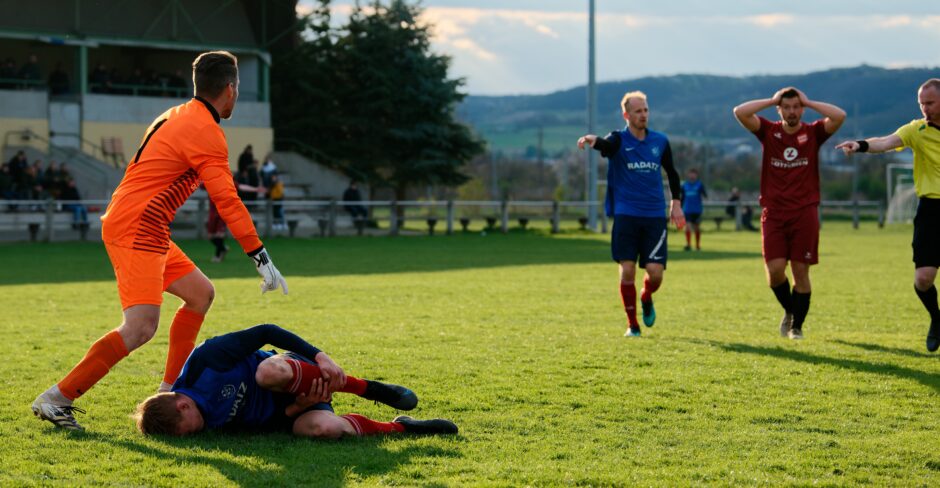 Julius Pentek points at Sombat while referee Markus Kouba points at the penalty spot.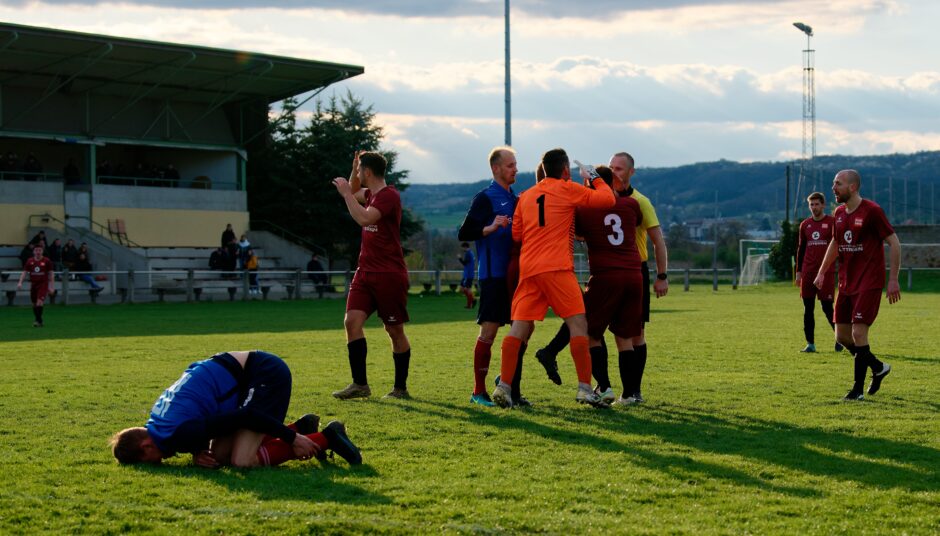 Julius Pentek decides that Sombat is feigning injury and to go after referee Markus Kouba to overturn the penalty. This is a bad idea. Pentek may still have been able to stay on the field.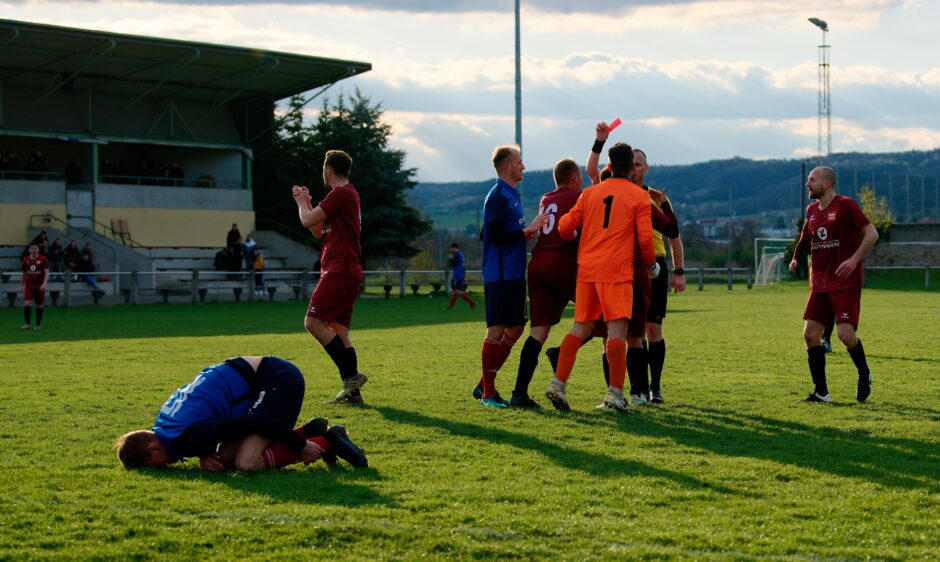 Markus Kouba has made his decision and lays a red card on Julius Pentek in the 67th minute for denial of an obvious goal-scoring opportunity.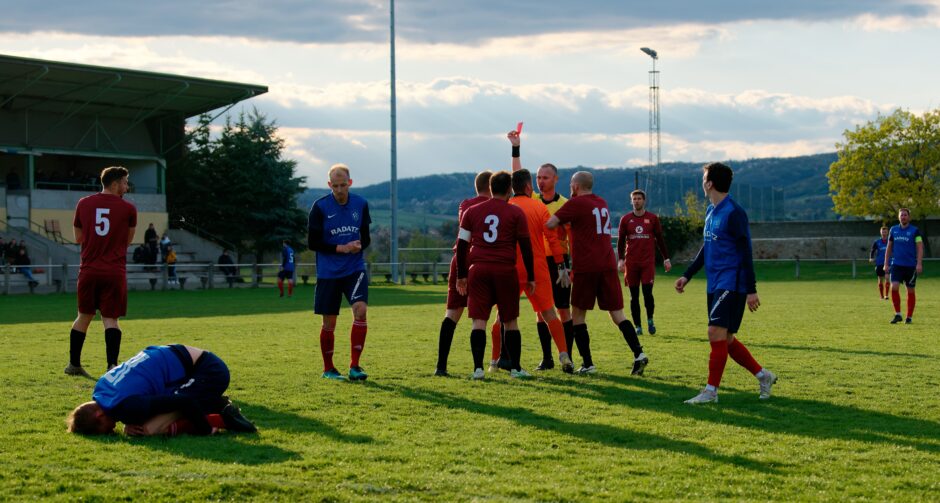 Sombat lies on the ground in pain as referee Markus Kouba faces down Julius Pentek, Markus Lackner and Peter Gallus. Curiously in Premiere League football the rules were changed in 2016 to allow only a yellow card if a penalty kick is awarded on a DOGSA foul. Julius Pentek's mistake here was to shout at the referee. If he's kept quiet it might only have been a yellow card and a penalty kick.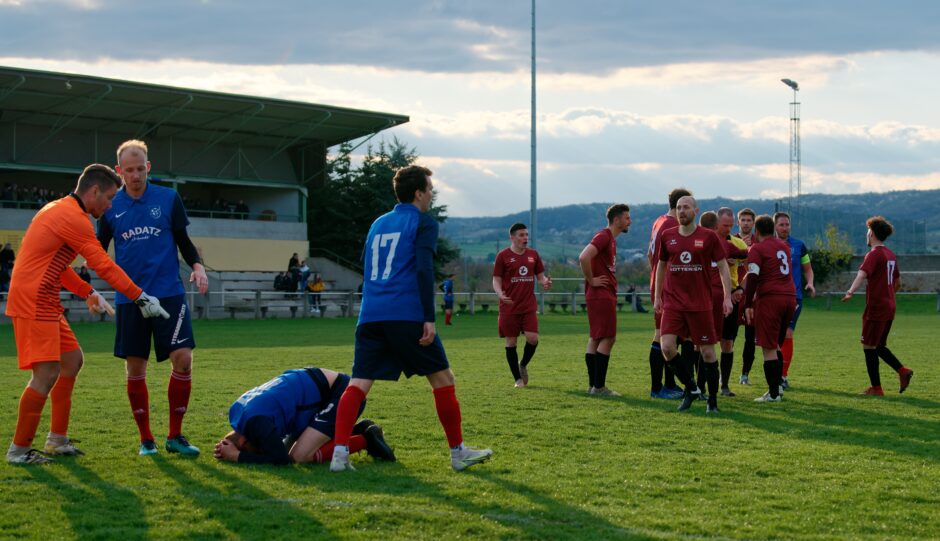 Julius Pentek is infuriated with Jozef Sombat for playing possum, according to Pentek.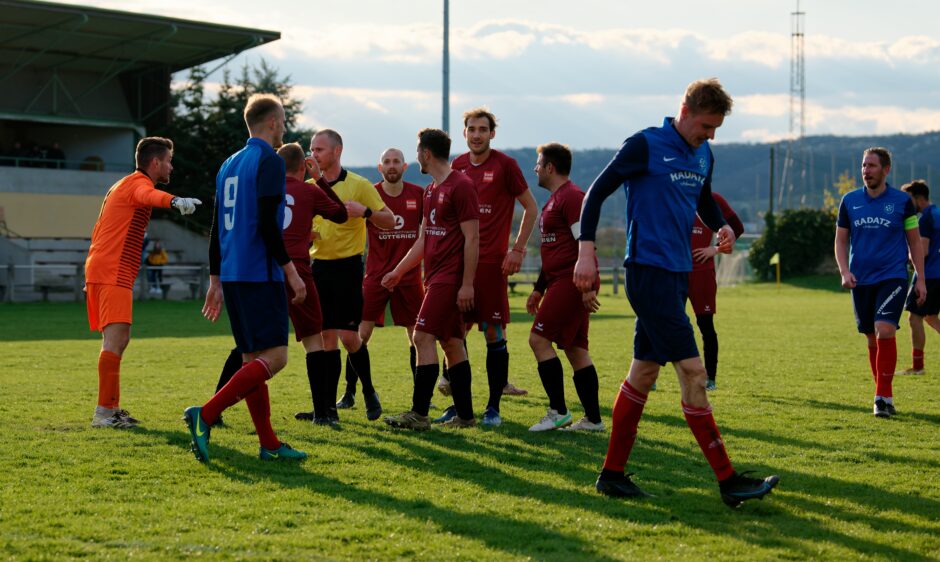 Is Sombat smiling as he walks off or is he genuinely injured? UFC Pama, and particularly keeper Julius Pentek are convinced it's been an elaborate ruse.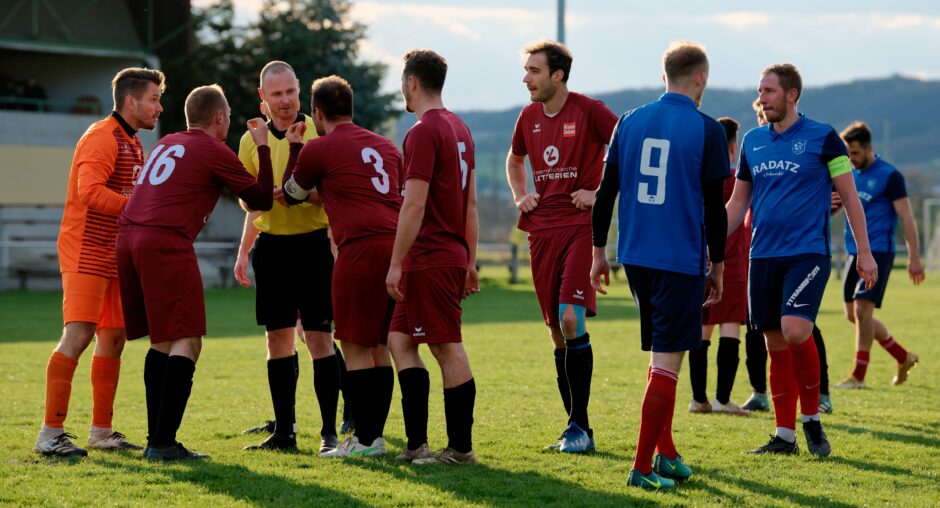 Referee Markus Kouba is having none of it. He's genuinely bemused and slightly annoyed that UFC Pama won't accept his ruling. SC Kittsee captain Thomas Bastian is keeping his distance.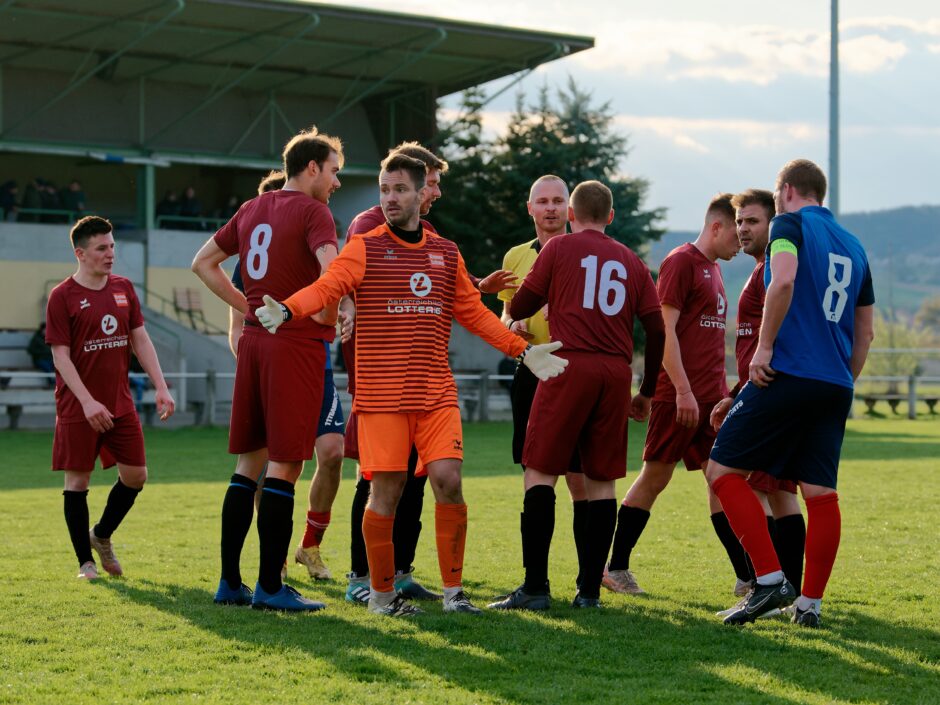 Keeper Julius Pentek spreads his arms to appeal to God if referee Kouba won't listen.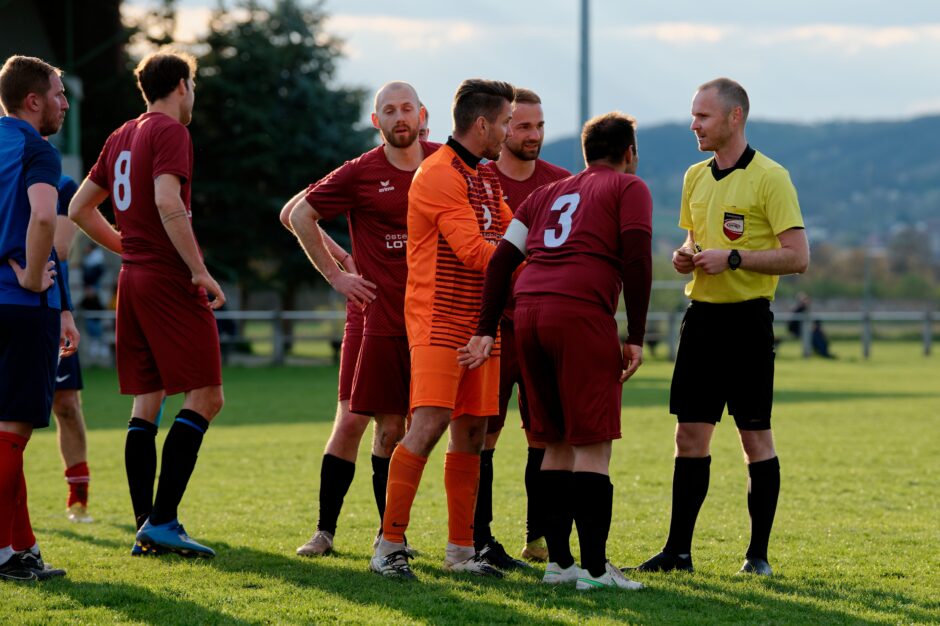 Yes, it's really happening. Referee Markus Kouba must explain the ruling yet again to Julius Pentek who in the heat of the moment has lost his ability reason.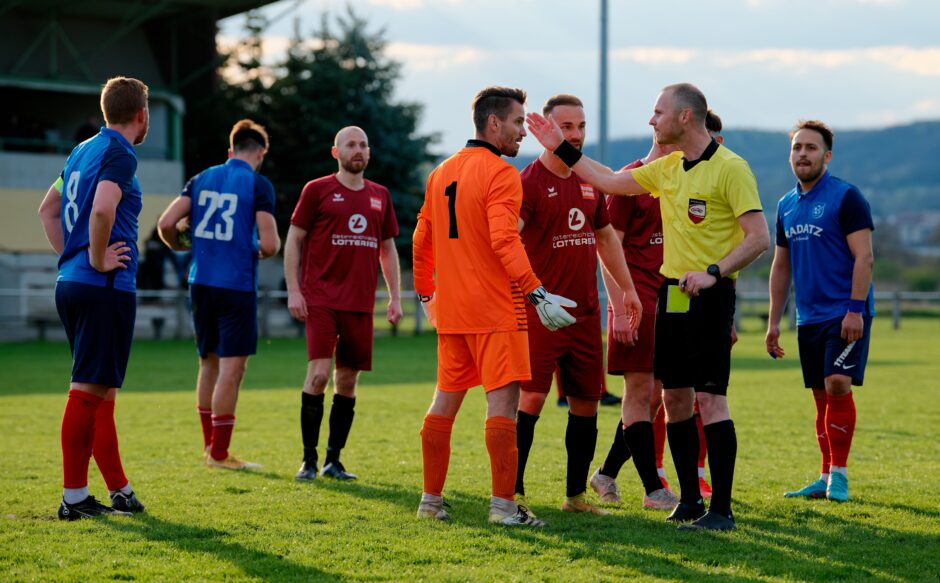 Referee Markus Kouba tells Pentek to get off the field now. Sebastian Skerlan strives to keep a straight face as he relishes the turn the game has taken. SC Kittsee has been dominating play in the second half and they have their opportunity to tie up the game and run away with a much needed win.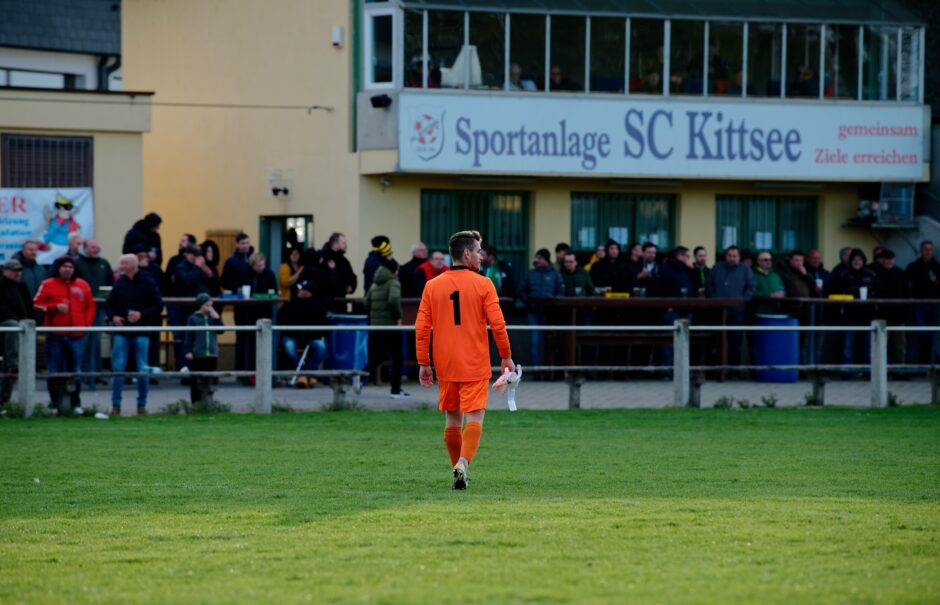 Ten minutes after the initial foul, UFC Pama keeper Julius Pentek finally quits the field.

Referee Markus Kouba asks UFC Pama coaching staff which player they would like to take off the field to allow them to field a keeper (with a red card, Julius Pentek does not get a substitute). He gets another earful from the UFC Pama clubman.

The Kittsee home bench is delighted with this turn of event. Some already consider the penalty goal a done deal. Others, mostly former players, still look worried.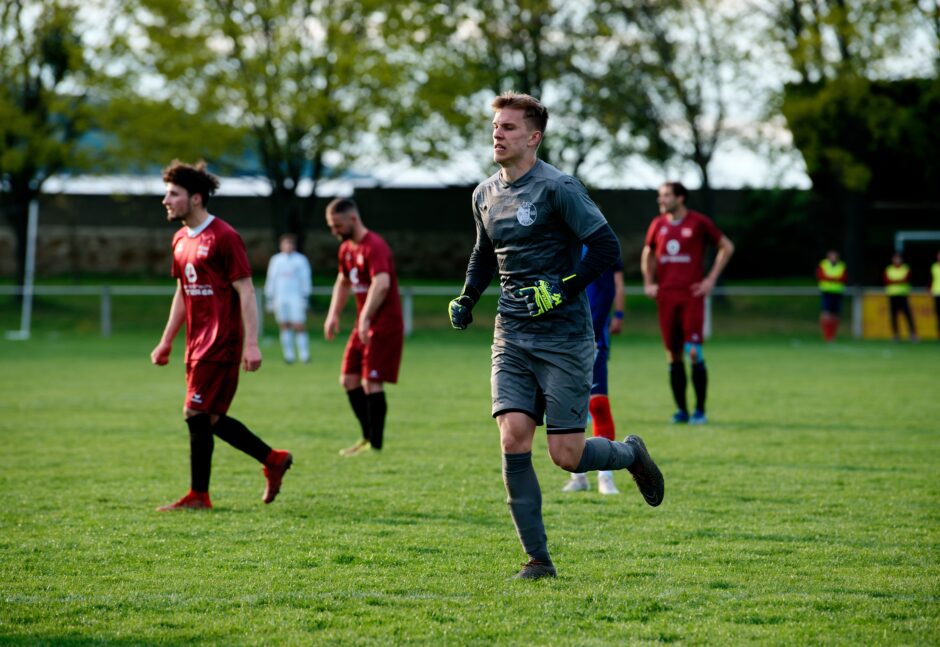 UFC Pama substitute keeper Patrik Kukla takes the field, looking stressed and unready. This is promising.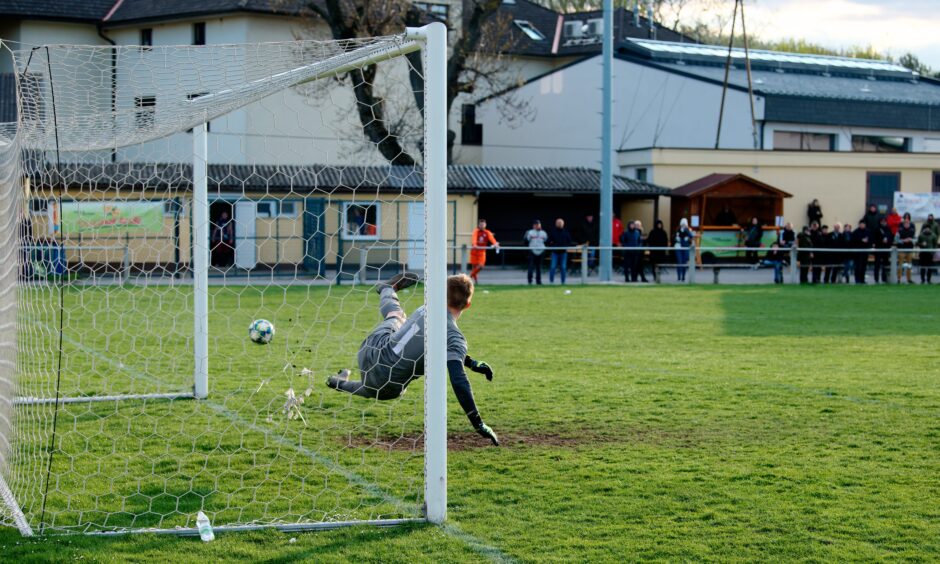 The penalty is taken hard by Jozef Machovec. Patrik Kukla jumps the wrong way. The ball bounces off the left post, hard. A little more touch and Machovec/SC Kittsee would have had an easy penalty goal.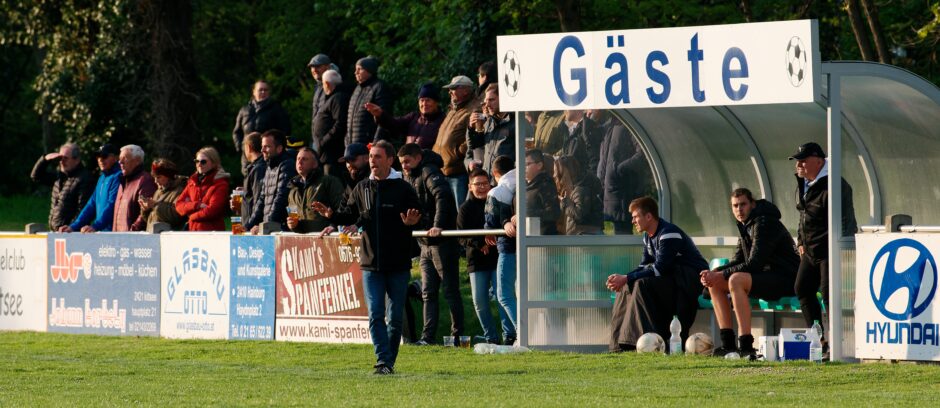 UFC Pama have dodged a bullet here. In their outrage, the team has lost its collective mind and its ability to play coherent football. UFC Pama coach Michael Guttmann realises his team still holds the lead and strives to settle them.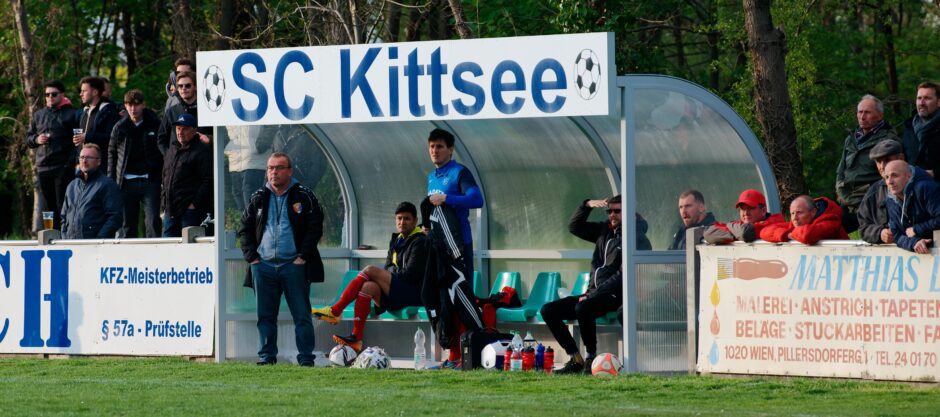 Stony faces on the SC Kittsee bench. What looked like at least a tie if not a win, in what has been a dark almost winless season, is slipping away. SC Kittsee coach Manfred Wachter sends one time wunderkind winger Gerhard Krejcy in to freshen the attack.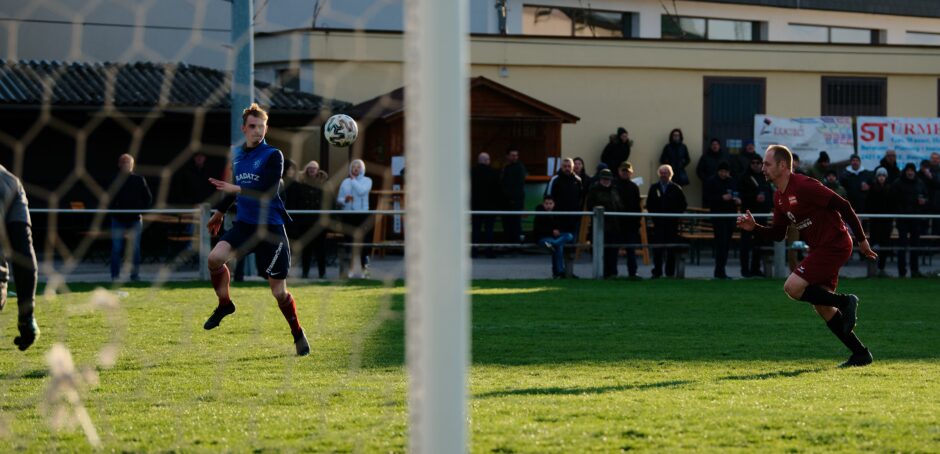 Jozef Sombat picks up a nice crosser as Andreas Roth is caught flat-footed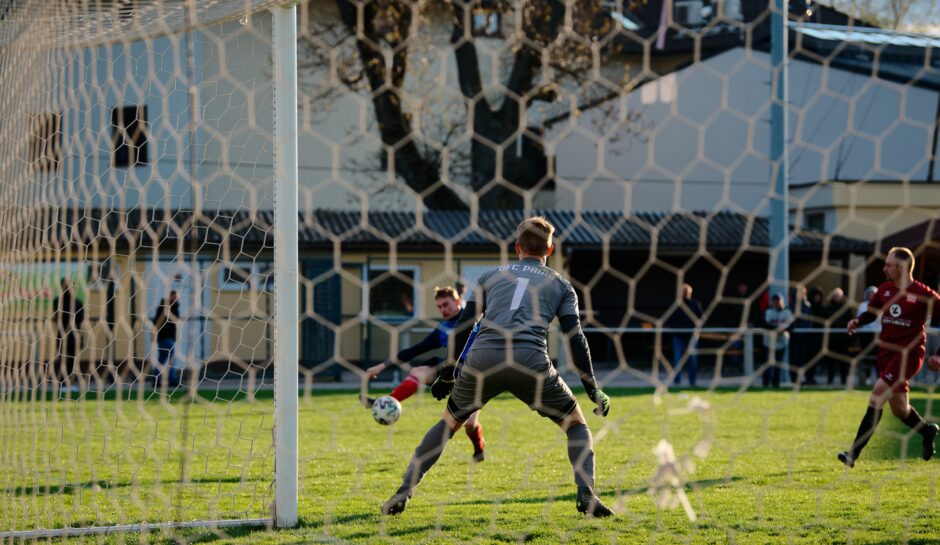 Jozef Sombat has plenty of time to send a hard shot towards UFC Pama substitute keeper Patrik Kukla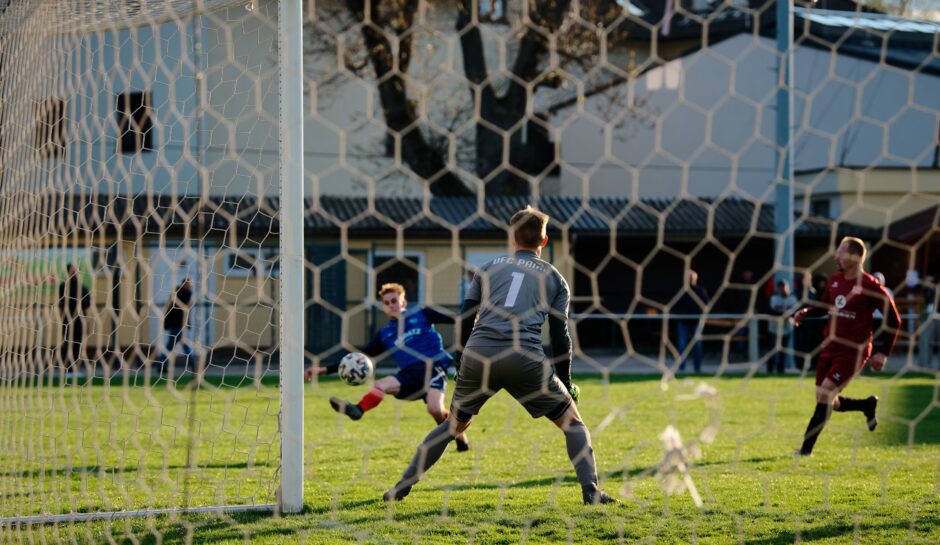 Kukla won't be fast enough to stop Sombat's hard shot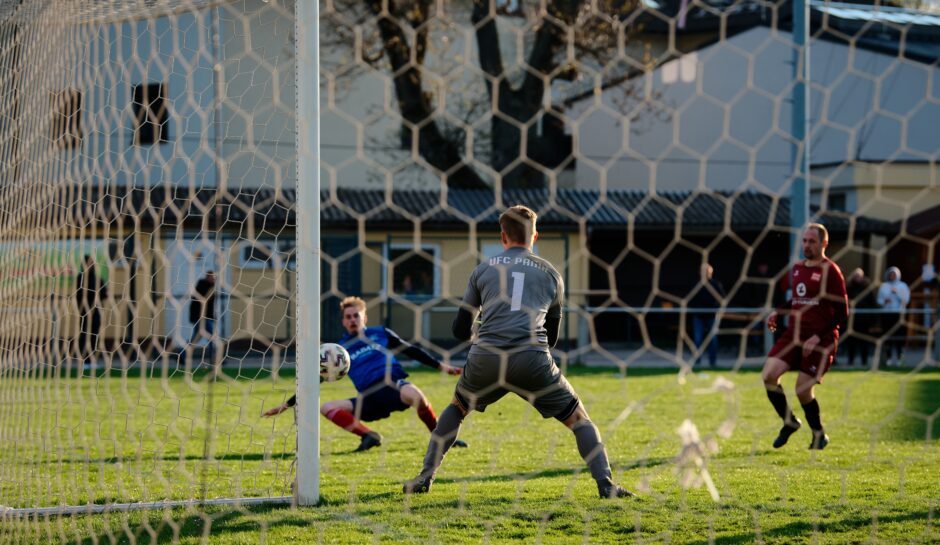 Again SC Kittsee dings the post hard. This time it's Sombat's honours and not Machovec. Andreas Roth avoids the doghouse today.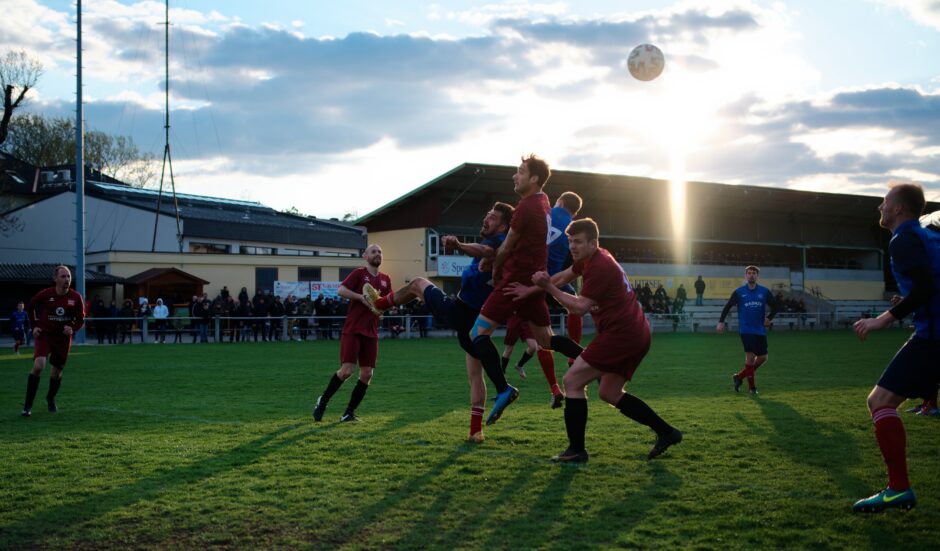 As the sun sets, SC Kittsee's chances are slowly floating away with this deflected header.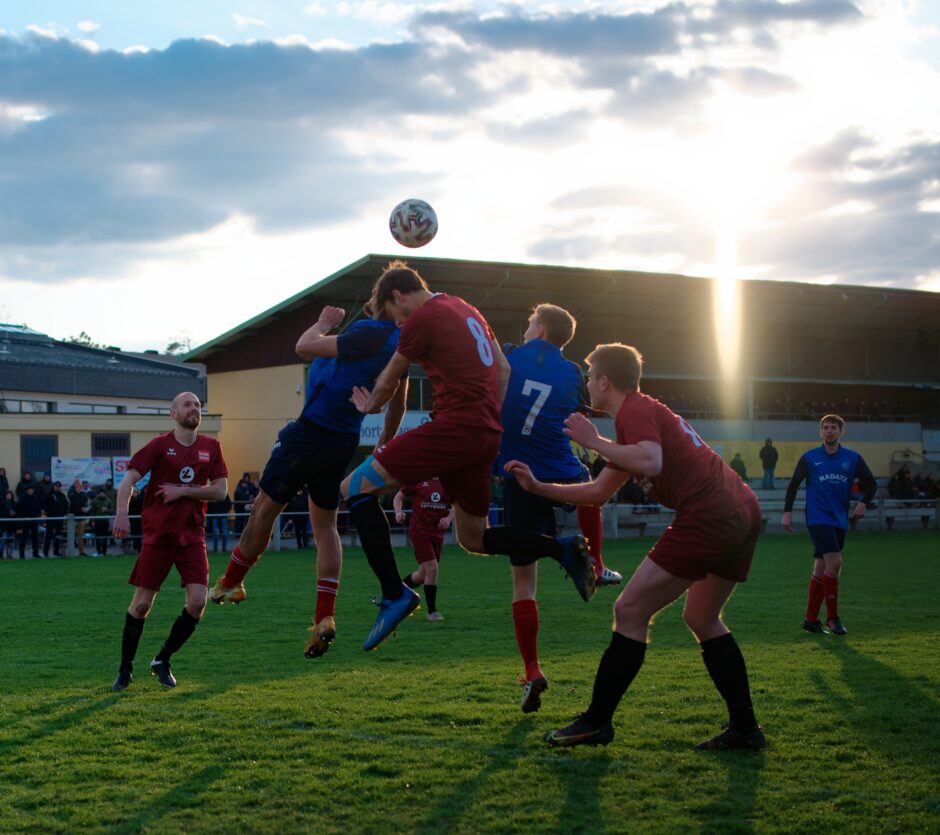 Josef Machovec and Christoph Drobola are determined to end the drout, competing hard for headers in front of the UFC Pama goal. Christoph Werdenich is able to get enough of the ball to keep it out of the goal.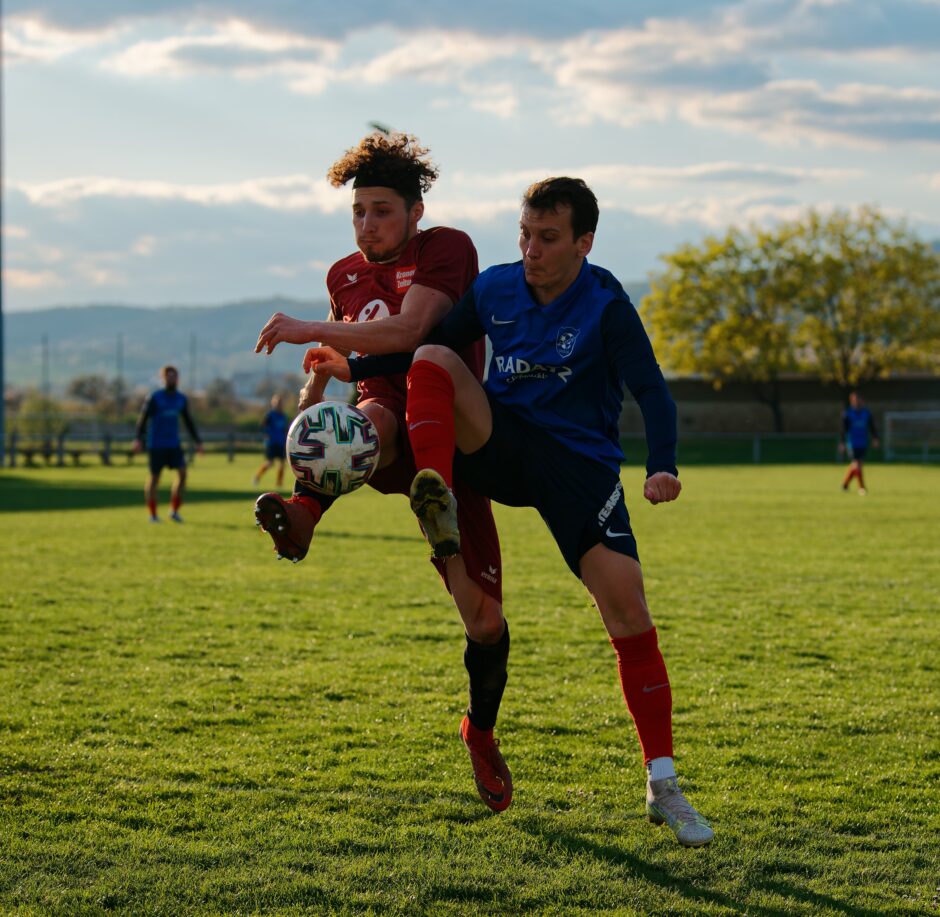 UFC Pama can't keep the ball out of their own end. SC Kittsee's Patrick Pail tries to take a high ball away from Simon Werdenich in front of the UFC Pama goal.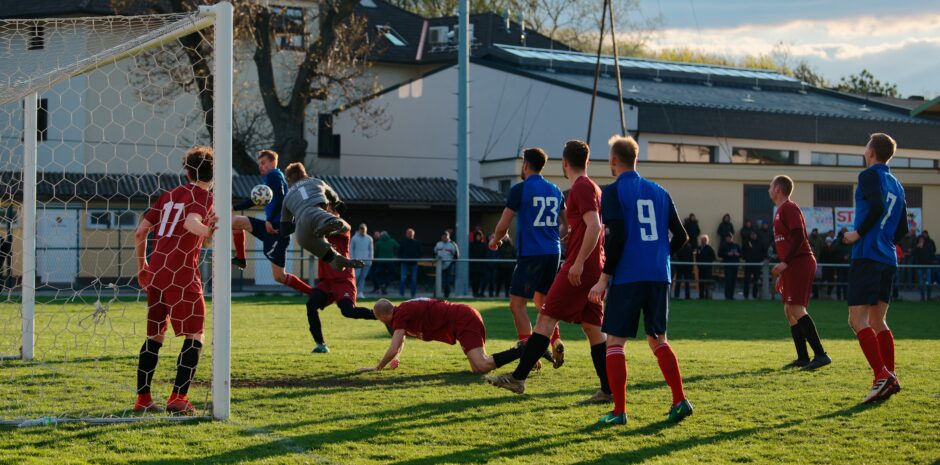 Coming down fast on the right wing, Jozef Sombat lures Patrik Kukla well out of net but is unable to put the ball in the open UFC Pama net.
Close to the edge of the box, SC Kittsee receives another free kick from referee Markus Kouba. UFC Pama is furioius and nervous.

UFC Pama are backed up right against their net but SC Kittsee don't seem to have a clear free kick strategy.
In the end Patrick Pail took the penalty kick and immediately tried to pass it out to Josef Machovec but UFC Pama's Markus Szegner quickly got his foot on the ball and broke up SC Kitsee's goal front chance.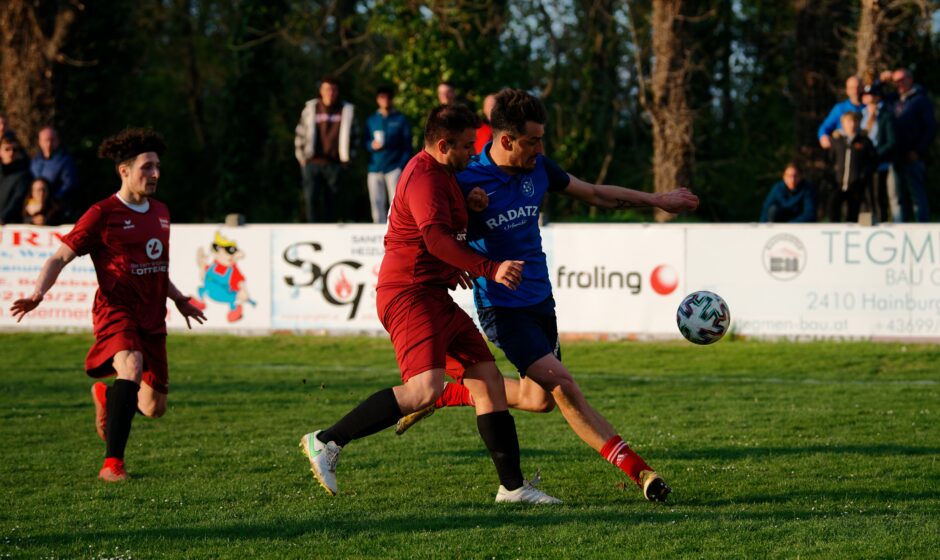 Markus Lackner bumps Josef Machovec hard on the left wing as Machovec attempts to send in a crosser.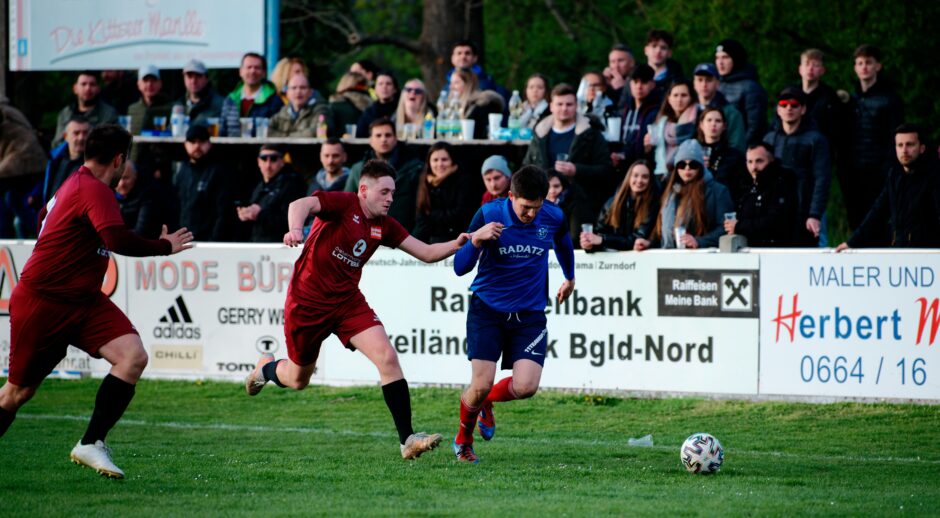 Dalibor Gonda runs in hot pursuit of Kittsee stalwart Gerhard Krejcy who still doesn't seem to be up to full speed after a season off.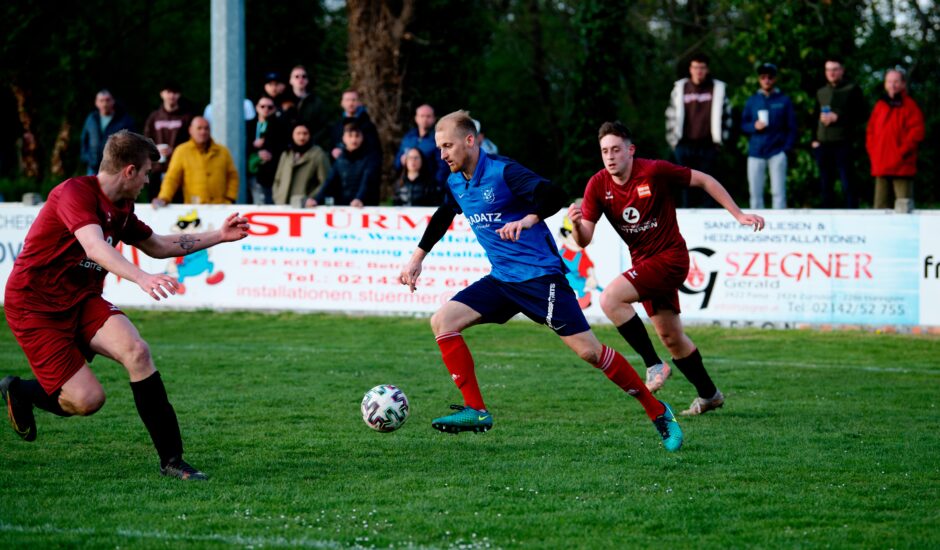 Michal Andrasik carries the ball between UFC Pama's Dalibor Gonda and Markus Fabsich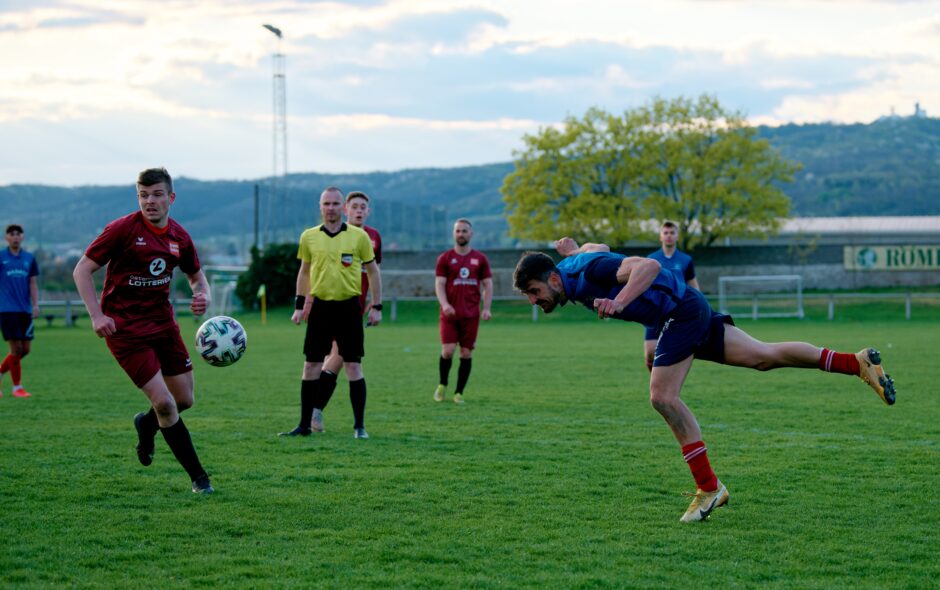 Josef Machovec was determined not to cede this game. To the end he fought hard for a tying goal.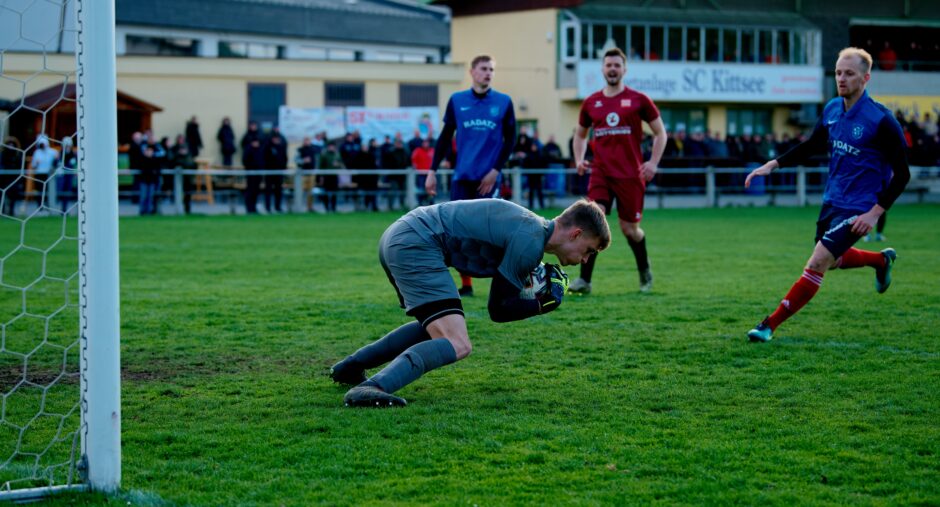 Patrik Kukla covers up the ball from Josef Machovec's close header. Kukla didn't have to do much with all the SC Kittsee shots going off goalposts but this was an important save. Nothing left for a scavenging Michal Andrasik.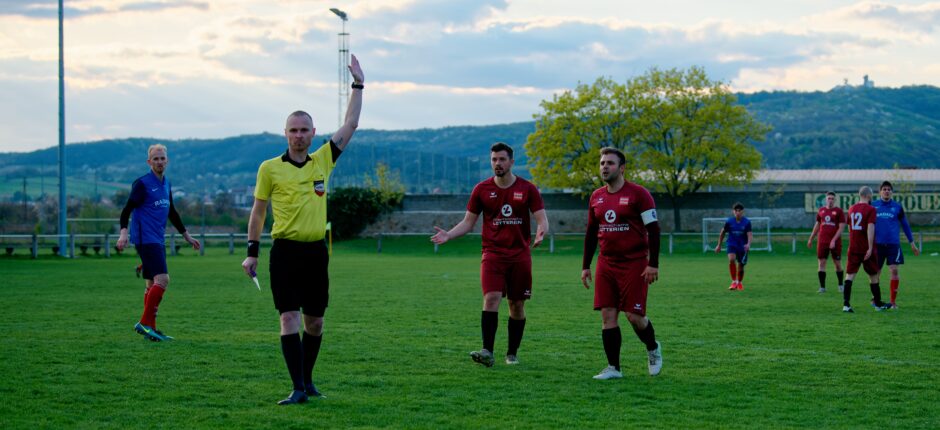 Already deep into extra time, referee Markus Kouba awarded Kittsee with another close free kick. UFC Pama players Markus Lackner and Markus Szegner can't believe their eyes.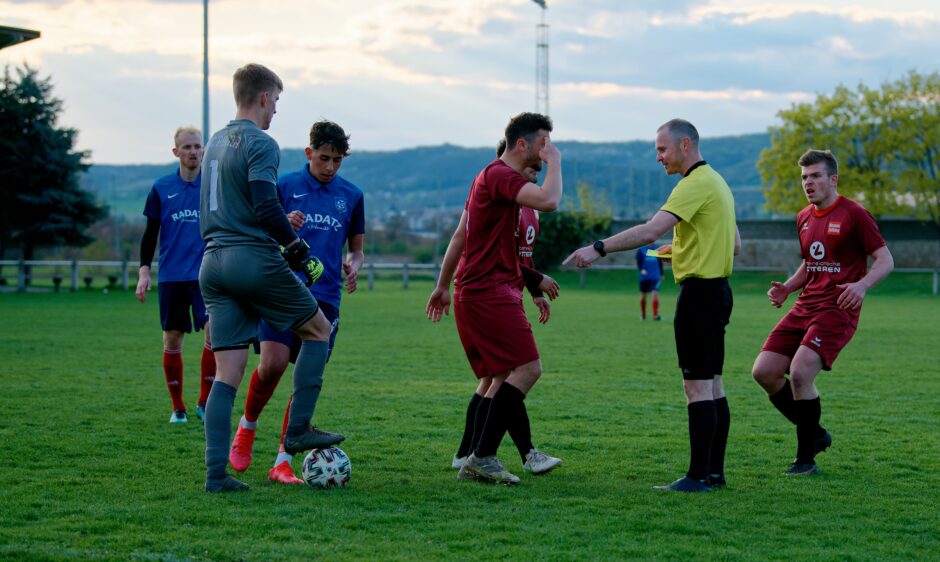 Markus Szegner was lucky not to see a red card for touching his hand to his temple to indicate that referee Markus Kouba is crazy. An angry Markus Fabsich runs into join the complaints, as Kouba scoffs cheerfully at UFC Pama outrage