It was a beautiful day, sun, warm weather. A wonderful day for a trip to Pama for the annual derby on SK Pama's excellent field. Except that only SK Pama showed up on 17 September. SK Pama systematically marked goal after goal on their way to a final 3:1 result. As the SC Kittsee photographer, I placed myself at the SK Pama end to catch our highlights. There are not many photographs. I don't have the excellent SK Pama goals as I was at the wrong end, as one of the SK Pama fans warned me at half-time.
Congratulations to SK Pama on pulling the team back together after a difficult 2022-2023 season. Curiously it's mostly the same players and same coaching staff. Whatever was wrong, SK Pama has fixed.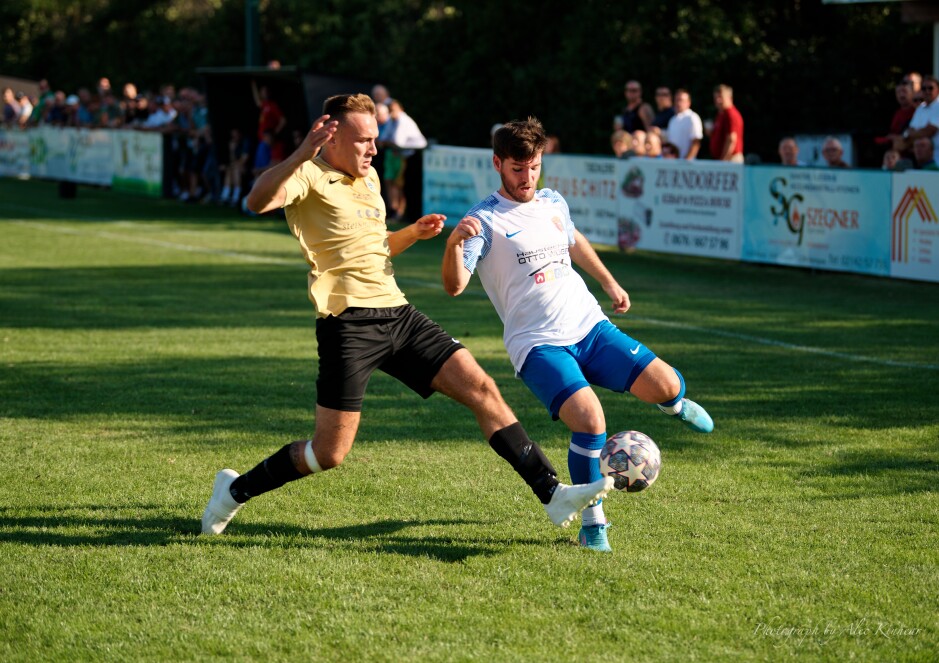 Ruppitsch was tested early and often by the Kittsee attack.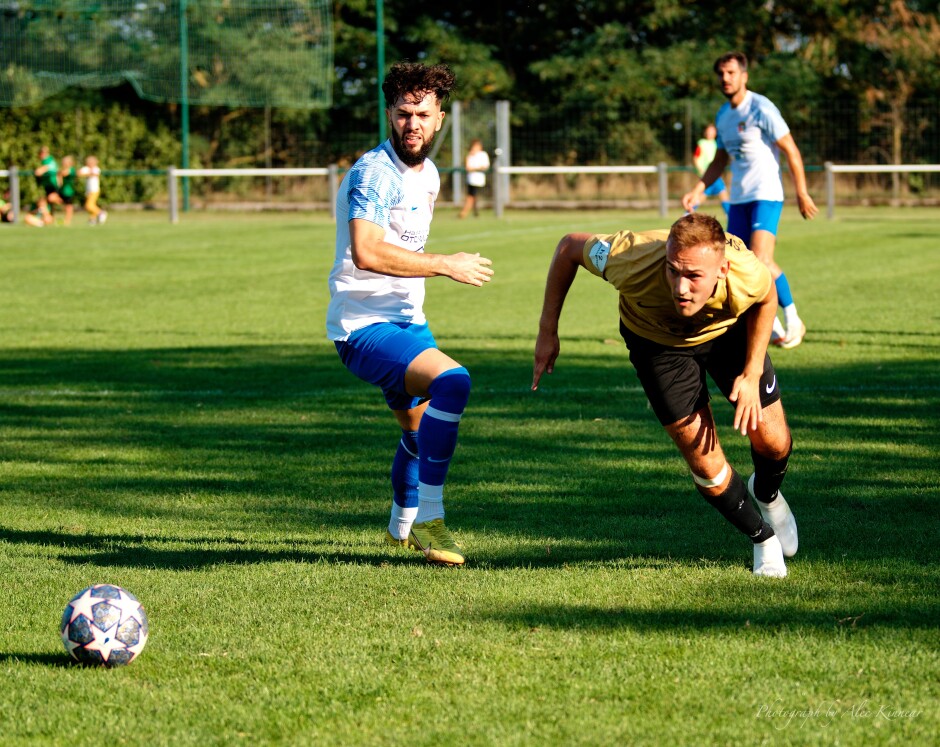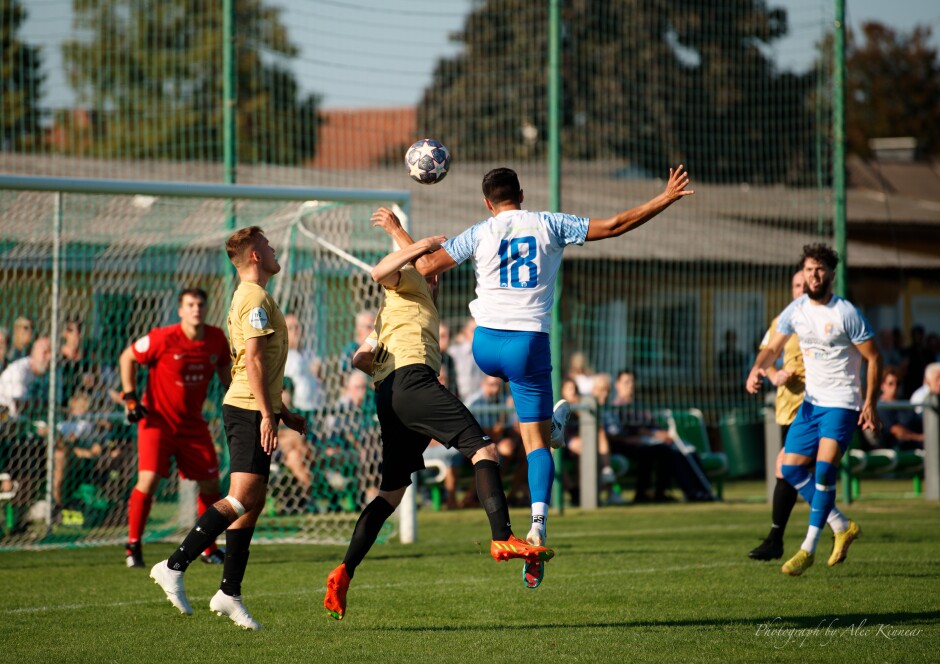 Aleksandar Stanojcic is a giant in the box, Here he faces off against UFC Pama stalware Christian Hafner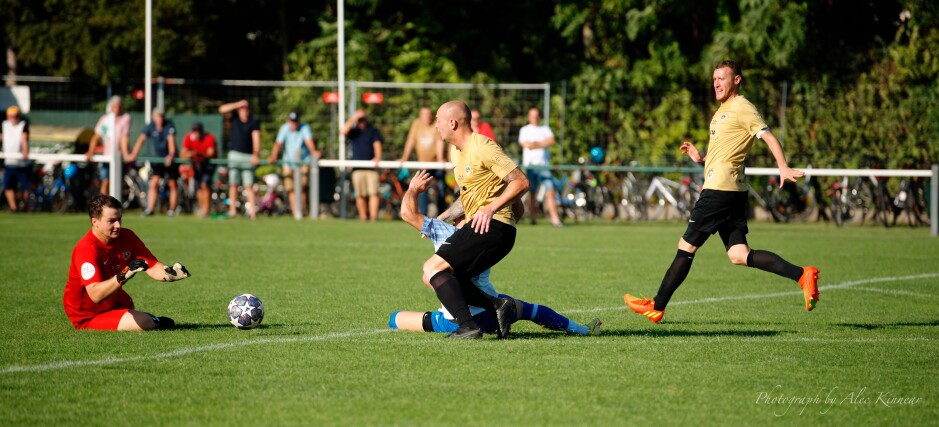 Pototschnig just pulled down and tripped Nagy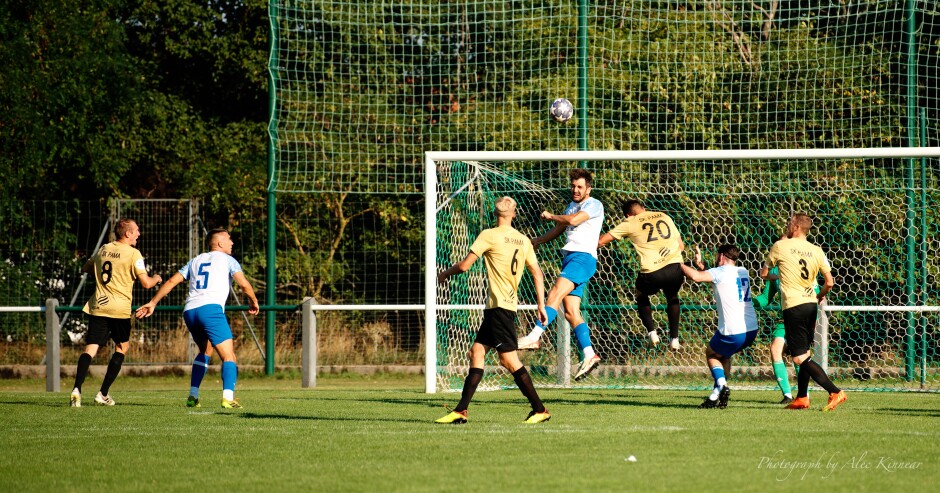 Marcel Szikonya can't get there in time for another UFC Pama goal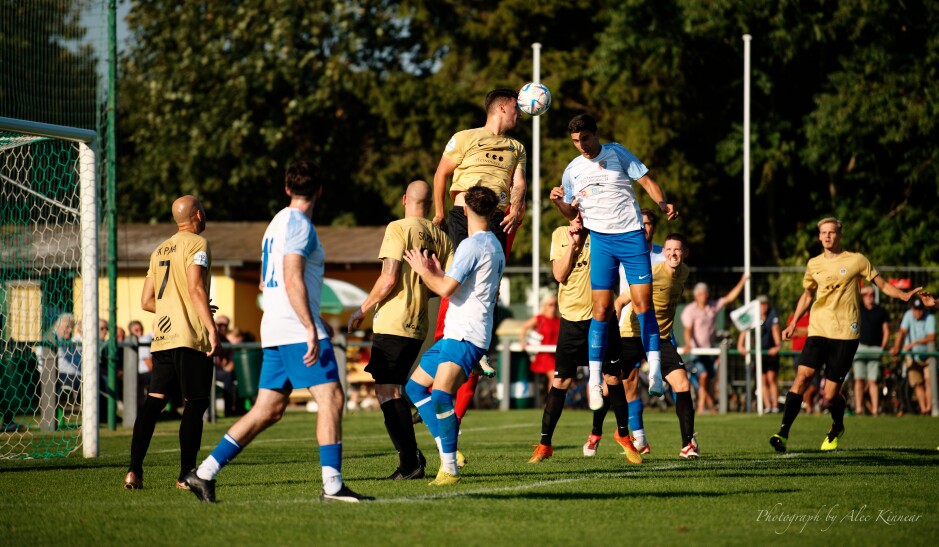 Incredible air on this header away. Szikonya is a meter off the ground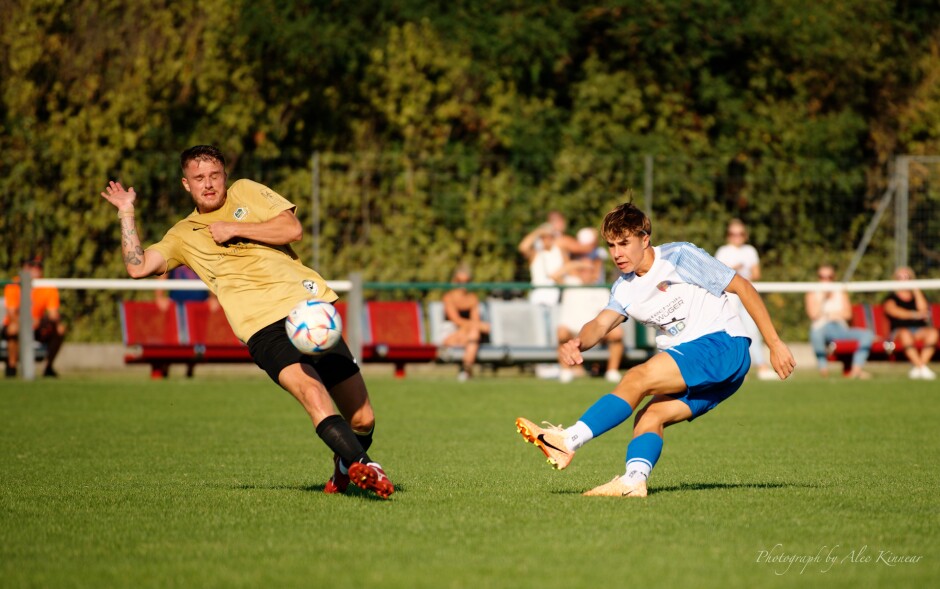 Belko has made some nice plays. If he continues to improve his shot at distance, he could become very dangerous.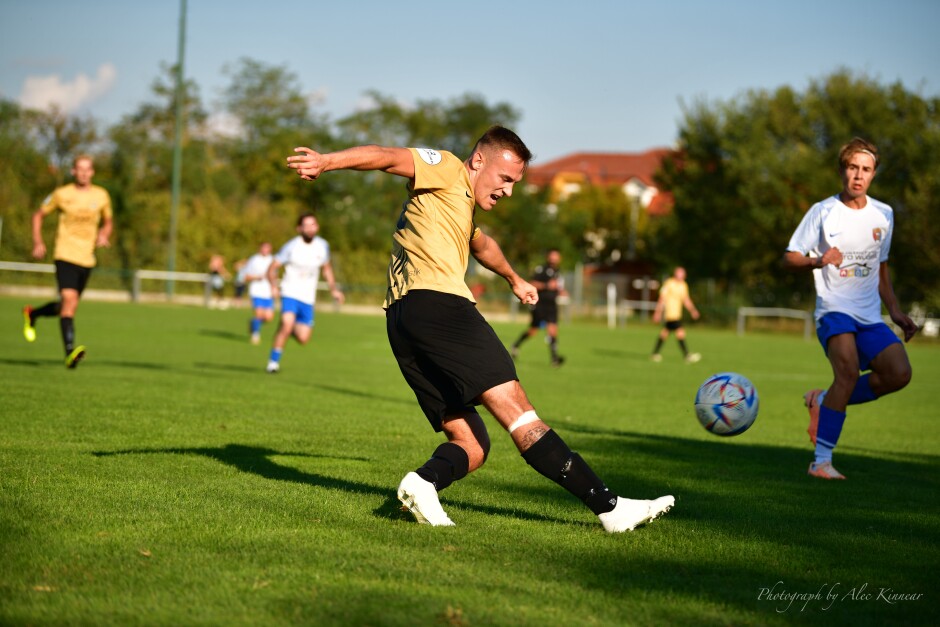 The ball always seemed to come Ruppitsch way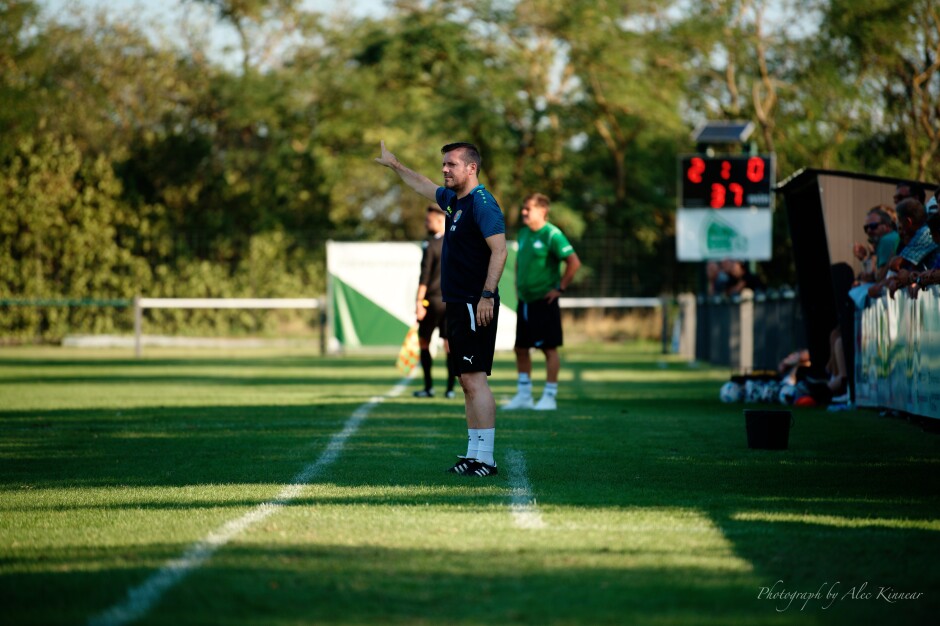 Coach Weiß's first season at the helm is going well. Weiß keeps cool but engaged despite the heavy sailing at UFC Pama.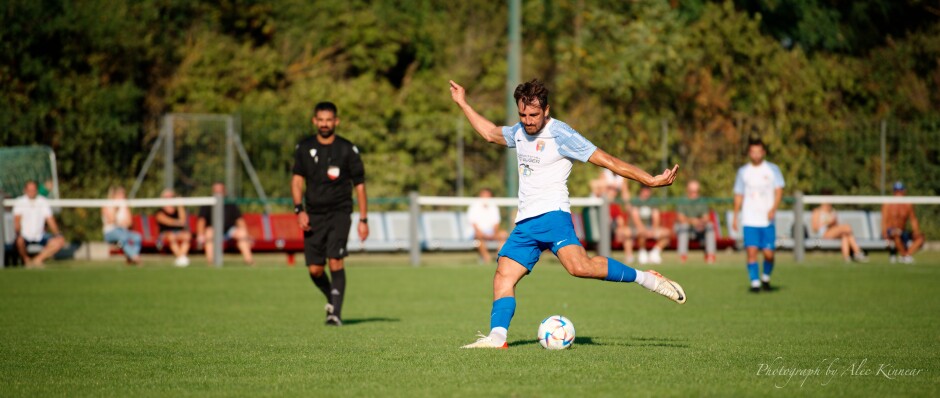 This looks like an unremarkable shot but is in fact a goal at distance. Sometimes one has to shoot to score, which is what Machovec did here without waiting for an elaborate play to develop.

Machovec has a big leg and when he's on net, there's not too many keepers who will be able to stop his boomers.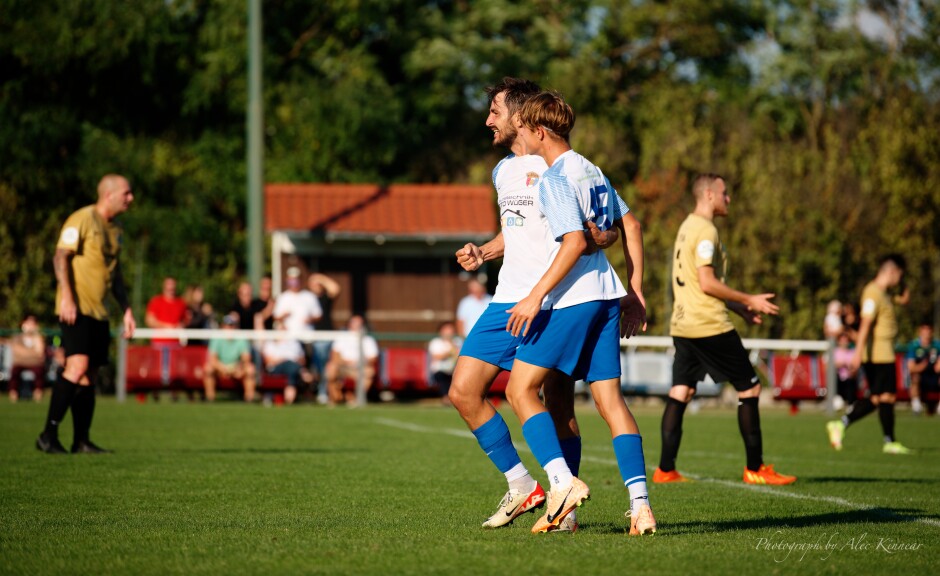 With the late 43′ goal looked briefly like SC Kittsee would rise from the ashes of a lost half and make a game of it. Unfortunately Juraj Czibula scored for UFC Pama less than a minute later.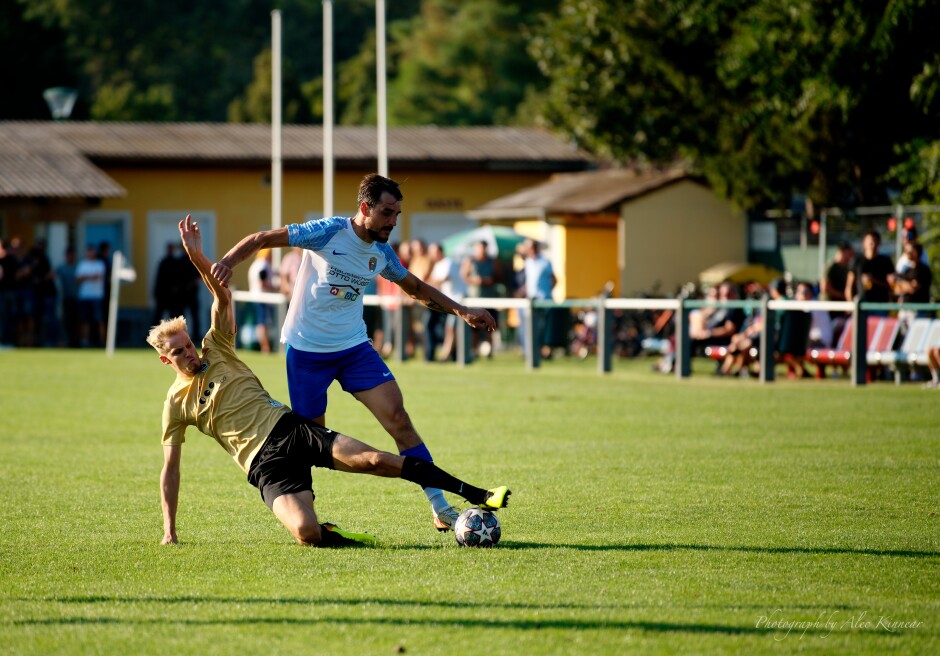 UFC Pama was not going to give much air to Machovec in the second half. Once again Jaroslav Machovec attempted to will SC Kittsee to victory.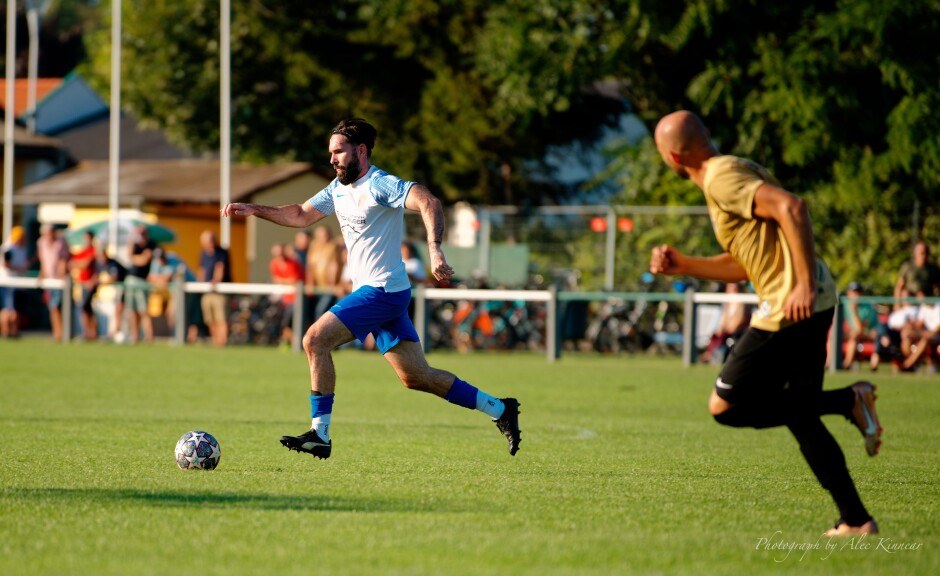 Curiously Fuska did not do much damage in UFC Pama. Perhaps he doesn't like the heat. It was a very hot day.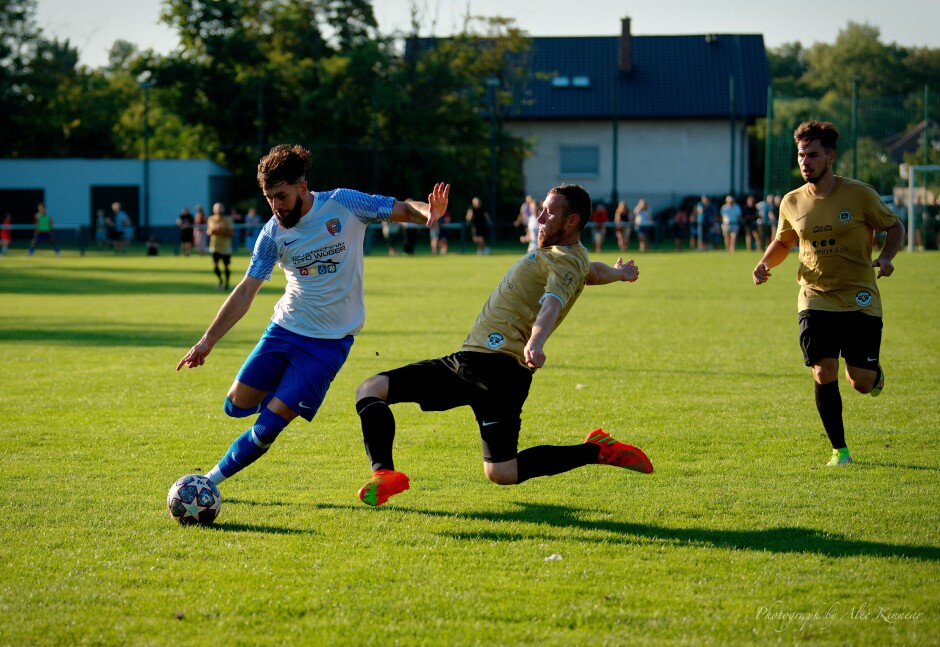 Nagy looks good on this run, but experienced defender Christian Hafner does manage to kick the ball away.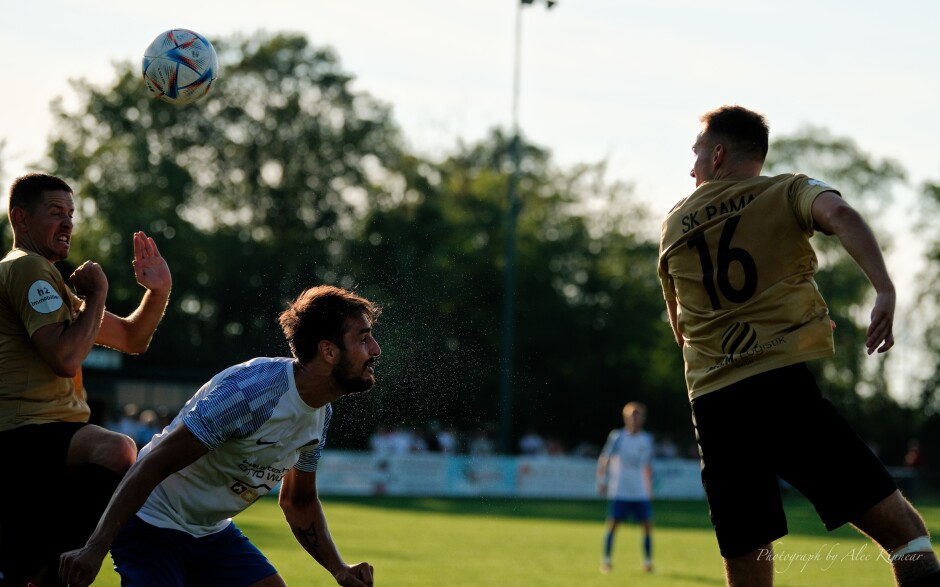 Jaroslav Machovec headed the ball here as thousands of tiny droplets from his exertions in the afternoon heat fill the air with rainbow coloured drops. Machovec continue to be a one-man wrecking crew for SC Kittsee.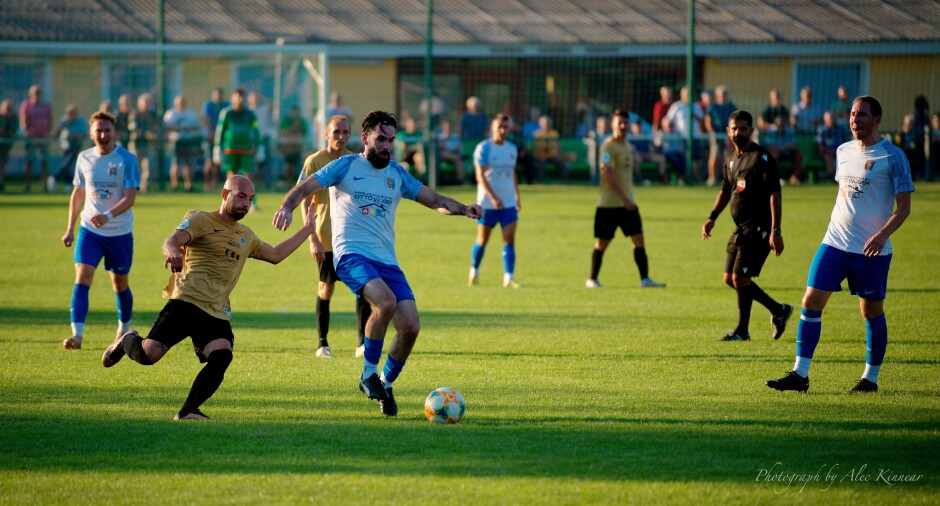 SC Kittsee didn't seem to be moving at full speed in the heat.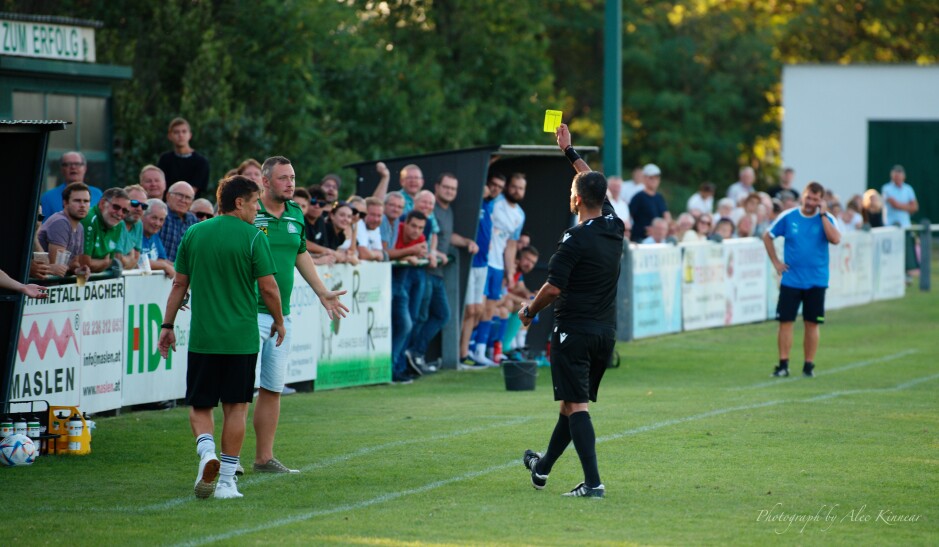 UFC Pama reserve player and part-time trainer Michael Hafner takes a yellow card. Hafner is elder brother to star defender Christian.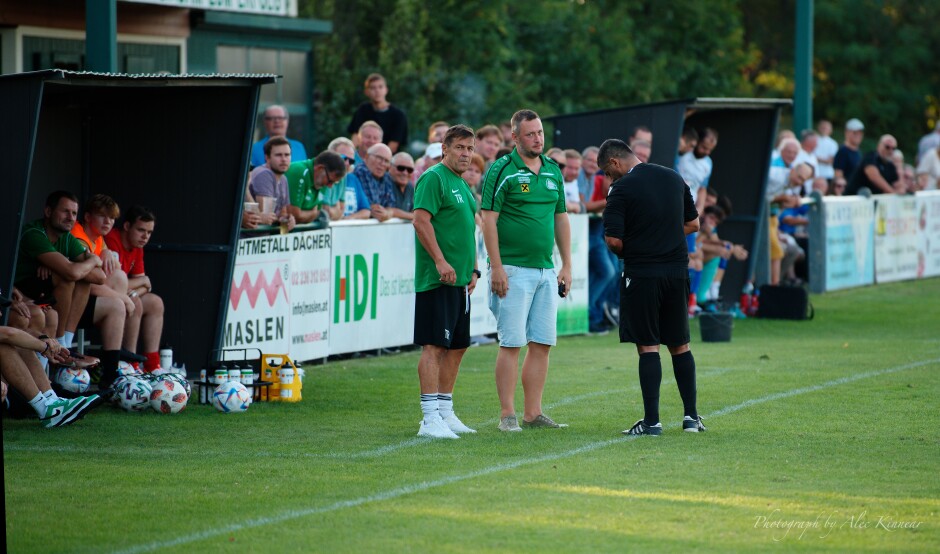 UFC Pama trainer Zoltan Fekete and Hafner seem very concerned with something downfield to my left. Referee Dursun Tosun is only concerned with noting Hafner's penalty.

With Ruppitsch in chase, Machovec has a final chance to make a game of it but cannot get a shot past keeper Stefan Weinzettl.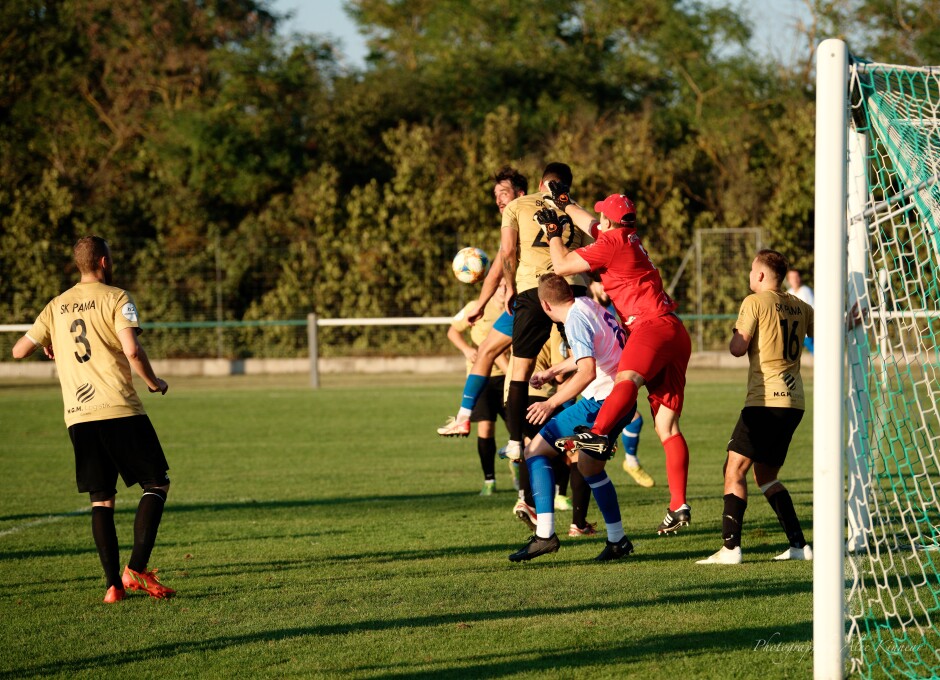 UFC Pama has enough players back to comfortably hold of the SC Kittsee last minute press.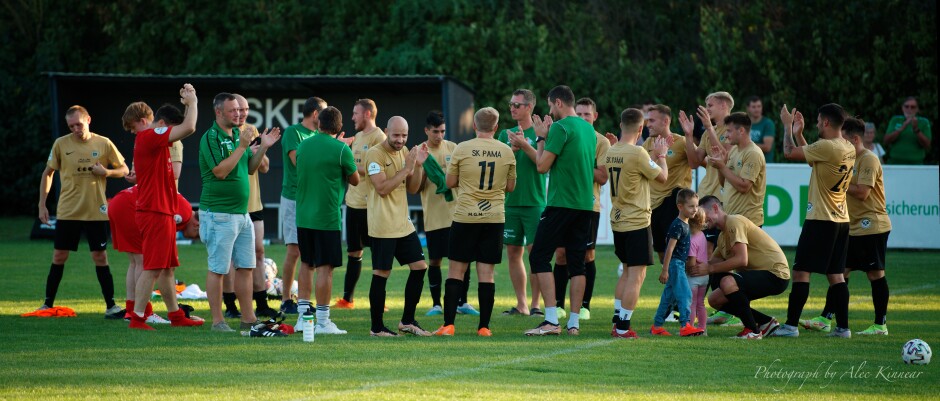 Sometimes victory just seems too easy. This day was such a day. SC Kittsee had won the last three derbys, let UFC Pama celebrate today.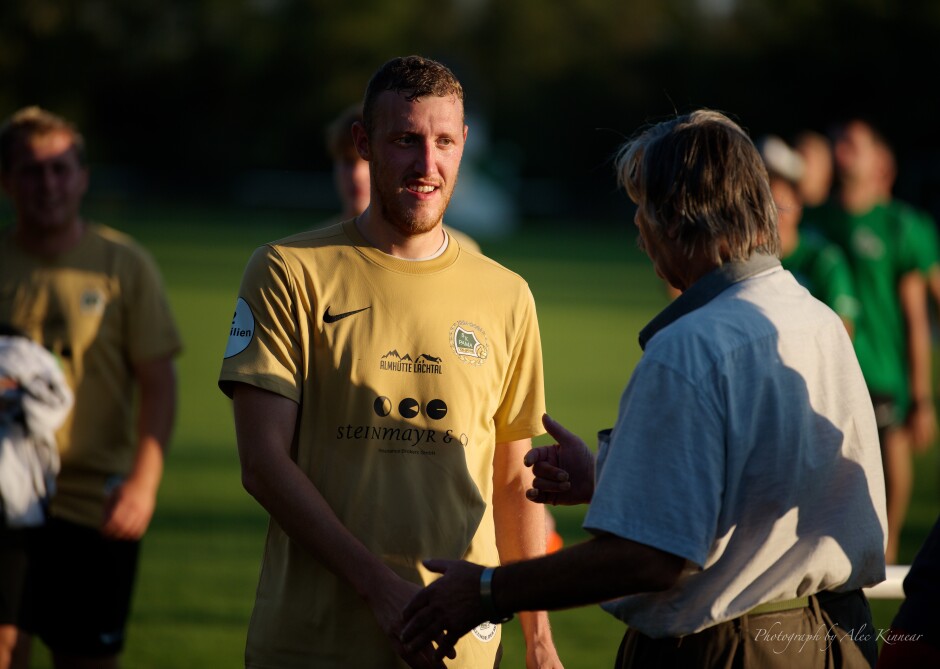 Even some SC Kittsee supporters were congratulating Hafner on UFC Pama's strong game. Gracious in defeat.