SC Breitenbrunn's visit to Kittsee was a high scoring affair, 3:2 in favour of the home team. The match was decided in the end by a beautiful penalty shot by Frantisek Nagy, after Aleksandar Stanojcic was left injured in the penalty box after a brutal collision.
SC Breitenbrunn was promoted just this season from Burgenland I Klasse – coming in to SC Kittsee and going goal-for-goal in a close game is a very good result. Their coaching team of Alexander Janisch and former Kittsee coach Erwin Raithofer did impressive work winning I Klasse Nord. Coach Raithofer's presence on the sidelines gave Breitenbrunn a good insight into the SC Kittsee game as the core players remain the same since his 2021-2022 season as SC Kittsee coach.
Sadly, like many recently promoted clubs SC Breitenbrunn is at risk of immediate relegation. It's very hard to go up and down leagues successfully in Burgenland. Burgenland Liga is a huge step up from II Liga Nord. Last year's victors Halbturn have gone from topping II Liga Nord with a 35 goal advantage and 55 points to a -25 goal deficit at mid-season with just 5 points.
But without further ado, the photos from SC Breitenbrunn at SC Kittsee on 22 September 2023.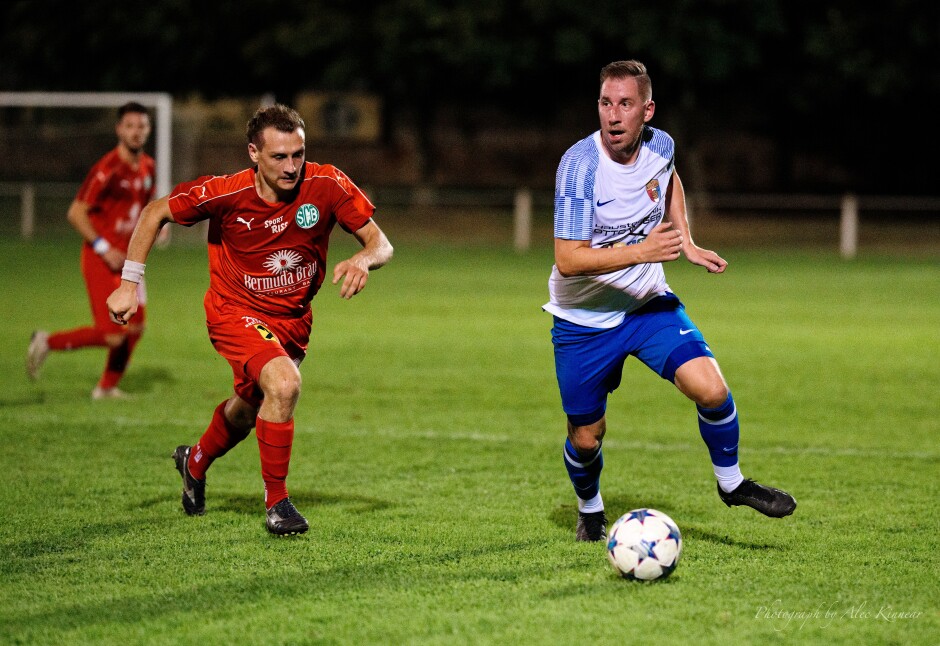 Bastian took a yellow card at 34′ and and was substituted at 51′. Good idea to get the yellow cards off the field in a stroppy, tight game.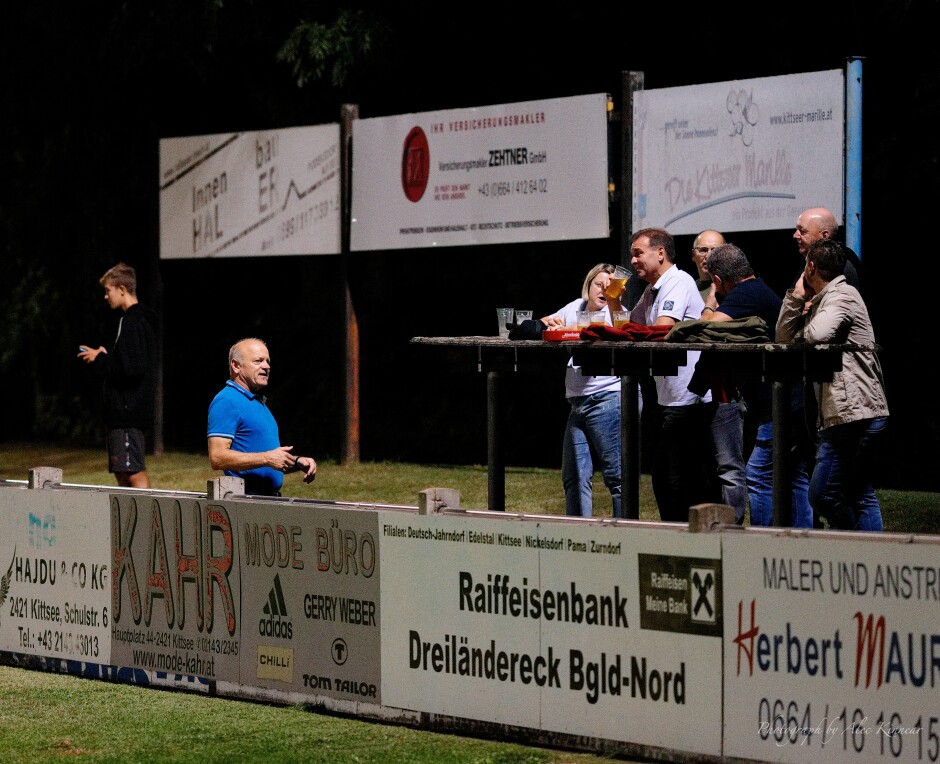 It's a long walk to the bar from here, but it's always a party.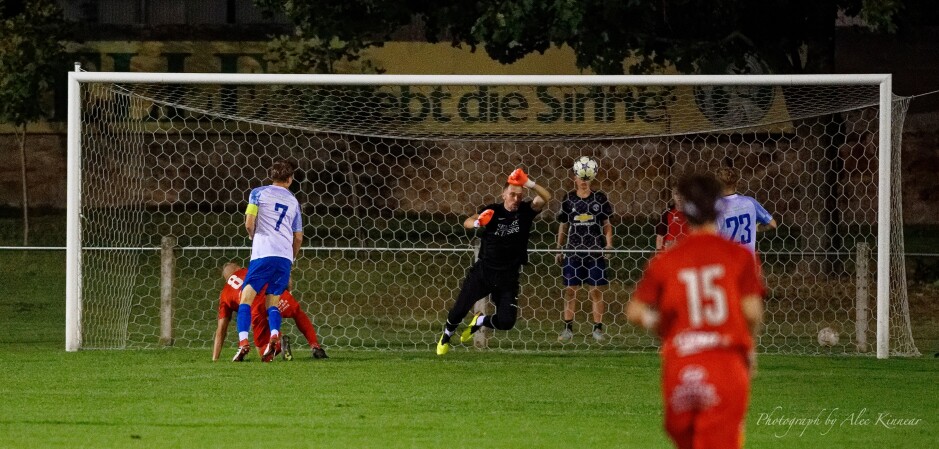 Martin Kocis is a very dangerous forward. In 94 games for Breitenbrunn, he's marked 49 goals.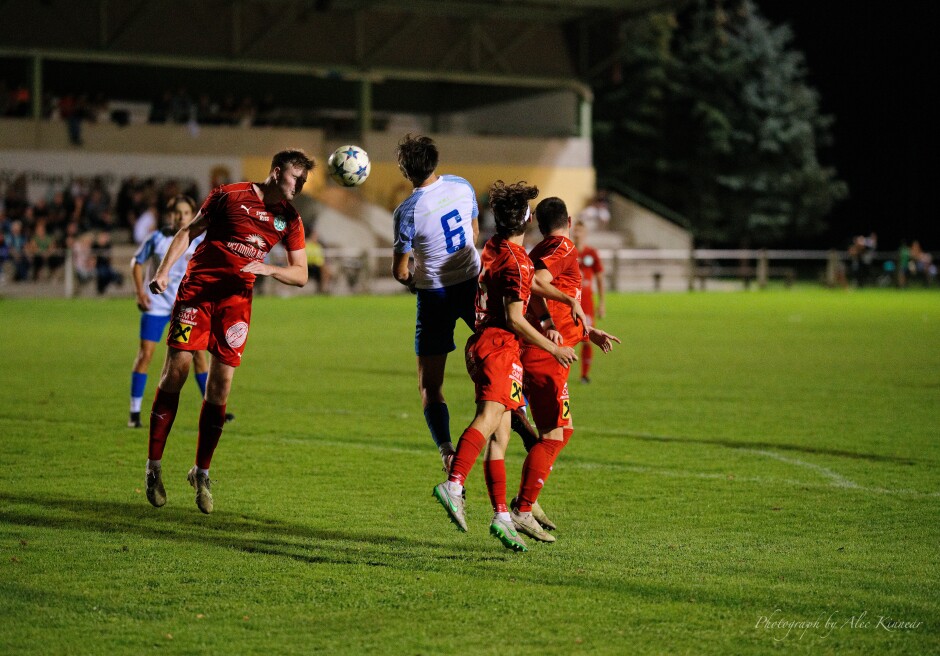 All four players are floating in the air around the ball, like the Four Swans from Tchaikovsky's Swan Lake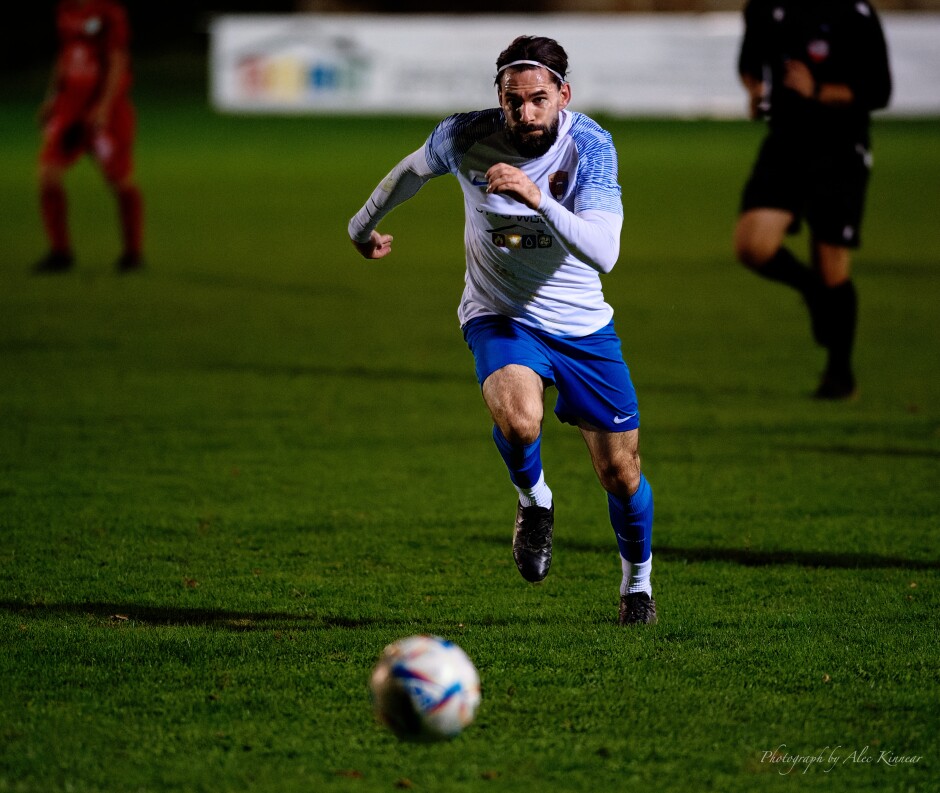 Juraj Fuska speeds through the middle of the field.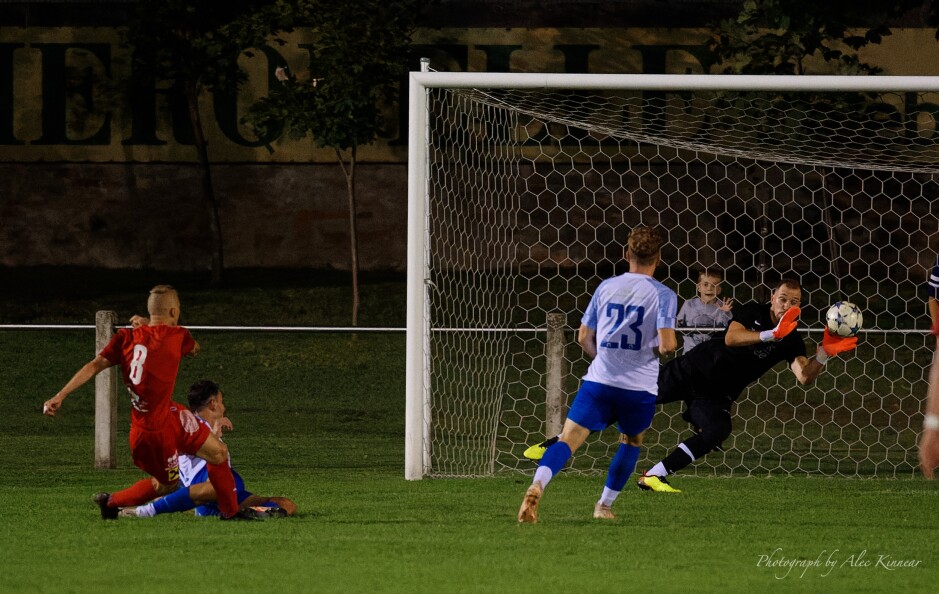 Martin Kocis managed to elude SC Kittsee defenders and enjoy half a dozen good shots on net. Fortunately Bartko stopped all but on of Kocis's bullets.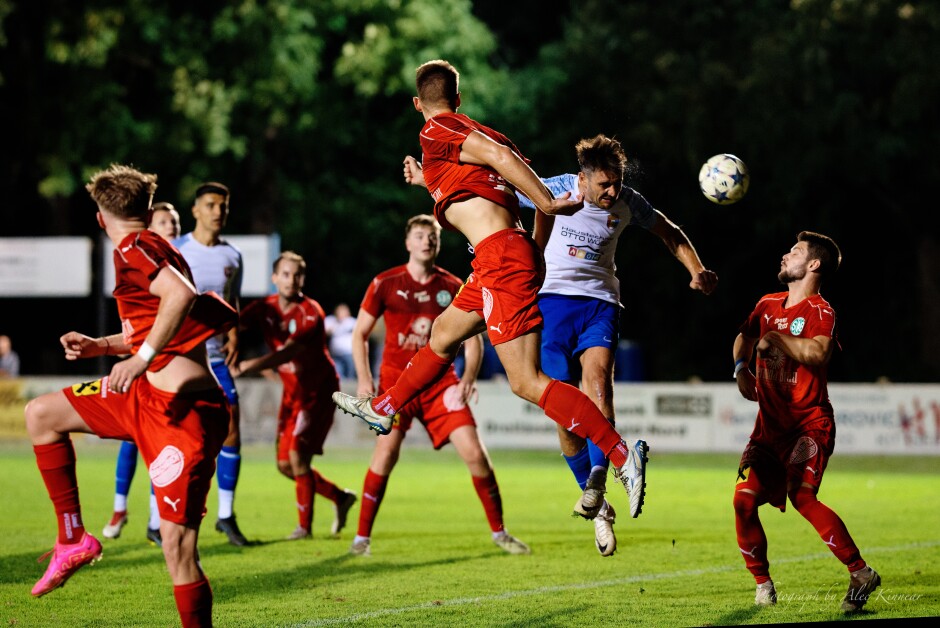 Jaroslav Machovec continues to be a force of nature.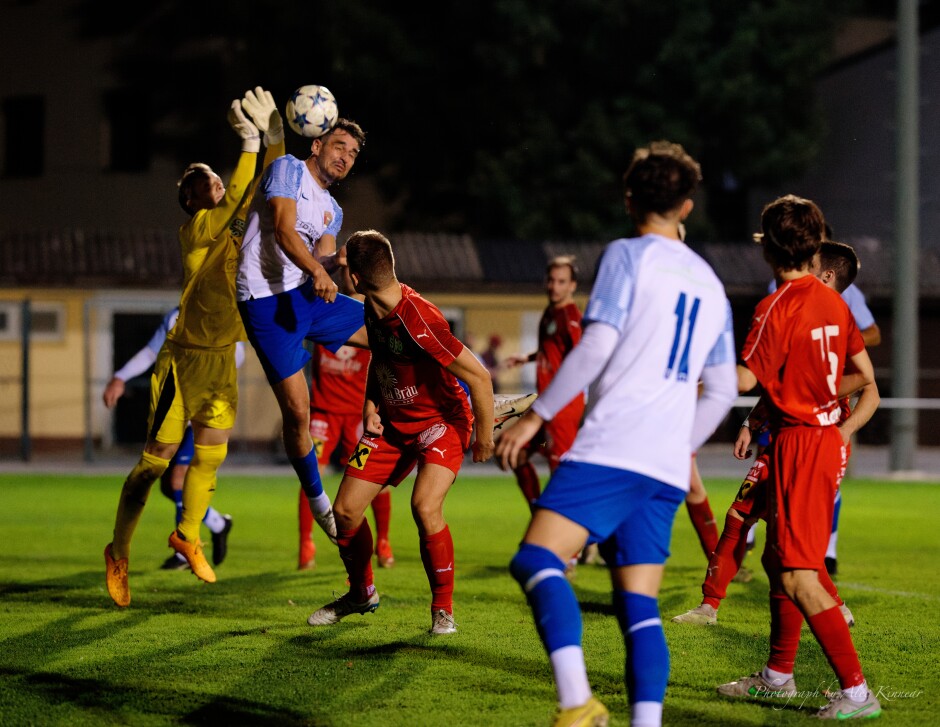 Jaroslav Machovec continues to be a force of nature. Peter Barinec played for SC Kittsee for four or five years as our number one goalie and did a very good job while he was here. Barinec manages to be both competitive and easy-going at the same time. It was good to see him again.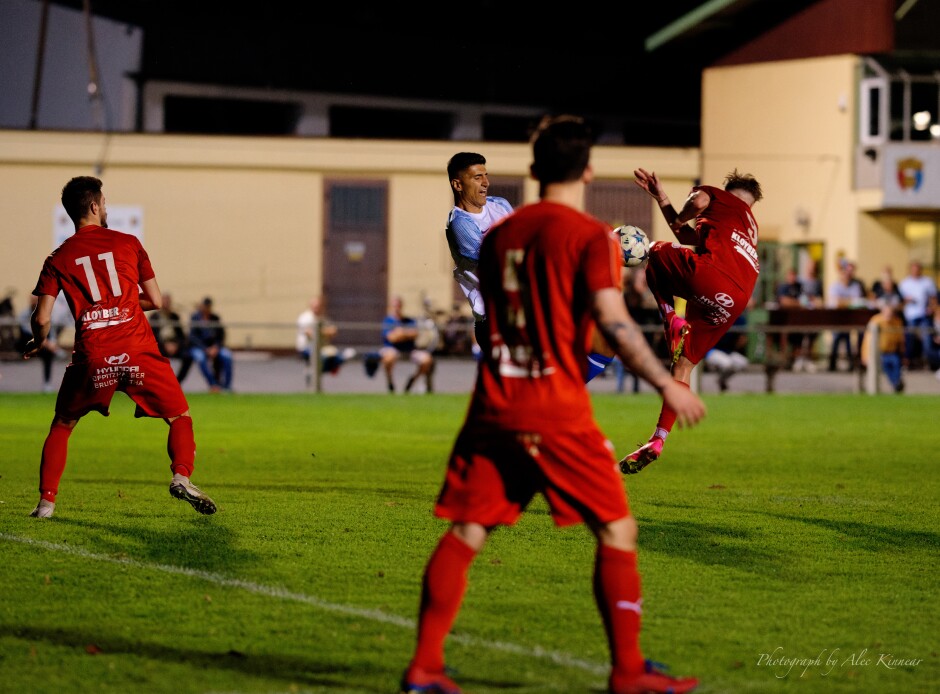 A nasty collision in front of the goal on high play from Martin Hudak.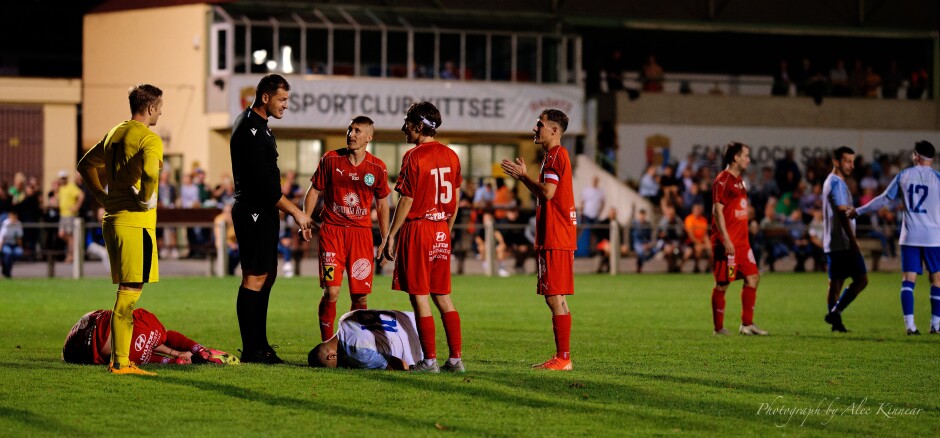 How Breitenbrunn hoped to have their foul overturned by referee Nikica Veselcic with both players injured was a mystery to me. One can see how short the Breitebrunn team is collectively. Short but very lively.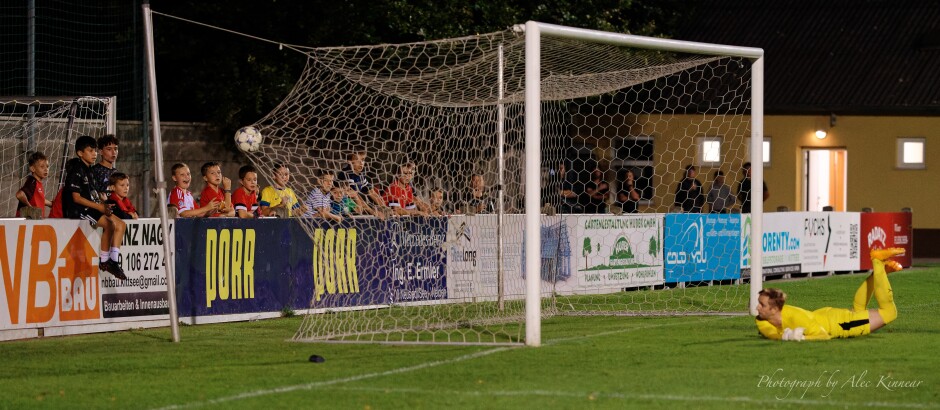 The Kittsee children cheer and laugh as the game winning penalty hits the back of the net in front of them.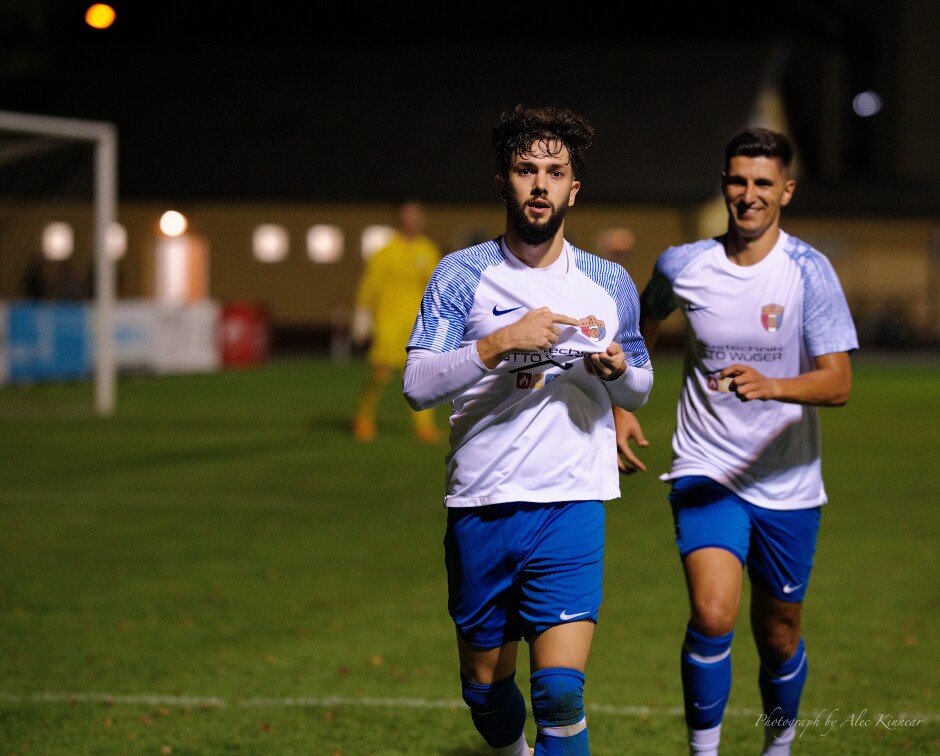 In a close match, Frantisek Nagy's penalty was the difference maker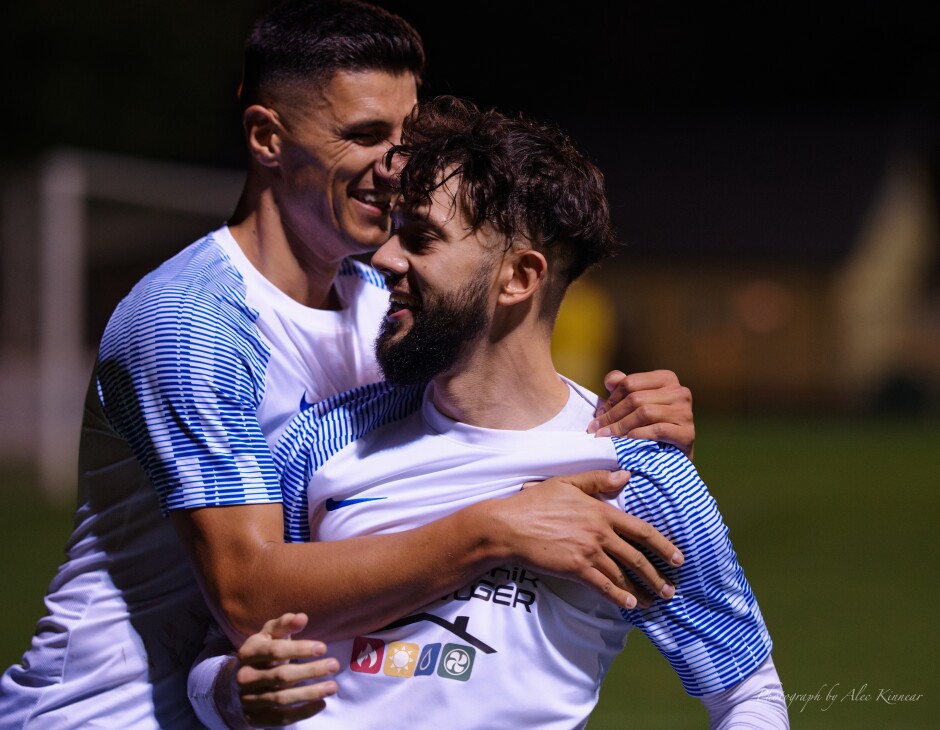 There are so few moments in life where one is truly happy. Post-goal is one of them. This is the adrenaline of sports. Enjoy gentlemen.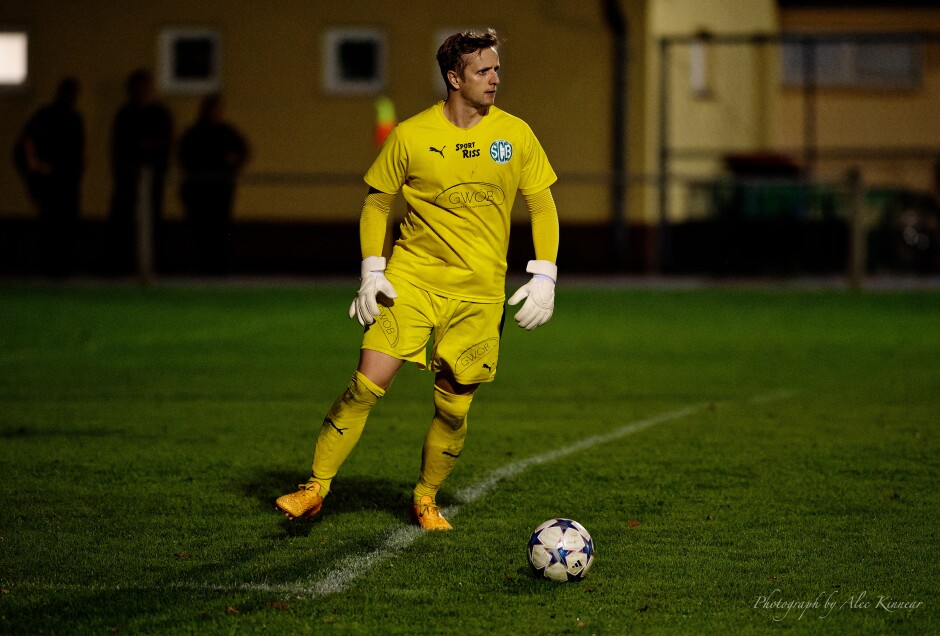 Straight back and re-concentrated on the game. Peter Barinec remains calm and focused after the penalty.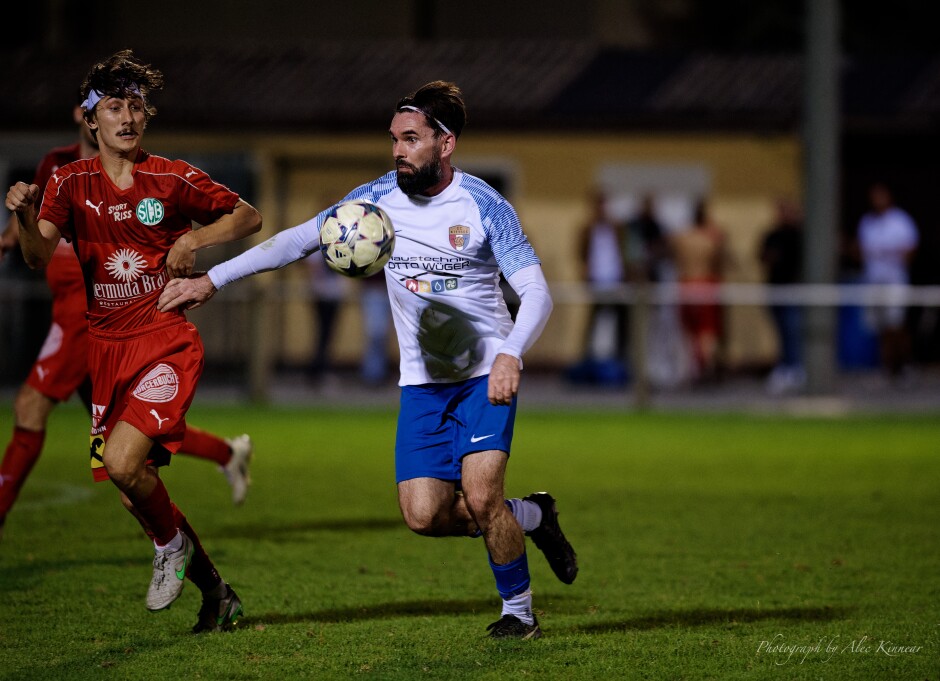 Another goal line run from Fuska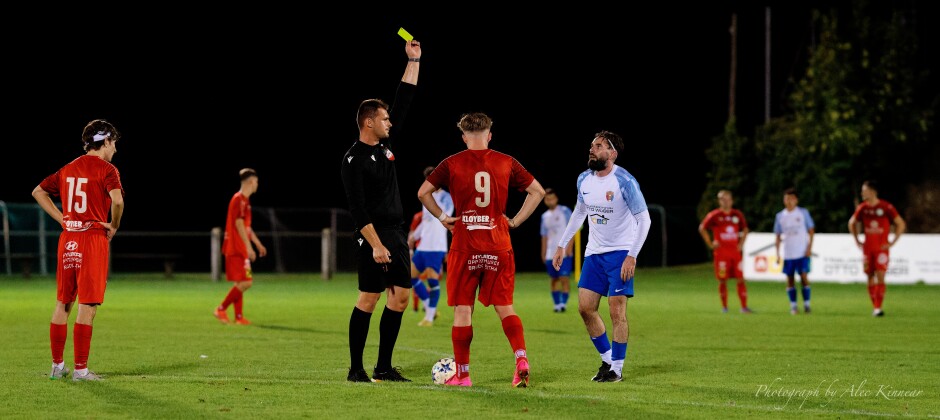 Martin Hudak had a clear run at the SC Kittsee net so Fuska simply grabbed him and puilled him down. It was well outside the box so it's just a free kick. Fuska wisely took one for the team. Fuska doesn't get a lot of yellow cards so his eyes are round.
Nagy was in good form that evening.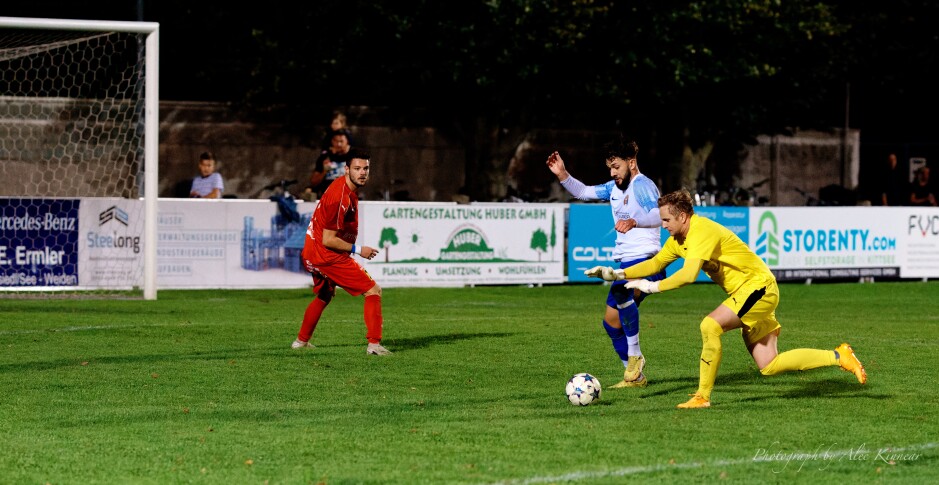 Barinec outmaneuvers Nagy and successfully falls on the loose ball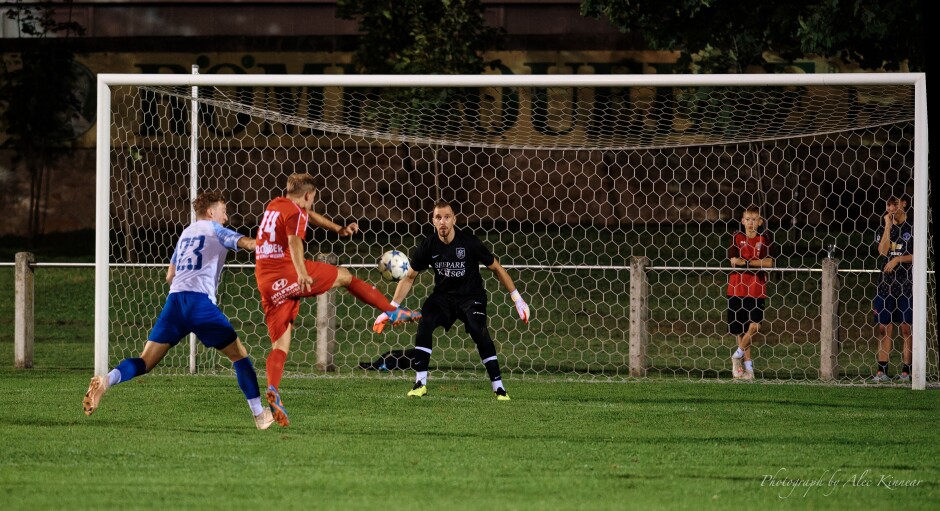 Another big stop for Robert Bartko. Tomas Banovic attempts to cut off Markus Pimpel but cannot prevent his shot. Another big stop for Robert Bartko.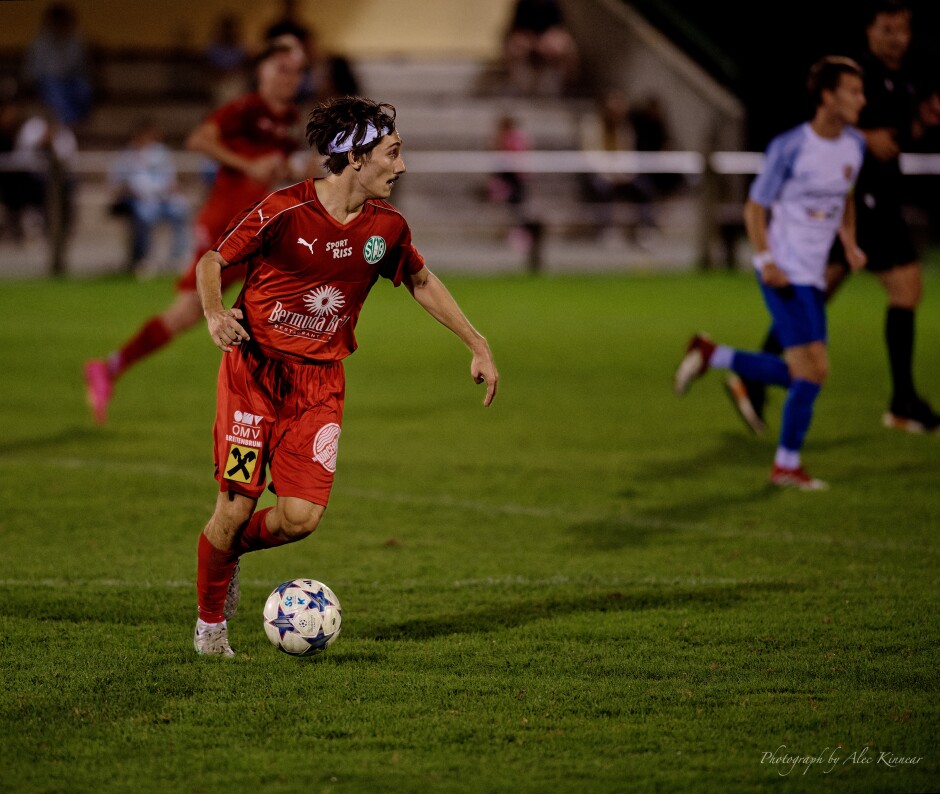 Christoph Laaber has such a great look. Takes me back to when I was seven years old, Hot Chocolate was on the radio and Franz Beckenbauer, Johann Cruyff and Jairzinho were the world's greatest players. Laaber is not alone with this look, Gardner Minshew is rocking the same musttached look in the NFL.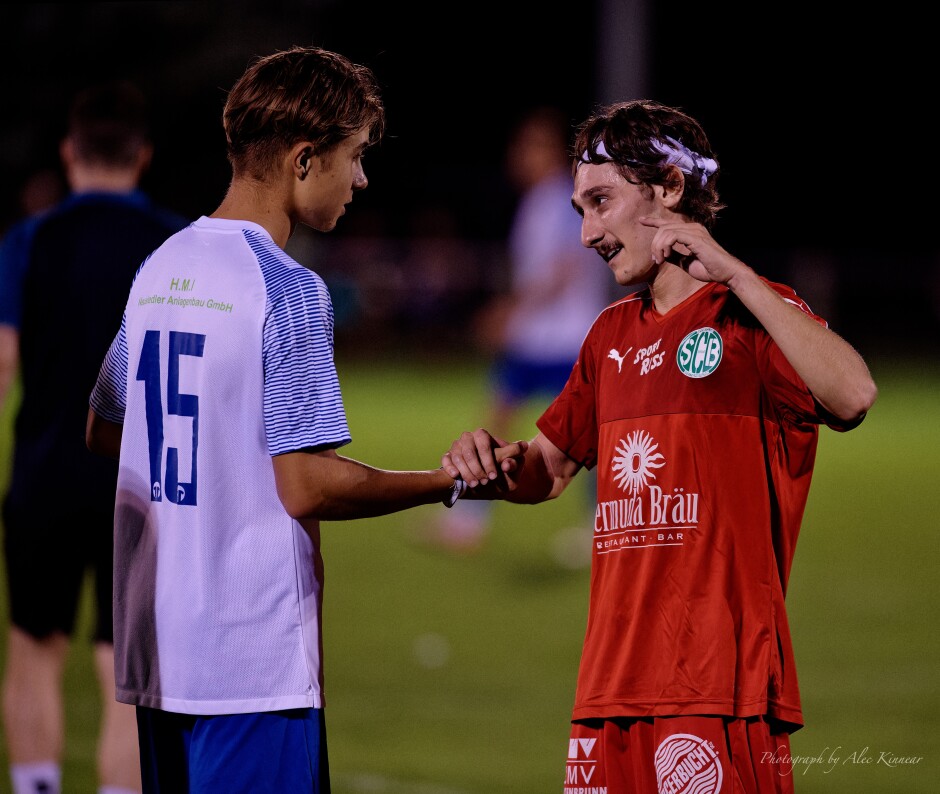 Laaber is not alone with this look, Gardner Minshew is rocking the same musttached look in the NFL.

There's a great tradition in Kittsee of post-game play by the junior players on the main pitch before they turn the lights off. It's a good idea to let the children feel the energy of the big field and the evening lights for a few moments.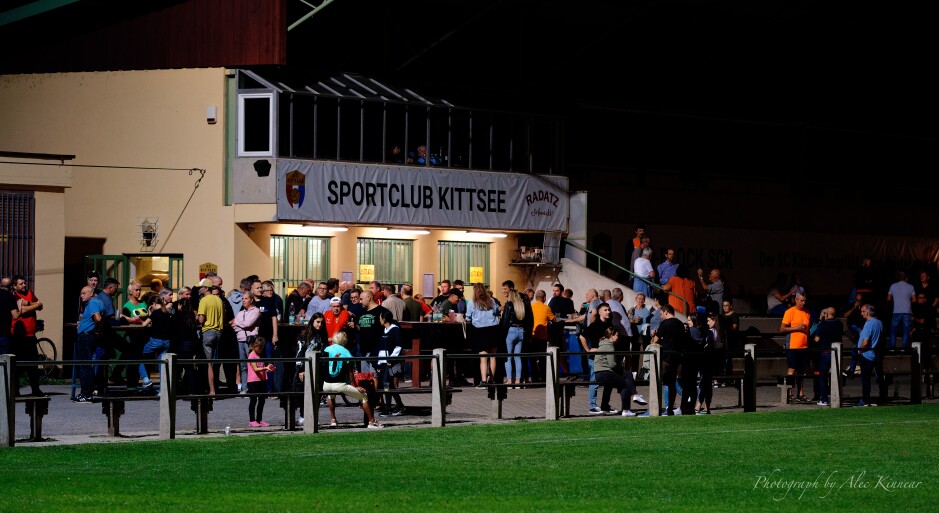 It was an ideal evening for SC Kittsee supporters. A mild night with a win at home, in an exciting, fast-paced match.