Often Choreo.lab is the ballet highlight of the season at Vienna State Opera. Choreo.lab was originally the brainchild of Vienna Ballet Club founder Ingeborg Tichy-Luger and Staatsoper director Renato Zanella whose first edition took place in 2003. I've been fortunate to see each Choreo.lab since 2004 (I believe it was the second one) with full photo essays for many of them. 2017 is another Choreo.lab year (it seems to take place every second year now instead of every year).
Since French étoile Manuel Legris took over the reins at Staatsoper, he's insisted on rebranding Choreolab as the rather dull "Junge Choreographen des Wiener Staatsballets". Vienna ballet lovers remain grateful for his enthusiastic support under its new moniker.

Ingeborg Tichy-Luger founder of choreo.lab and Vienna Ballet Club
This year choreo.lab enjoyed a particularly full program at its new venue Theater Akzent on 7 and 8 May. In two parts, the evening began at 7pm and ended about 10pm, granted that the pause was a full half hour for resetting the stage for live music (more on that later). There were a total of thirteen original works presented.
If one considers the Stravinsky Hommage at Volksoper last week an extension of Choreo.lab (Eno Peci, András Lukács and Andrei Kaydanovsky are all veterans of Choreo.lab), there are sixteen original works presented this year by Staatsoper dancers.
As every year, there are a few outstanding works in 2017. Yet with this much production, the quality is inevitably uneven. Even in the lesser works, one feels a sincerity. Perhaps there should be a last editorial pass where the only the best finished choreographies are presented to the full audience. Of course there would be a risk of politics and many broken hearts, so less damage is probably done by forcing a rapt audience to sit through a few too many short dance pieces.
Without further ado, let us revisit the choreographies in order.
---
Trevor Hayden's pas de sang is a dance take on the original dracula story to dramatic music from Bela Bartok and Sergei Prokofiev. Alas, brilliant casting of a gaunt and frightening Alexis Forabasco as the Vampire and Eszter Ledan as his victim. Ionna Avraam is uncharacteristically dull as a physical manifestation of blood or the vampire's bloodlust. There are some nice lifts but there isn't much continuity to the dance. Many of the sections feel rushed or unfinished.
I've been keen on vampire stories, since I first read Bram Stoker's Dracula in high school and it's perfect for representation in dance (passion and death) but Hayden misses the mark here.
---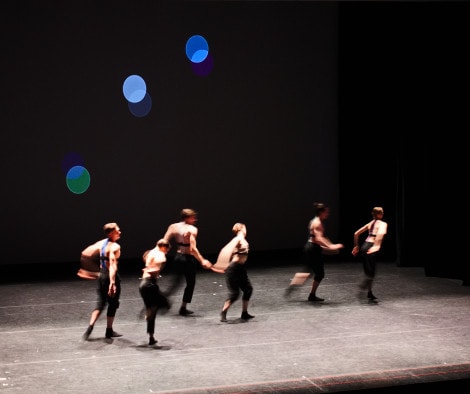 Hungarian dancer and third time Choreo.lab veteran, Attila Bakó leaves mysticism behind for technology in shadows we cast. His large group of dancers are strapped to pulse monitoring devices which project the beats per minute of their pulse live on the back of the stage as a waveform. The technical visuals could have been presented with more panache but that's really a question of time and budget. Much thanks to Vienna's Technical University and Uni Wien for participating in a dance project in their free time.
On the dance side, shadows we cast is much brighter. There are some excellent duets (Mila Schmidt and Greig Matthews comes to mind) and the excellent group movement is truly elegaic. The whole piece makes me think of Rosas and Anna Teresa de Keersmaekers's best work which is high praise indeed. Géraud Wielick's long hair is perfectly in place here (unlike in Movements to Stravinsky) and he dances well. Elena Bottaro, Sveva Gargiolo and Zsolt Török round out a committed cast.
---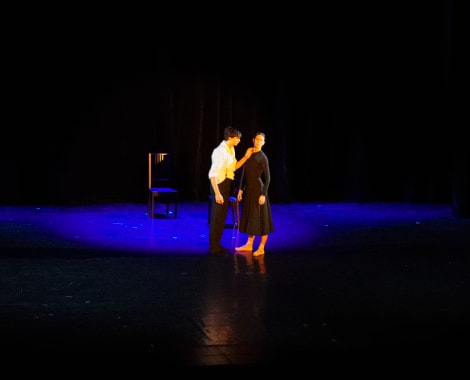 Étoile Nina Poláková presents her visually austere daneben (nearby) to an emotional Yann Tiersen score. Jakov Feyferlik and Gala Jovanovic are dressed in what look like early twentieth century costumes – he's wearing suspenders and she in a long dress – and seated on two chairs. They struggle to understand one another. While Jovanovic is a commanding dancer, she overmatches the slight Feyferlik. Where their duet should be sensitive and soft, he's clearly struggling to carry and lift a dancer who is almost the same size as she is. This piece would have worked better with a light, ethereal and fragile dancer like Poláková herself.
daneben is Poláková's first public choreography so it would be server to judge the work too harshly.
---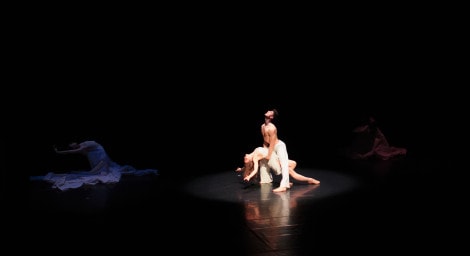 Francesco Costa's anima et corpo is intrinsically a crowd pleaser with lots more white sheets (pas de sang) and a bedroom atmosphere. The women (and men) enjoy the young Jude Law like beauty of James Stephens while Nina Tonoli's exuberant youthful beauty and talent delight the men. Natalya Butcho and Francesco Costa do fine work, albeit outshone by a radiant Tonoli and Stephens.
As for the movement, there's thrashing in sheets on the floor, Arab music, some close duets. I didn't take away anything deeper than a tasteful lascivity and physical beauty from Costa's dance poem but that's sometimes enough.
---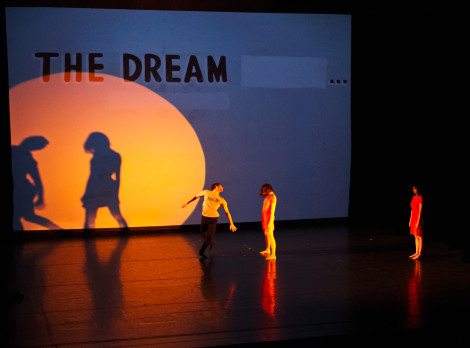 Another Hungarian dancer, László Benedek makes his choreographic debut with realité. This is the first but not the last piece to a gag or joke made three dimensional with dance. realité talks about the promises a man makes to seduce a new woman in contrast with the reality of his indifference to the woman in his life. This is a well-known plight across cultures and across centuries. Once Alexander Kaden in the lead role controls an interchangeable (done with identical wigs) Marie-Sarah Drugowitsch or Suzanne Kertész, he becomes brutal and indifferent. The dance sequence at the end with projected video from a sex doll factory as Kaden dances with both ladies is laugh out loud funny.
I suppose the moral of the story is roughly Perrault's from Little Red Riding Hood:
All wolves are not of the same sort; there is one kind with an amenable disposition – neither noisy, nor hateful, nor angry, but tame, obliging and gentle, following the young maids in the streets, even into their homes. Alas! Who does not know that these gentle wolves are of all such creatures the most dangerous!
Don't expect too much from men or love! Cunningly made and performed with charm, realité was a success with both the audience and on its own light artistic terms.
---
Young Portugese dancer Leonardo Basílio debuts as a choreographer with another beauty piece, appropriately titled Skin set to sensual electronica from René Aubry. We have sexy dancing and sexy costumes worn by Nina Tonoli and James Stephens again, with an equally beautiful Alaia Rogers-Maman and the powerfully built Masayu Kimoto rivalling them for charm. The women again are almost interchangeable in dark bob length wigs. The men wear nothing but sparkling briefs.
The dance is largely about symmetry with the two couples mirroring each other's movements. Some original lifts and dramatic focused lighting bring an originality to a largely sensory piece. While the pleasure was skin-deep, it was complete. I'm curious to see where Basílio goes with his next works.
---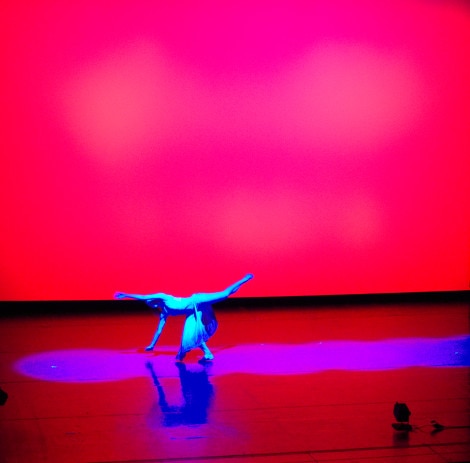 Swedish soloist Nikisha Fogo's dramatically titled Movements of the Soul offered more visual irony in the vein of realité. We see blonde Sveva Garguilo against a blood red projected backdrop which turns purple and blue. The piece ends up as a study in colours. Unusual electronic music the barbatuques and Kyle Dixon and Michael Stein add to the surreal feel. The dance follows a young woman's feeling about life. While Movements of the Soul failed to touch me, Fogo enjoyed an enthusiastic reception from the audience. Or perhaps many were looking forward to the long-awaited pause.
---
Brazilian Volksoper dancer Tainá Ferreira Luiz's Thoughts & Feelings was the most ambitious work of the evening. With musician Sebastian Brugner, Ferreira Luiza created an original musical and dance work, with a full jazz orchestra with six musicians on stage (Brugner on vibraphon, brother Simon on drums, brother Franz on piano, Vienna star trumpetist Lorenz Raab, Roman Bisanz on viola and Luiz Gustavo d'Ippolito on contrabass).
The story follows two waiters in a tango bar both in love with a colleague and what happens when one of them falls in love with a client. There's both an entrance to the nightclub where the waiters smoke outside and a colourfully lit interior set with tables. The two romances and mixed up feelings go back and forth, with the waiters hiding each other's actions from the other woman. There's always uncertainty about who really loves whom. Behind the comedy of manners Ferreira Luiz works to communicate a more serious point about class structure and social mobility. Whichever waiter stays in the club with the waitress will face a life of hard work and toil, unlike the wealthy and spoiled clients. The same band plays on and on as the ordinary struggle to survive and the wealthy play there way through life.
Felipe Viera and Andrés Garcia-Torres play off of one another perfectly and manage to communicate the slippery qualities of Latin waiter/lovers to perfection. Irene Garcia-Torres is beautiful as the waitress colleague while Natalia Salazar plays up her role of wealthy client to perfection.
There are a lot of acrobatic lifts and funny faces in what is a thoroughly delightful divertissement with heart. It's inspiring to see this kind of ambition to get music, choreography, decorations and costumes right. If Ferreira Luiz maintains this level of intensity of preparation in her stage work, at the very least she'll be in demand to stage the dances within opera and operetta. Time will tell if Ferreira Luiz has the talent and sustained inspiration to make it as an original choreographer in her own right. As a first work Thoughts & Feelings is a great start.
---
French Volksoper dancer Samuel Colombet is a choreo.lab veteran since 2008 with four original creations. Colombet has worked as an assistant ballet master in the Volksoper for the last couple of seasons. His choreographic work usually includes sophisticated costumes and high emotions. In Verrat (Betrayal), Colombet misses the mark. The costumes are ugly, partly cheap satin and partly sleazy sequins. The backdrop was just projected light without much atmosphere. The overblown Tchaikovsky score drowns us in unearned emotions. While Iliana Chivarova and Trevor Hayden valiantly try to communicate huge emotions neither the choreography or the atmosphere justify the music and emotions.
On a technical level, Hayden seemed to struggle with his partnering at times, suggesting a lack of adequate rehearsal time and sometime strength. Colombet himself is a wide chested man with a rippled muscular physique and probably over-estimated Hayden's strength. It also seemed that the stage at Theater Akzent was quite simply too small for the dance which Colombet imagined as Hayden and Chivarova always seemed to be cutting short their movements. Colombet's past choreo.lab works were a cut above Verrat.
---
Veteran Slovak dancer Martin Winter is presenting his second work at choreo.lab after the excellent don't know in 2012. A tall and handsome dancer, Winter has been with the Vienna Staatsoper since 2007 and used to dance on the main stage until volunteering to move over to Volksoper due to some nagging injuries. Excellent dancing skills, along with height and good looks make him a great asset.
Outside In is a profound work set to a filmic score from George Crumb and Michal Hruza. A blistering performance from Mila Schmidt as Winter's lover sets the pace. Tainá Ferreira Luiz dressed in a long black dress is a passionate dark döppelganger for Winter's character in a simple charcoal suit who seems to be reluctantly abandoning his lover for Ferreira Luiz.
What's special about Winter's work is his ability to reinvent movement. He injects classical dance movement with a completely casual and fluid language of feeling. One symptom is a more complex hand movement than one would ever see in ballet. But Winter's language of movement goes beyond simple explanation. It's feeling made into movement.
In Outside In, Schmidt's lover is suffering from jealousy, abandonment. It's not clear if Ferreira Luiz is a rival or her own lesbian lover. What is clear that Schmidt is deeply in love with Winter's dark suited man and something is separating them. Winter's own ambiguous feelings about the relationship and himself perplex and intrigue. There's a deep existential crisis taking place inside of him, for which Schmidt bears the costs.
In the end, Schmidt's character is left with Ferreira Luiz when Winter leaves her.
After the performance I was able to speak to the choreographer and ask him about the structure of the ménage à trois. It turns out that Winter and Ferreira Luiz are one person. Winter based his thirteen minute work on the lives of close friends. Winter's character suffers a sexual identity crisis and decided to physically change genders but wishes to stay with Schmidt's character after becoming a woman. Schmidt's crisis is losing the man she loves deeply yet having the possibility of becoming his/her lesbian partner after Winter's sex change.
The fascinating backstory is less important than the authenticity and depth of feeling Winter managed to invest in Outside In and the performances he coaxed out of his female partners. Outside In is the most moving dance work I've seen in the last two years.
If Outside In is ever re-staged or you have the opportunity to see any of Martin Winter's work, do not miss the occasion. It turns out Mila Schmidt is a rising star in Volksoper and will be honoured the Vienna Ballet Club's Founder's Prize next month. If Outside In is any indication, look out for Schmidt's performances in roles which benefit from dramatic presence and intensity.
---
Handsome young Spanish Volksoper dancer Andrés Garcia-Torres first choreography an die ferne Geliebte (To a distant love) was a very traditional affair. The choreographer himself is in the lead role in an 18th century gentleman's ruffled shirt at a desk, writing with a quill while a candle burns. Dramatic Beethoven music accompanies his writing. He sees a vision of his distant love, the very beautiful Irene Garcia-Torres in a long flowing dress (his wife, I will presume). She comes to him and the pair dance a beautiful pas-de-deux. The whole episode seems more like something made for Louis XVI rather than a modern audience but the piece is well made. Its modern antecedent would be Roland Petit's dramatic and dark Jeune Homme et le Mort (A Young Man and Death) set to J.S. Bach). An die ferne Geliebte is far more upbeat of course and the charisma of the two dancers takes us a long way.
I'd be more interested in seeing Andrés Garcia-Torres dancing some princely roles (his looks and lines seem a bit wasted at Volksoper) than more of his choreography for now.
---
Austrian native-born rising star Jakob Feyferlik whom we've already seen dance a couple of times tonight also made his choreographic debut with the last piece of the evening. Desire is another crowd pleaser with ballet silhoettes, gorgeous curvy dancers, handsome men and lots of show-off style dancing. Ethereal music comes from the works of post-minimalist contemporary British composer Max Richter. A bevy of beauties Nikisha Fogo, Natascha Mair, Nina Tonoli make up the women. Francesco Costa, Greig Matthews and James Stephens are all look heroic and partner the ladies through high lifts and spectacular throws effortlessly.
There doesn't seem to be any deeper message to desire than to the emotion of joy and delight at being young and beautiful. The choreography hints men's desire is stronger than female desire as it's always the men pushing the women further. No opinion ventured on that subject here, this is just a report. Desire is a feel-good and well-danced positive envoi for the evening.
---
The Spanish Embassy provided a glamorous reception to conclude another excellent choreo.lab. This year's cuvée did lack some of the excitement and ambition of past seasons (live automobiles driven on stage, casts of twenty, both courtesy of Patricia Sollak) or a scent of scandal (Karina Sarkissova's Moulin Rougesque erotic works). Some of the pieces seemed a bit underrehearsed (though less so than at Hommage to Stravinsky) due to the very non-stop workload of another busy Manuel Legris season (no complaints, dancers live to dance, better a few too many performances than too few). What interests me is to see how Winter, Ferreira Luiz, Bakó and others develop as choreographers.