The Washington Redskins appear unable to sign their star quarterback. Appear is the key word. The guaranteed money Kirk Cousins wants is high enough to make any sensible GM hesitate. It's over $50 million. If the Redskins were to sign that deal, Kirk Cousins could heave a sigh of relief and become the good but unspectacular quarterback he's always been:
After high school, Cousins was set to sign with Toledo or Western Michigan, until Mark Dantonio became the head coach at Michigan State in 2007. After Dantonio failed to sign his top targets at quarterback, he offered a scholarship to Cousins, which he accepted.
Does second team All Big Ten sound like a $50 million quarterback to you? His TD to interception ratio of 25 to 10 in senior year hints at some good judgement and solid underlying talent but that's about it. No championships, always two or three games per college season lost. Hence the fourth round draft pick. In the pros, Cousins struggled for three years to keep his interceptions under his TD throws. There's never been a quarterback to throw more 400 yard losing efforts than Kirk Cousins. As a runner, Cousins struggles to average 2.5 yards (which isn't as bad as it sounds, as it means lots of times when under pressure Cousins avoids huge yards lost sack).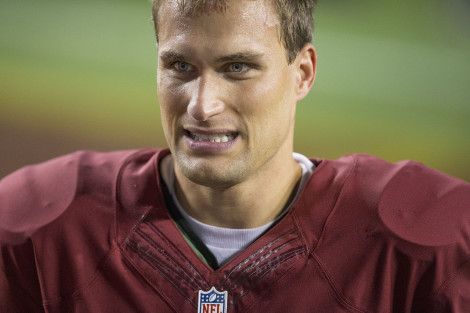 No contract a win-win situation for both sides now. Cousins refuses to sign a "deal". Hence the Redskins will be paying maximum dollar for Cousins no matter what happens. Pro quarterbacks' careers sometimes end in seconds. Even more often their form is cripple. There's no guarantee that Kirk Cousins will survive next season in pro bowl capable health.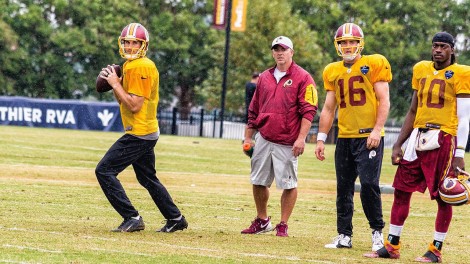 The highest rated, most decorated (Heismann, NFL Rookie of the Year, Pro Bowl as Rookie) in this training camp picture (Robert Griffin III) may not be in football this year. The highest paid quarterback in this picture is still Kirk Cousins despite not having a signed contract since 2015.
The Redskins really should have gone to the playoffs last year in 2016. Defensive inconsistency and Cousins' inability to turn big yards into scores left them sitting home. If Cousins were the guaranteed $75 million quarterback he pretends to be, the Redskins would have made the playoffs last year. He might become that QB in 2017. The price tag can't go much higher than where it is now.
From the team's perspective:
Cousins will be very keen not to get injured (no guaranteed money).
Cousins will be keen to show that he is truly a franchise quarterback.
If he delivers what he has to, the Redskins will be delighted to pay the difference. If Cousins continues to flash hot and cold, the Redskins will be delighted to pay him accordingly or let someone else pay him. The Cousins situation is certainly one of the most interesting pro sports free agent/franchise player/negotiations to take place in years. Regardless of his eventual place in football, Cousins will have a place in sports law and contract negotiations courses for decades to come.