The main late night haunt of the Impulstanz Festival is the Bürgtheater Vestibule, one of the more charming and elegant bars in Vienna, located within the Bürgtheater just to the left of the main entrance.
(More pictures of the splendid Bürgtheater interiors, see previous post.)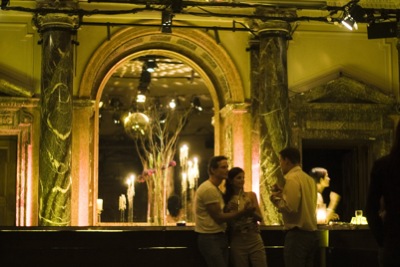 The main bar. Waitress passing in background
Normally there are too many people in the bar to take a decent picture, but on this Monday night after one a.m. there was the requisite calm. An excellent trancy music set from the DJ passing through on his way to Zürich.
Good conversation with Leonie Wahl and Markus Schwarz, dancer and light designer from the Elio Gervasi's Tanz Company. We were joined by Ricardo Cosendey, who creates the sets for most of the Gervasi productions. Politics and dance. General consensus, but for another longer article, that there is far too much unpleasant experimental theatre masquerading as dance. Not that any of us have anything against experimental theatre, but it has its own public and by driving dance audiences away from the art, we are all at risk.
Topic inspired by an extremely drab evening of performances at Schauspielhaus, Etienne Guillote's Skéné and Ingrid Reisetbauer's Drängen.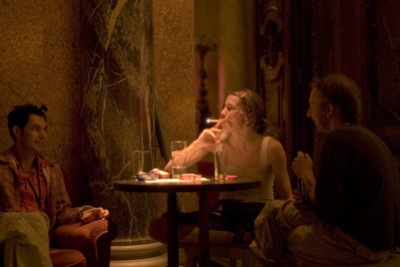 Ricardo Cosendey, Leonie Wahl and Markus Schwarz of Tanz Company Gervasi
Bonus portrait of Leonie Wahl. Elio Gervasi's Company is blessed with some of Vienna's most lovely and precise dancers.