The theatre is nearly dark as we enter. On the stage is an old man deep in a chair almost asleep. He is dressed in some kind of strange monastic robes. On the black wall at the back of the stage, hangs an enormous golden picture frame. The frame is empty.
Mala Kline as Giordano Bruno
We wait for what seems like an eternity. Sounds like jets or the wind start to fill the auditorium.
The old man speaks. Come my love, he says, in a rasping voice. So sad, so rotten.
He rises from his chair. His chair is now surrounded by what looks like sunlight through an old wrought iron window.
He sings a renaissance Magnificat in a voice now clear and majestic. His voice rises and fills the entire theatre, penetrating us. It is hard to believe this wretched old man capable of such song.
At the bottom the picture frame, typed words appear, by ones and by twos, each disappearing before the next appears.
I dare
you
dare
dare to
give
give in
lean
to
let me
not be a
pyre of your fears
a heart full of
ashes
release
confusion
leave it
the uncovered
subtle art of slavery
The picture frame now shows dark mysterious images one after another. Dark and bleak paintings.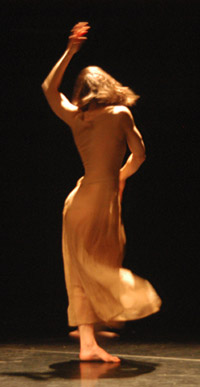 Mala Kline as the dancer in Campo de Fiori
Suddenly the old man discards his long flowing robe and cowl to reveal himself as a young and lithe woman. The theatre rocks with the sound of an organ and of white noise released simultaneously.
She wanders the stage and throws what looks like shiny oversized confetti everywhere. And then she begins to dance.
At this point we are entranced and enraptured with no idea of what might happen next.
The young woman casts herself to the floor and brings herself back up again. And again. And again.
She crawls across the floor and begins to laugh and sob at the same time, throwing her head into the chair. The painting shows words again:
we are
no other
given
a path
out of dust
still witheld
time
hidden
Unfortunately the action of throwing her head into the chair where she was sitting some minutes before just didn't work. The raging laughters/tears with her back in three quarter position to the audience communicated nothing. Mala Kline gave her effort to the chair and not to us. The dreamscape she had brought us into so carefully fell into shards of the ordinary.
A Tangerine Dream-like soundscape rises and pulses.
we crave to leave
violated
cindering
to come back
to dust
to love
Dark clouds gather and fly across the painting. Mysterious. Beautiful. Mystic.
The theatre fades to black.
———————-
Campo de Fiori is Mala Kline's artistic reflection on the life of Giordano Bruno, a renaissance magician and philosopher and alchemist. Bruno was put to death for his outspoken political beliefs.
What is wonderful about Campo de Fiori is the extreme economy of means for powerful effect. The sunlight through wrought iron effect was created with a single stage light. The picture frame serves three or four different purposes throughout the show (sometimes a beautiful renaissance tableau, sometimes mysterious drawings, sometimes a text board of the mind, finally the dark running cloud)s. Most of the sound effects are performer generated. There are no extra or unnecessary stage props or business. In spite of the sophistication of the staging, the purity of exposition is extreme
Unfortunately the choreography and/or dancing was not as coherent as the staging. In itself it didn't seem to say very much and some of it just didn't work, like repeated throwing her head into the seat of the armchair in a frenzy of tears or laughter.
But for about ten or fifteen minutes Mala Kline takes us very far away to a hidden and mysterious place that most of us can only approach in books and poems and that not very often.
Making the ineffable visible and palpable is a great gift.
This was Mala Kline's first solo work after a career which included stings in Ultima Vez and En Knap Dance Company as a performer. I look forward with great anticipation to future creations of Mala Kline.
Mala Kline's collaborators in the creation of Campo de Fiori include Irena Taomazin for the staging, Alan Hranitelj for the costume, Saso Kalan for the sound and music, Jaka Simenc for the light.
———————-
An interesting interview with Mala Kline:
Contemporary dance is very hermetic. You watch dancers or listen to people and you don't understand a text completely… This leaves you indifferent. It is as if you would need a translation. Performances should be made for people too, a performer should communicate with his/her public.
Words to live by.
Pictures © Miha Fras and Mateja Princic