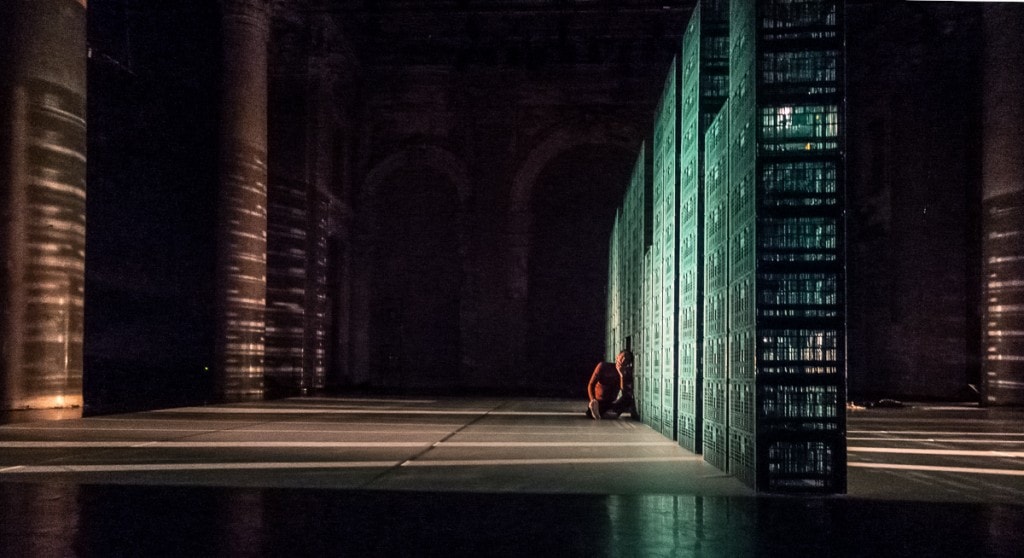 As the final show of this summer's ImPulstantz, Vienna was privileged to welcome the premiere of a new work by underrecognised but brilliant Elio Gervasi. One of the first choreographers to bring modern movement to Vienna, his improvisational influence spread wide. Gervasi, like many creative geniuses, is often a bit gruff. Strong movement is his native idiom not redundant words and empty promises. After blooming at the end of the nineties and start of the noughts, Gervasi's company was one of the first dance companies to fall victim to the city of Vienna's heavy arts cuts starting in about 2004. For several years, Gervasi worked in miniature with either principle muse Leonie Wahl or at most a quartet of dancers. Most of the others, including Homunculus are no longer here at all.
Dark introspective chamber performances are not the right medium of expression for Gervasi's orchestral invention. And most of these transitional pieces ended up as underlit shards in comparison to his larger pieces. There were happy exceptions on commissions for site specific creations for Museumsquartier courtyard for example.
Here Gervasi has thrown caution to the wind, bringing an ephemeral group of performers together, some more like students, others national theatre stars or even international choreographers in their own right, in a whirlwind of creation. Tragically, the performances are thus occasional: you are unlikely to ever be able to see a given work again. Be there or lose it forever.
In Solo with Guests we get anything except a solo. We enter the always impressive Odeon space where a ten box tall wall divides the two halves of the stage right down the middle. At the back of the massive space we glimpse an impatient Gervasi himself in a scruffy winter coat moving from one end of the couch to another. He struts to front of the green milk crate wall and stamps back to his couch a few times as the stragglers wander in.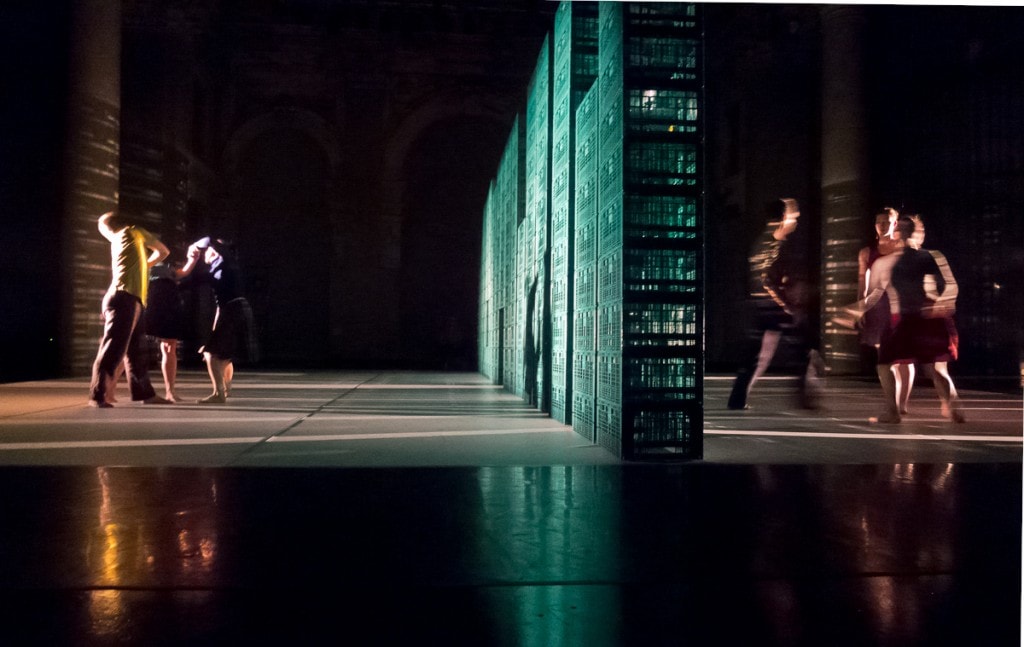 The lights finally go down as seven dancers wander in, a group of three on one side and a group of four on the other side. The older Gervasi himself has left us but perhaps not. Ex-Jochen Ulrich star Martin Dvorak serves admirably as what appears to be a younger Gervasi living through his life, surrounded by the energetic young dancers.
Short video extracts from Solo with Guests Part Two: total running time 5 minutes
The seven performers are often all in motion together, sometimes in dance duets, sometimes trios. The focus moves seamlessly from one dancer to another throughout the seventy minute performance. Gervasi has always been able to extract the maximum amount of meaning from objects (whether lamps or milk cartons: this is the second time round for the latter). His walls and sofa move around the stage as the dancers build different lego castles through the stages of life.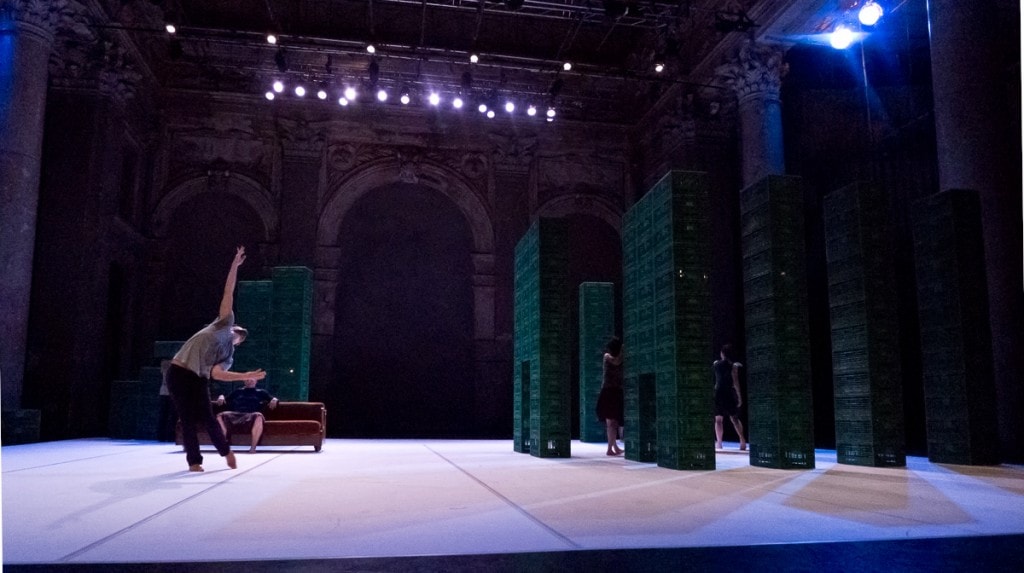 Leonie Wahl understands Gervasi's movement in every bone in her body, tonight her motion lacked some of its earlier frenzy (perhaps for the good). Wahl is always a whirlwind of movement and radiant performer. Newcomer and stage chameleon Dvorak (I've seen him take hold of so many different roles and styles) adapts effortlessly to Gervasi's fast movements. His maturity and almost narcissistic focus do much to provide a moral center to an otherwise young group.
Other striking performances included the young man with shaven head who offered a compelling physical charisma in his solos. Hopefully Polish Hygin Delimat will return in future Gervasi productions. One tall young woman sported a body more like a swimmer than dancer, with muscular shoulders and power throughout her body. Her unusual and strong physical lines added special impact to Gervasi's fluid movements. It turns out this extraordinary dance Amazon hails from Australia, Hannah Timbrell is her name.
Japanese Yukie Koji, Italian Sara Marin, Viennese Patric Redl all gave strong performances to round out the strong international ensemble.
In the middle of the production Timbrell stopped to stand on a stack of milk cartons where she declaimed beautifully one of Whitman's best poems.
Here it was clear that Gervasi had told us the story of adult life. How it starts full of discovery and hope and ends among old friends or solitude, the lamps growing dimmer, the clothes older, the movement quieter. Appreciate this fragant moment the evening shouts. It's passing you by even now, the chance to move and to love. Do not go gently into the night.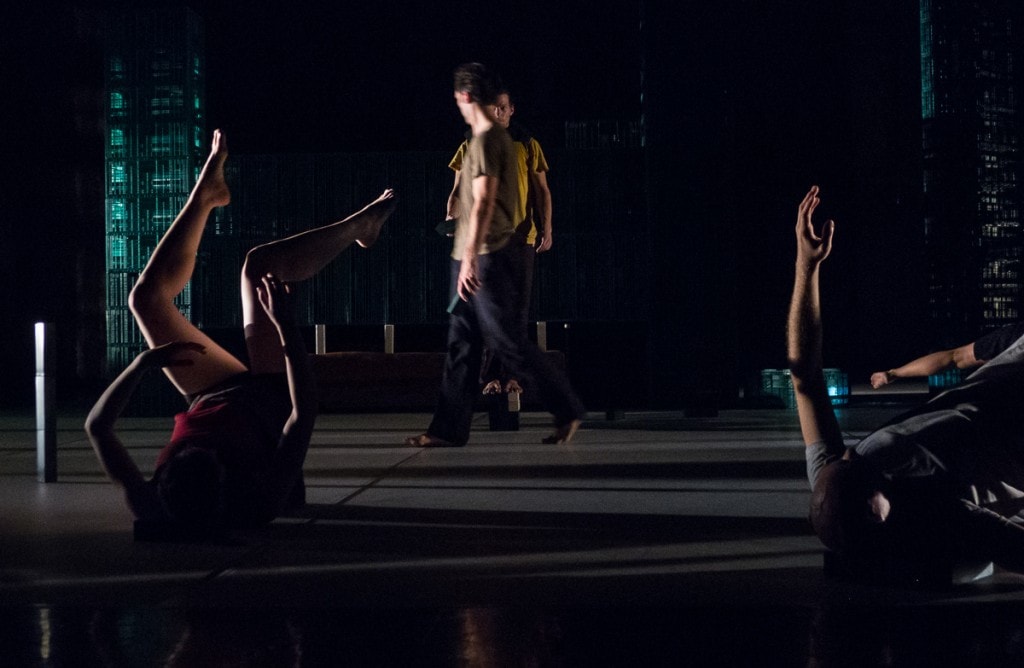 A long still life in half sillouette with most of the dancers frozen each in a single peculiar pose with arms or legs in the air, captures a timeless moment of consciousness and mortality, before finally the last lights go out. Gervasi returns to dim them by hand himself.
In Solo with Guests (Part Two), Gervasi worked closely with assistant choreographer and dramaturg Nicoletta Cabassi. The match appears to be made in heaven, as sometimes the ever fluent with movement Gervasi has struggled with story. Not here.
A deep and beautiful evening.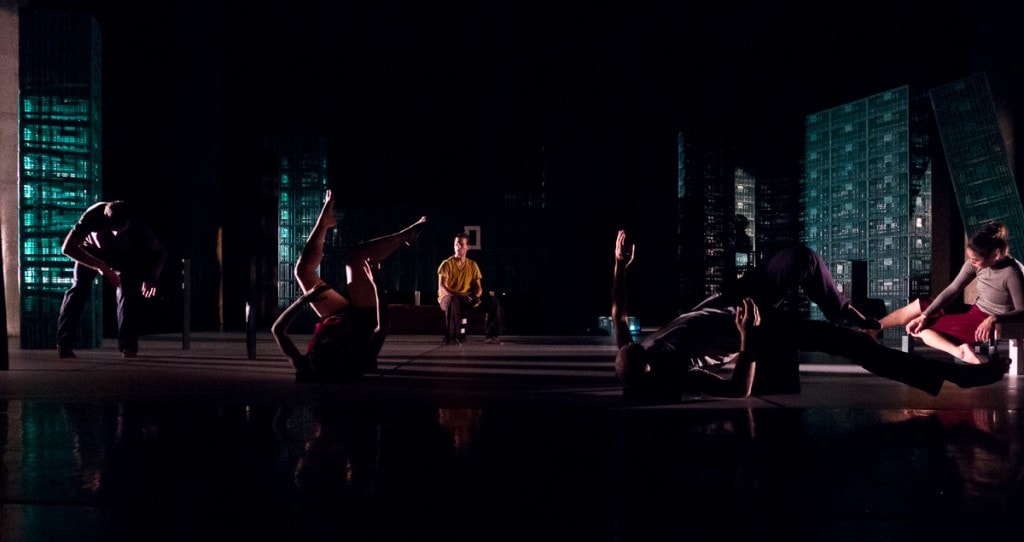 ImPulstTanz should be proud to have co-produced this autumn work. Gervasi remains one of the great architects of movement in Austria. Not childish conceptualist pranks but timeless works of soul and movement. I sincerely hope his company is offered the level of funding they deserve to continue to create powerful dance works like these in Vienna.