A new piece from Ultima Vez is always a big event in the dance world since Wim Vandekeybus first set the European dance world on its head with Les porteuse de mauvaise nouvelles and his physical theatre in 1989.
The last few years have been a bit strange, with a reprise of Les porteuse de mauvaise nouvelles in 2005 and the creation of a greatest hits piece Spiegel 2007. On the film side, Vandekeybus did find time for more original work in the full length piece Blush in 2005 (partially based on the stagework of 2003).
At the root of Vandekeybus's creative process has been a group of longtime dancers making up Ultima Vez, fellow travellers with Vandekeybus himself. The original Ultima Vez lived together, slept together, created together with Vandekeybus as a kind of Faustian overlord, an object of love and hate, respect and loathing. One could feel the intense group dynamics on the stage. You can see these deep relationships work themselves out in both Vandekeybus's films Blush and In Spite of Wishing and Wanting.
Nieuwzwart – The New Black is a bit of a double entendre. The group of dancers for Nieuwzwart are all new. No one remains from the original Ultima Vez (as late as Les porteuse de mauvaises nouvelles there were some original cast members in the shows). After an intense audition period, Vandekeybus gathered a new group of seven dancers and set to work for four months.
The work is based on a poem by Peter Verhelst about his experience at the end of the world along in Alaska. The poem is an existential lament about the sky and solitude and travel. Kylie Walters alternates from reading, chanting, singing and reciting the sombre lyric. Often she appears as a an early 90's David Bowie in white shirt and short blonde hair and mature elegance.
On stage we begin with what looks like huge piles of leaves rustling on stage. Out of nowhere we hear a huge sonic explosion. A few figures appear on stage in blue uniforms with flashlights. They search the stage and find naked creatures under the leaves. They stand over them and shine lights in their eyes, force them to move about the stage. For all the world, the uniforms, the flashlights, the naked victims, reminded me of nothing more than the awful photos out of the Abu Graib prison a couple of years ago.

naked creatures under the leaves
© Pieter JanDePue
Eventually this prologue comes to an end and some real dancing begins. For some reason, the dancers dance away from the stage and we see their faces very little. There is some solid solo work in here from the long limbed Tanja Marin Fridjosdottir and the astonishingly acrobatic Olivier Mathieu. A little bit later an unknown dancer hits the center of the stage wrapped in the golden heat blankets of the beginning, raging about the stage in a sort of blind frenzy. This golden apparition looked like one of the dragons from a Chinese New Year and seemed desperately out of place from the naked bodies of the prologue and the pure dancing in between.

wrapped in the golden heat blankets
© Pieter JanDePue
Eventually we return to high speed Ultima Vez dancing. Vandekeybus has a penchant for hard bodied men with long curly hair and beautiful women breaking their bodies at high speed. Ultima Vez 2009 is no exception. Ultima Vez is famous for their casualty lists, with more dancers knocked out of commission on a per capita basis than any other company before or since. And one sees why. Over the head foot flips at speed, high speed body slams, running spins from the opposite direction.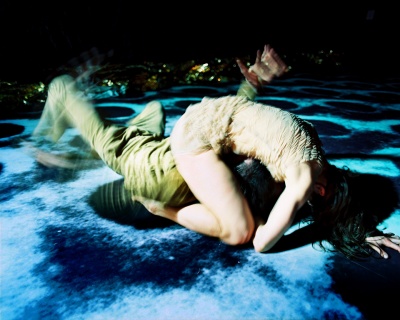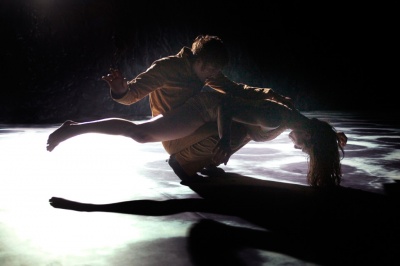 Tanja Marin Fridjosdottir & Olivier Mathieu
© Pieter JanDePue
It's all very spectacular, but we've seen it before. And one seeks a higher sense to the madnessm an artistic motivation to all the music and movement.
I had trouble finding it.
The music varies between Jim Morrison's American Prayer, David Bowie, Siouxsie and the Banshees and Bauhaus. The music was originally created by Maruo Pawlowski for Nieuwzwart and performed by him and the Belgian rock ban dEUS. Often in spite of chameleon-like changes, the music was very good. With her Australian/British accent and Bowie look and the dark atmosphere and naked bodies, one feels that one is in an extended outtake of Tony Scott's The Hunger's nightclub scene.
I don't mind as The Hunger is one of my favorite not serious films: The Hunger is more an exercise in style than a serious treatment of immortality.
And so is Nieuwzwartz an exercise in style.
At the end of the piece, more sonic booms and the dancer reappear naked and scuttle across the ground like crabs into the darkness as Kylie Waters wanders among them with a flashlight.
The whole theme appears to be you are born naked, you struggle a great deal and then you return naked to this earth. A timeless and honorable enough theme – but still something is missing here.
Perhaps Nieuwzwartz would work better with just two or three more outstanding choreograpic moments and a few less stage tricks. The golden heat blankets just don't make any sense in apposition to the wilderness theme – they look more like something out of a space story. Five huge panels for generating thunder sounds on the left hand of the stage go underused. Either they should be integrated into the story or removed. One often feels music or sound is used for effect and not purpose.
For me the biggest issue with Nieuwzwartz is the dancers. They are just not at the level of past Ultima Vez groups yet. They seem a junior company just getting into the flow of it. With few senior hands around to help them develop their numbers and no past historic relationships to develop further through their stage partnerships, they only seem to touch the surface of what they are doing.
The oustanding flips and high speed enthusiasm of Benedicte Mottart left an impression, particularly in her short duets with Olivier Mathieu, as did Tanja Marin Fridjosdottir in her frenetic solos. For some reason in her duets (most often with her fellow red clothed partner Mate Meszaros), Fridjosdottir did fine but not on the same level as her early solos.
Otherwise, the dancers disappeared into a kind of anonymous obscurity. In earlier, Ultima Vez shows one could remember each of the dancers for days afterwards, their individuality seared onto one's visual memory.
Vandekeybus appears to be at a creative crossroads, not having found the new nor having abandoned the old. His recent film work has been more spectacular and original than his stagework and he is still in development of a full length feature script with Verhelst.
Nieuwzwartz is a well-made show and not one to regret seeing. For the moment, it is not at the hauteur of Vandkeybus's previous works. The greatest rival of the master is often not other artists but his or her earlier self. And so it is here with Vandekeybus.
Performers:
Tanja Martin Fridjosdottir, Dawid Lorenc, Olivier Mathieu, Mate Meszaros, Benedicte Mottart, Ulrike Reinbott, Imre Vass, Gavin Webber, Kylie Walters