L'anglaise aux beaux yeux au Jardin des Plantes.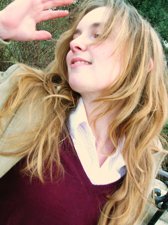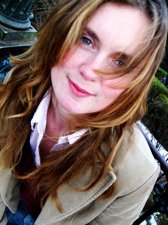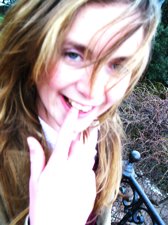 Je vous ai dit que le Jardin des Plantes c'était un de mes répares preferés à Paris. Et non sans cause.
Just after I finished Lapinthrope, I took some time out to go to some shows and had planned to write some reviews of some new shows. By a curious coincidence one of those shows was Thomas Hauert's Modify that I had just seen in Vienna at the start of December.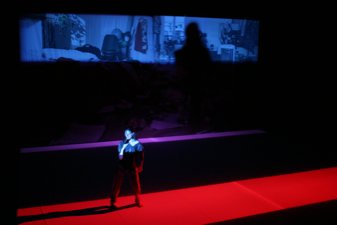 In Paris, Hauert's show was playing at Théâtre de la Ville, one of the world's great modern dance stages. In Vienna, they had danced in Hall G of the Museumsquartier and the basement stage of the Tanzquartier. Hall G is used for most Tanzquartier shows apart from the really large scale productions like Jan Fabre's monumental Je suis sang.
I was very curious to see Modify which I quite well-liked in a very different environment. And indeed it showed entirely differently. At Théâtre de la Ville, I was at the premiere while in Vienna I had been at one of the quiet midweek shows, either the Thursday or the Sunday. The audience was sparse if engaged.
At Théâtre de la Ville the huge hall was packed for the premiere. There wasn't a free seat anywhere before the rafters.
At the end of the show I felt like I had seen some great performances from the artists. They were full of vigor and dance quite passionately.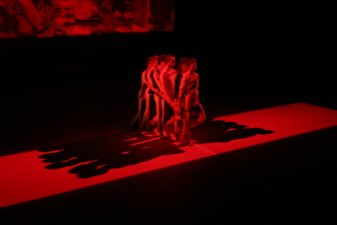 On the other hand, the stagecraft itself fell flat. The giant photograph of the apartment seemed quaint and diminutive in the expanses of the Théâtre de la Ville stage. The lights which seemed to capture every movement of the dancers and so full of mood in Vienna, rather flat.
The large audience was enthusiastic, if not as excessive as I've seen the Parisians at Amélia of La La Human Steps.
By happy chance, I was able to join Thomas Hauert and the dancers afterwards to talk about the show and to compare how they felt.
Ursula Robb mentioned that they felt really alive, like it had been one of their best shows.
While being diplomatic, she hinted that the smaller audiences at the Tanzquartier might have had something to with how they danced.
Not that I didn't know it before but I am still astonished at how important the audience and the context is to a live performance.
My general positive impression of Thomas Hauert's Modify remains, but in Vienna I loved the concept and cared less for the performance. At Théâtre de la Ville, I thought the dancing and performance were exciting but was underwhelmed by concept/decor.
Photos from T.Lewyllie. Provided by Théâtre de la Ville, Paris
French is such a beautiful language that as much pleasure as it creates to hear it spoken well, so much pain it creates to hear it spoken badly. Travelling home to Austria – strangely the journey does feel like going home – I am sequestered with my bicycle next to a compartment where the general tone and quality of speech is so vile that I feel like I am back in Toronto, listening to the kids there.
I would move but there is nothing to be done as I must stay near my bike and my belongings.
Whenever I have relaxed about my personal property in Paris, I have been warned to be careful by friends and girlfriends.\
I've had so many things stolen myself – and I was born here and try to be careful, said one friend.
It's a strange state of mind to have to live with.
Could they not organise themselves to stop stealing? It seems to permeate the state from the government all the way through society.
As great an advocate as I am of the welfare state (either you give the idle bread and booze or they'll steal it – in any society it is twenty per cent of the people who do three quarters of the work) – when you have people who work three months of the year top collect unemployment (les assidiques, as opposed to welfare which is RMI, révenue minimum d'insertion), you have a problem.
Even in the more privileged classes, high performers in the advertising industry will better struggle for two years to get exactly the position they want, than return to work sooner with a position they don't like.
So home to Austria, a little more space, a more cogent work environment.
Strangely, the Austrians are supposed to be very idle in comparison to the Germans. I wonder what it must be like to live in Germany. The Austrian way seems to be more like France used to be – which is to say, very intelligent about work. To analyse the work and be done with it as quickly as possible in order to enjoy the rest of life.
Ah more abominable French and the stench of tobacco avec. Reminds me of the trip to the peniche with Marion and Stuart. Not so much dancing as standing on a dance floor and smoking.
I couldn't quite understand it. One could stay home and smoke.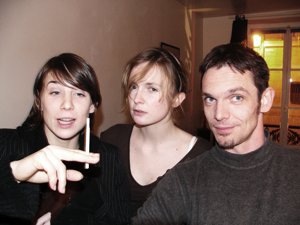 Anna Hein, Valèrie Simphal, Xavier Perrez – rue Mouffetard.
Paris La Nuit - Hein, Simphal, Perrez Continues »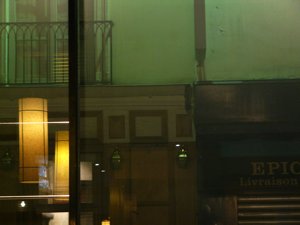 Restaurant Japonais à Paris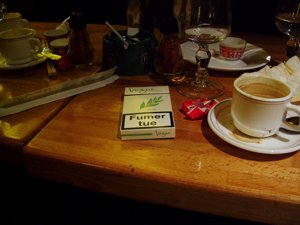 Fumer Tue
Deux photos de Valèrie Simphal, 5 mars 2005.
Prêter son appareil est bien.
France is not doing very well these days.
Prices have rocketed sky-high despite wages staying more or less in the same place.
One of the problems is the 35 hour work week. On my trip to Basque country I rode the train with a woman who works in a large Belgian bank as upper middle management. She can't get her whole staff together for a meeting anymore as there is always someone who is not at work. The 35 hours week legislation even allows workers to set their own hours! Frankly, thirty-five hours is not enough time to do a full-time job, especially on the clock. Between arriving and leaving and lunching and coffee, there isn't much time left to work.
Moreover, companies are paying a full wage for these part-time workers so no wonder prices have to rise.
Indicative of how things work in Paris these days is the following anecdote.
For a tiny Sony VAIO PCG-161L that I bought from my cousin, I need a power adapter. Graham lost the original power adapter at the bottom of the Arctic Ocean on one of his Arctic diving expeditions.
So I call up Sony France for the part as no one else seems to have it. Proprietary power connector. Finally get the right number and the right person on the telephone. To call one of these French 0800 numbers you have to pay between 15 and 35 euro cents/minute usually. The money extorted is divided between France Telecom and the company to whom the number belongs. So I'm paying a stiff tarif to talk to them already.
The gentleman on the other end after introducing himself as Monsieur Simon asks me for the model number. I give tell him.
"That will be 20€ please. Would you like to pay on your credit card?"
"For what?" The power adapter couldn't be that cheap.
"To open a dossier."
I asked him if he had this straight. I was going to call him to buy an after market part for this little box – a part that was certain to cost ten times its production cost to purchase (power adapter) and he intended to charge me 20€ to tell me if he had the part in stock or not?
Yes, he was serious. The computer was not sold originally in France and in such cases a dossier charge of 20€ is obligatory. No wonder there is so much negative press about after sales service on Sony VAIO. Finally a gentleman by the name of Monsieur Coulet, three or four rungs higher in the ladder had the good grace to tell me free of charge that they don't have the part anyway.
This is just a single anecdote.
Another example. The internet providers also give you a toll line for tech support. They keep you on hold for at least ten minutes and then tell you that nobody is available. Repeatedly. They could tell you within 30 seconds but then they wouldn't get to put 2€ in their pocket for every call.
We are a long way from the 1-800 number here.
Basically the deal in France now is that as soon as you do or try anything you get whacked financially three or four times. Once for the telephone fee tarif, another time for some kind of administrative charge and a third time with an absurdly high price.
So what do the beleagured French people do? They try to stay home and buy as little as possible, despite an enormous amount of advertising everywhere.
They don't understand why foreigners are all trying to run around and do everything, as if they are unaware of the consequences of wanting too much in this world.
As well as the salarial woes consequent from the 35 hours, the changeover from the franc to the euro gave the perfect cover for a furious inflation which I gauge at about 25 to 40 per cent depending on the category. With the currency transition it is difficult for even the government to keep track of where exactly inflation is. Retailers have told me that sales are way down. Logical. When people take increases in basic cost of living, without a correspondent wage increase, their disposable income crashes. And they do less.
Lots less. So the retailers, restauranteurs and bar owners seem to have hiked the prices to maintain their revenues. Which again reduces the public. And that is the current situation in Paris. Many places are working almost exclusively for a turnover tourist/visitor population at exploitation prices.
Paris being Paris (one of the centres of world tourism), gouging works after a fashion. But no wonder the resident Parisians are running to work and home again with an ever more anguished expression.
Every day here in Paris, I miss my Wienerwald (Vienna woods). The Wienerwald are just 20 minutes away from the very centre of Vienna by bike and cover steep hills (not quite mountains).
In Paris there is absolutely no place to hide away from the traffic and the crowds. Almost every day I have been going out for a walk in the Jardin du Luxembourg which is a fabulously beautiful site but is both too structured and too busy to provide any real repose. It is a wonderful place to gather the day's sunshine as if there is any sun, the sunlight gets to the ground at all times of the day somewhere in the Jardin.
The far less well-known Jardin des Plantes is much less visited as it has no tennis or children's playground and is not on the same kind of major transportation axis as Boulevard St Michel and the RER.
On the other hand there are whole sections of the garden which are preserved in a natural state. Indeed about ten years ago they started to fence off the woods so that the natural vegetation would stand a chance of returning to the soil (under the amount of traffic that even the Jardin des Plantes gets in the summer, apparently nothing was growing on the ground and the trees were ailing). In the north-east corner of the Jardin, there is a delightful labyrinth which is in fact a winding circular upward path ending in a gazebo. From the gazebo one can see much of the surrounding Paris and sit and enjoy a winter chat.
There is some delightful solitude and tranquility there now, but that probably passes quickly in spring and is absent summer. Perhaps even more wonderful is at the bottom of the labyrinth, there is a real copse of woods. Enough so that one can see almost only trees on all sides. One can even hear the sound of the wind through the trees. For a moment Paris becomes alive.
A lot easier than a trip to Fontainbleu or Chantilly which are both an hour away from the centre of Paris.
———–
Not to be missed while in the Jardin des Plantes is the Grande Galerie de L'Évolution au Muséum National d'Histoire Naturelle. The Grand Gallery of Evolution is part of a 19th century zoological exhibit hall with a glass ceiling, very similar architecturally to the Gare d'Orsay now the renown and magnificent Musée d'Orsay.
Inside, instead of finding expressionist paintings and sculpture, one finds five floors of beautifully created diaoramas and life-size preserved animals. All kinds of taxonomy and evolution and habitats and diverse natural trivia come to life in each of these exquisite displays. Most of the text is in French so sadly much of the information will be lost to the non-French speaker.
But for those who can read French, it is like a natural history textbook come to life in three dimensions. Larger than life. Stand next to the rhinocerous of Louis XIV. Walk beside a narwhal. See Polar Bears close up. Go back 500 centuries and 6 centuries in the life of Paris and see the natural environment of the time.
A living expression of why the internet can and should not be the end all of human knowledge. It would take weeks to gather and experience the knowledge concentrated in a few hours visit to this remarkable museum. The Grande Galerie de L'Évolution au Muséum National d'Histoire Naturelle is the perfect expression of the French genius for explication and presentation.
New Year's eve at Palais Garnier is a marvelous event. One comes in black tie and enjoys complimentary champagne and hors d'oeuvres with the ballet.
The dance on the programme was the baroque event of the Opèra de Paris season.
The evening began rather slowly with Bach-Suite 2, a creation of Francine Lancelot and Kader Belarbi on J.S. Bach's Suite No. 3 for cello in G major, based on Rudolf Noureev's Bach-Suite (1984).
Belarbi's structured dance to Bach's baroque score is correct, historic and vaguely charming. Belarbi was attired in a shiny purple frock coat in the baroque style and he skipped and jumped and leaped. However a man prancing alone in most cases remains a man alone on stage. And in tonight's performance that's exactly what happened.
The highlight was the cello solo performed admirably by Raphaël Pidoux who joined us on the left hand of the stage.
After the first entre-acte we returned to a bare stage with only a background of three white panels. On each of the panels a photograph was projected as a dancer slipped in and out from each side of the stage.
Glacial Decoy is performed in total silence so all we heard was the sound of the projectors changing the photographs and the sound of the dancers feet. The photographs were rather dreary black and white pictures of a rust zone in the United States. As a multimedia piece, Trisha Brown's Glacial Decoy (1979) is quite old so the use of photography and dance together was probably fresher at the epoch.

Trisha Brown's Glacial Decoy © Photo by Babette Mangolte
The performance was smooth and certain. Almost effortless for the five Paris Opera danseuses, Géraldine Wiart, Muriel Zusperreguy, Béatrice Martel, Aurélia Bellet and Alice Renavand. One might say that their performance is missing a certain recklessness or carelessness that one can imagine in the original American dancers.
But the dancers were stunning in the translucent long white gowns as they came and went as ghosts.
A pity that the projectors were so noisy as the mechanical sound of the pictures changing rather distracted from the ethereal atmosphere of the gowns and the choreography.
When the lights came up for O zlozony / O composite, we faced a starry sky projected on a 10 metre high backdrop. Three white clad figures moved about the stage to a woman's whisper in an obscure and delicious Slavic tongue. The music was very zen – almost too much so – but lifted from repetitiveness by the gorgeous spoken vocals.
The music belonged Laurie Andersen and the choreography again to Trisha Brown, but this time in a more recent commission in a creation made specifically for the Opèra de Paris in only its eleventh performance.
The three performers – Dorothée Gilbert, Nicolas Le Riche and Yann Bridard – were attired in strange curved white costumes, a combination of Barbarella and 2001: A Space Odyssey – modernistic but somehow timeless.
O zlotony / O composite – Legris, Dupont, Le Riche © photo by Icare
Nicolas Le Riche is a man in his full maturity, with full lines rather than youthful ones that leave a sense of hidden power like a panther. Powerful and flowing arms. Le Riche dominated the other two. Despite the omnipresent female vocals, a strangely bland dance role for the woman. No real dancing, just lifted and twisted and turned.
The kind of piece you'd like to be able to sit down and watch sometimes before bed to put you in a good mood, dreamy and reflective for a blissful night of repose and meditation.
After the second entre acte we returned for what is supposed to be the highlight of the programme, William Forsythe's Pas./Parts created for the Ballet de l'Opèra de Paris in March 1999.
Three enormous white walls. Left, centre, right. The dancers emerge in strong diagonal lines. The men are in colored tops and black bottoms. The women are in black fronted body suits with coloured backs. Yellow, purple, blue.

Pas/Parts © photo by Icare
The strong industrial sounds of Thom Willems score syncopate the dance at first, galvanizing the audience. Sadly after a while they become tired. Perhaps too much post modern clanging on stages around the world. Clanging does not make much of a thirty five minute score.
Here there are up to twenty dancers on the stage at any one time. Again the range and breadth of Opèra dancers impress. Forsythe's choreography for the men and women is very similar but for some reason looked much better on the women. Too stiff on the men.
Sabrina Mallem was particularly impressive with arms that seemed longer than even her legs, both supple and powerful. Totally expressive from head to toe to fingertip, she filled the entire stage with resolute and poetic extensions. The strength of her body expressed itself in the beautiful and rounded curves of her shoulders and hips.
On the other hand, the other lead, Mélanie Hurel, while she danced well, looked so thin that she might be staggering out of prisoner-of-war camp, gaunt and miserable. This is the downside of the Opèra de Paris is that many of the danseuses are so thin as to look outright ill.
While some may find this aesthetically inspiring, I find it depressing to see people who frankly look only ill peforming on stage.
Pas./Parts while it had its moments, dragged at times and sank under the repetitive and unpleasant score. What was said musically and choreographically could have been condensed into fifteen or twenty minutes rather than thirty-five.
Overall, though, a wonderful and varied program, with a single unique and original piece in Trisha Brown's O zlozony / O composite.
No regrets, recommended.