After three months with two telephones and two weeks with three telephones, I couldn't take it any more. My Apple Address Book was a mess. Lots of numbers without names. Lots of names which didn't make any sense to me. Some names on one phone but not another.
I have clients and a circle of friends and colleagues in five countries – five locations – so the disorganisation was getting to be very confusing.
Steps to clean up: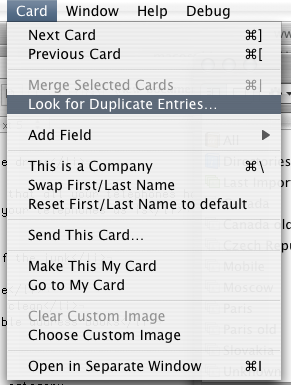 gather the dross

make sure that all your telephones have been added to iSync
sync all your telephones as is, to make sure you don't lose a stray contact entered directly into the telephone

get rid of the junk

create an Unknown group
move any telephone numbers without a name or name without a number in there
export that group as a vCards (option drag)
delete all those numbers

go through contacts one by one and make sure that any distinct individuals with the same first name have a last name (if you're like me, you've got several Martinas, Annas, Johannas and Karins in your address book – you don't want to mix up their numbers) or in the worst case an identifying word for last name
at this point you can freely run the Look for Duplicate Entries command until all the duplicate entries are merged (there are several stages to the process)

categorise

create current contacts and old contact lists (i.e. Paris and Paris Old)
put every contact into at least one group (there is a very useful applescript to help you find Orphans). You can also hold down Option key while a Contact is selected and all the Groups to which the Contact belongs will be highlighted in yellow (one Contact can belong to multiple Groups).
create a Mobile group
move the Groups you want to have with you in your telephone into the Mobile group (yes you can put Groups inside Groups – it took me a while to figure this out)

sync back clean to all the phones

reset all devices (this will replace the telephone's existing address book with the clean one you've created)
choose to Sync only the Mobile group you created earlier

enjoy usable address books where you have only the names you might need
One big advantage of this cleanup is that not only does one have fewer names to flip through but all of the names should mean something. This clarity prevents unnecessary mental distraction when trying to find a phone number.
In a more extreme case, this process could be refined to set up each telephone with slightly different master groups. I.e. in your French phone you keep Paris and Paris old and Vienna but no Moscow. In your Vienna phone you keep Paris, Moscow, Vienna, Vienna old. I've just used a single group called Mobile for now.
I've written this documentation up as nowhere is detailed information about Groups or using iSync with Multiple phones gathered in one place. I hope it is of use to you.
Bonus points. If you don't want your Nokia 6230i to ask you every time you want to sync if it's okay, you have to drill down Menu > Settings > Connectivity > Bluetooth > Paired Devices > NamedDevice (hilite it and click Options) > Auto-conn.without confirmation > Toggle to Yes.
Once the 6230i has been properly prepared for fast syncing, it is by far the best telephone capable of syncing with iSync which I've ever had the pleasure to use. I've had Sony-Ericcson T630 and T68i phones and both were terrible (reception, sound quality, durability, keypads). I kept them for the iSync capability. The Nokia 3210 and 6210 were both even more solid phones than the 6230i but chunkier and not capable of syncing with iSync.