I had the chance to hear Electric Indigo live again on Friday night at Flex where she played the Jugend Innovativ party. Her set was long and fabulous. What marks the outstanding DJ from the ordinary, is his or her ability to tap a room's animus and move the people from where they are into the DJ's world. This isn't done with a single song or single riff but with a careful musical progression, even a spiritual center.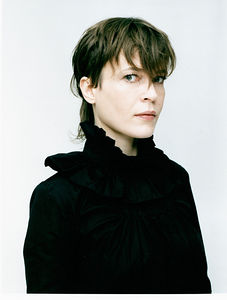 Electric Indigo is often called Austria's best woman DJ or the World's best electronic woman DJ. Time to drop the gender epithet. Electric Indigo may be the most consistently brilliant electronic DJ in the world. Full stop. I have heard her spin at least a half dozen times since I came to Vienna two years ago and her set was always outstanding.
She has her own record label (unfortunately the representative MP3 files are not representative of her sets) and maintains an international music resource site called female pressure. Here is an extract from her official bio:
Electric Indigo, DJ and musician, has rocked clubs, raves, and festivals in 34 countries. Her name stands for an intelligent interpretation of the terms "techno" and "party". She started her DJ career in Vienna in 1989 with jazz and funk sets, but soon found her style in the Detroit and Chicago techno sound. In her Berlin years (1993-1996), she was responsible for purchasing and communication for the legendary record dealer Hard Wax. In 1998 she created female:pressure, an international database for female DJs, producers, and visual artists who work in the fields of electronic music. female:pressure is a unique, web-based resource of female talent all around the globe and was built to enhance mutual support and communication as well as the general level of information about female artists.
Catch Electric Indigo next in Vienna at flex on 12 December and at Tanzquartier 22 December. For her worldwide dates online.