Last year when I arrived in Vienna, the first time I saw Austrian society was at the Austrian Fashion Awards.
Last year's awards were not very good. They had a DJ in from FM4 which is the hot radio station in Vienna. Their DJ's have a shared way of speaking with deep voices and a very laid back attitude. A kind of time transporter to the FM of the 1970's in North America.
In any case, this Hermes is much in love with this own voice and did not deprive us of it. He spoke for about two hours of a ceremony which was close to three hours in length. And there was less than a half an hour of runway in the whole ordeal. I was struck by the patience of Viennese crowds for public speaking. To my astonishment, there was a minimum of squirming.
The clothes were no great shakes – the grand prize going to Petar Petrov for some sort of white cloth spacesuits for men. Dreadful garments.
Happily, the DJ for the after party was Electric Indigo and there was a good crowd for the music.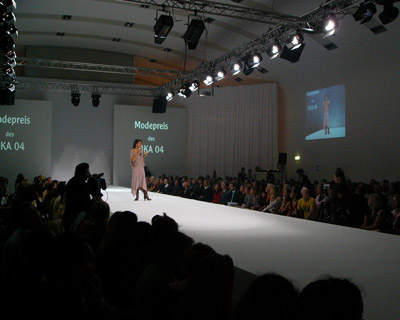 At that after party, I met the person with whom I spent most of the year.
This year's show was much better. The MC for the evening was a charming young woman – Mimi Grünwald – who spoke briefly and to the point. A pop starlet at one point, happily it didn't show in her clear and succinct delivery. The awards were handed out with a minimum of fuss and whining. Andreas Bergbaur of unitf didn't speak for too long this. His speeches out about sponsors didn't seem like constant carping.
The runway shows were extensive with as many as 20 models from some of the winning designers. The models seemed to be better and their makeup often inventive.
Most of the clothes were excellent.
I particularly like the clothes of Art Point which showed two totally different lines. One was dark evening wear which seemed quite dull at first glance but played beautifully on a difference of look, whether you saw the model coming or going.
Here are two examples from Edith A'Gay's designs.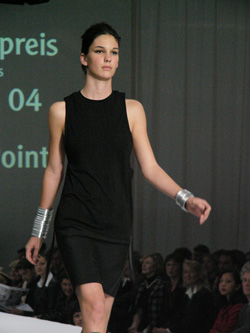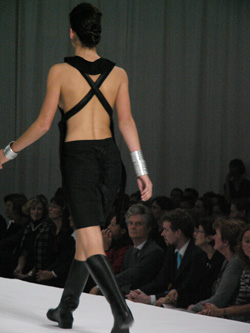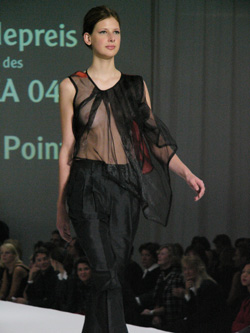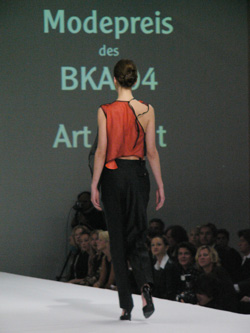 The second line was very colourful and playful clothes. Although far too bright and cheery for my own taste, Lena Kvadrats's use of colour is very cunning and imaginative. Here are some images.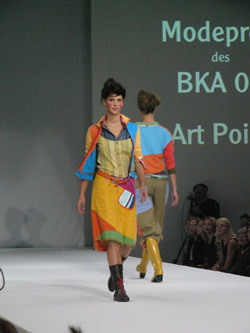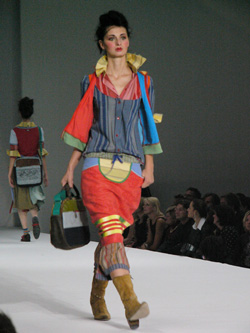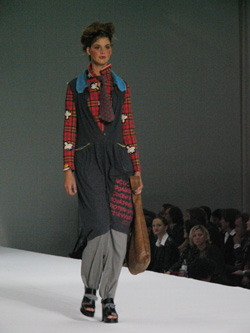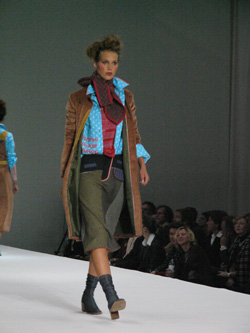 All the award winners: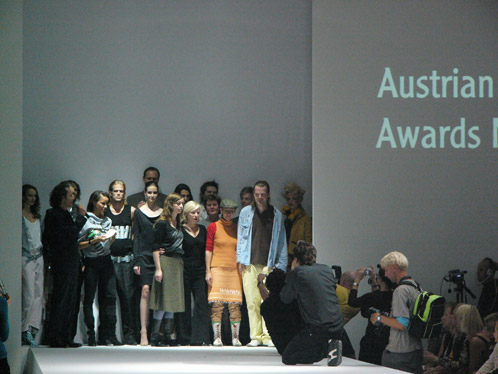 The after party was somewhat confusing as the good DJ was left in an empty hall upstairs with a very democratic VIP party downstairs in the Jugen Tueller photo exhibit (the semi pornographic ironic series with Charlotte Rampling).
A waste of Electic Indigo's considerable talents.
But really a much better show than last year. The Austrian Fashion Awards are growing up fast. Perhaps next year, they will get both the show and the afterparty right.
All photographs original, copyright uncoy.com and Alec Kinnear