L'anglaise aux beaux yeux au Jardin des Plantes.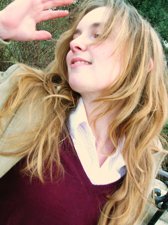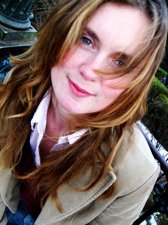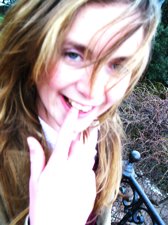 Je vous ai dit que le Jardin des Plantes c'était un de mes répares preferés à Paris. Et non sans cause.
Just after I finished Lapinthrope, I took some time out to go to some shows and had planned to write some reviews of some new shows. By a curious coincidence one of those shows was Thomas Hauert's Modify that I had just seen in Vienna at the start of December.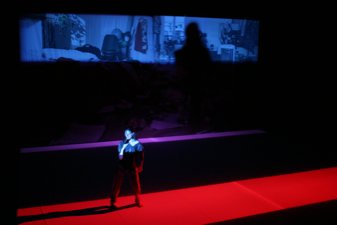 In Paris, Hauert's show was playing at Théâtre de la Ville, one of the world's great modern dance stages. In Vienna, they had danced in Hall G of the Museumsquartier and the basement stage of the Tanzquartier. Hall G is used for most Tanzquartier shows apart from the really large scale productions like Jan Fabre's monumental Je suis sang.
I was very curious to see Modify which I quite well-liked in a very different environment. And indeed it showed entirely differently. At Théâtre de la Ville, I was at the premiere while in Vienna I had been at one of the quiet midweek shows, either the Thursday or the Sunday. The audience was sparse if engaged.
At Théâtre de la Ville the huge hall was packed for the premiere. There wasn't a free seat anywhere before the rafters.
At the end of the show I felt like I had seen some great performances from the artists. They were full of vigor and dance quite passionately.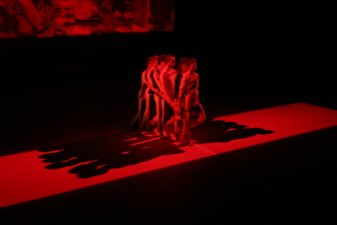 On the other hand, the stagecraft itself fell flat. The giant photograph of the apartment seemed quaint and diminutive in the expanses of the Théâtre de la Ville stage. The lights which seemed to capture every movement of the dancers and so full of mood in Vienna, rather flat.
The large audience was enthusiastic, if not as excessive as I've seen the Parisians at Amélia of La La Human Steps.
By happy chance, I was able to join Thomas Hauert and the dancers afterwards to talk about the show and to compare how they felt.
Ursula Robb mentioned that they felt really alive, like it had been one of their best shows.
While being diplomatic, she hinted that the smaller audiences at the Tanzquartier might have had something to with how they danced.
Not that I didn't know it before but I am still astonished at how important the audience and the context is to a live performance.
My general positive impression of Thomas Hauert's Modify remains, but in Vienna I loved the concept and cared less for the performance. At Théâtre de la Ville, I thought the dancing and performance were exciting but was underwhelmed by concept/decor.
Photos from T.Lewyllie. Provided by Théâtre de la Ville, Paris
speaking of molecular biology and reincarnation
with an intelligent and lovely scientist, there
is another life after this one she insists, dances
another one stoned and impossibly beautiful
slender waist, pushing bosom, shoulders round
features aquiline and fine, skin like cream.
….
if a scientist believes not in the the chemistry of existence
but in the holy spirit, reincarnation and destiny
what is left for the hewer of words or the drawer of sentiment
to believe in but the stoned and impossibly beautiful?
and so we shall believe and live to see another sunrise
and forget time and tomorrows and remember that these days
and nights are ours and ungone belong to us, our small sliver
of the universe to see and to live as we once kissed.
French is such a beautiful language that as much pleasure as it creates to hear it spoken well, so much pain it creates to hear it spoken badly. Travelling home to Austria – strangely the journey does feel like going home – I am sequestered with my bicycle next to a compartment where the general tone and quality of speech is so vile that I feel like I am back in Toronto, listening to the kids there.
I would move but there is nothing to be done as I must stay near my bike and my belongings.
Whenever I have relaxed about my personal property in Paris, I have been warned to be careful by friends and girlfriends.\
I've had so many things stolen myself – and I was born here and try to be careful, said one friend.
It's a strange state of mind to have to live with.
Could they not organise themselves to stop stealing? It seems to permeate the state from the government all the way through society.
As great an advocate as I am of the welfare state (either you give the idle bread and booze or they'll steal it – in any society it is twenty per cent of the people who do three quarters of the work) – when you have people who work three months of the year top collect unemployment (les assidiques, as opposed to welfare which is RMI, révenue minimum d'insertion), you have a problem.
Even in the more privileged classes, high performers in the advertising industry will better struggle for two years to get exactly the position they want, than return to work sooner with a position they don't like.
So home to Austria, a little more space, a more cogent work environment.
Strangely, the Austrians are supposed to be very idle in comparison to the Germans. I wonder what it must be like to live in Germany. The Austrian way seems to be more like France used to be – which is to say, very intelligent about work. To analyse the work and be done with it as quickly as possible in order to enjoy the rest of life.
Ah more abominable French and the stench of tobacco avec. Reminds me of the trip to the peniche with Marion and Stuart. Not so much dancing as standing on a dance floor and smoking.
I couldn't quite understand it. One could stay home and smoke.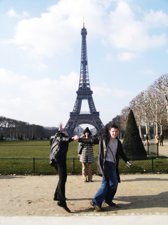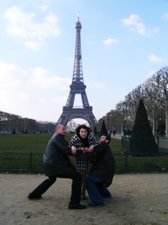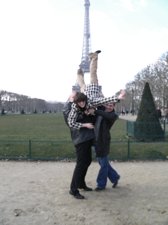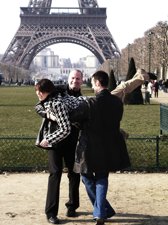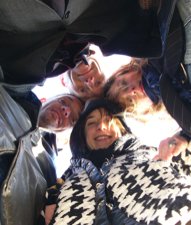 Danseuse Anna Hein, chorégraphe Xavier Perrez and réalisateur Alec Kinnear sous la tour Eiffel dans les recherches d'un nouveau film chorégraphique. Deux tiers de l'équipe de lapinthrope. Il nous manque que la chorégraphe Torontoise Kathleen Rea.
Photographes Valérie Simphal.
Lapinthrope à Paris Continues »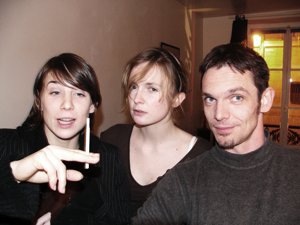 Anna Hein, Valèrie Simphal, Xavier Perrez – rue Mouffetard.
Paris La Nuit - Hein, Simphal, Perrez Continues »